From 10th to 12th July 2020
ULTRA EUROPE IN SPLIT POSTPONED UNTIL 2022
Ultra Europe is the hottest party in Croatia. The party that made Croatia the most desirable dance floor in the world!
2021
Park Mladeži
Split, Croatia
Guess what, Croatia became the best place to party on the Mediterranean. Split was known for its chanson festival, but the time has changed. Today, party-goers from more than 100 countries visit Split and enjoy over 86 hours of electronic music on one of two (next to Miami) Ultra festivals that last for three days!
What to expect?
Well, there's the promise that it will be bigger and better than last two times. Bear in mind that it's a big promise, because in 2014 approximately 150.000 visitors already saw all-star line-up and some sick light-shows!
Dont forget that visitors need to have a valid ID or driving licence !
Opening Party, 10.7.2020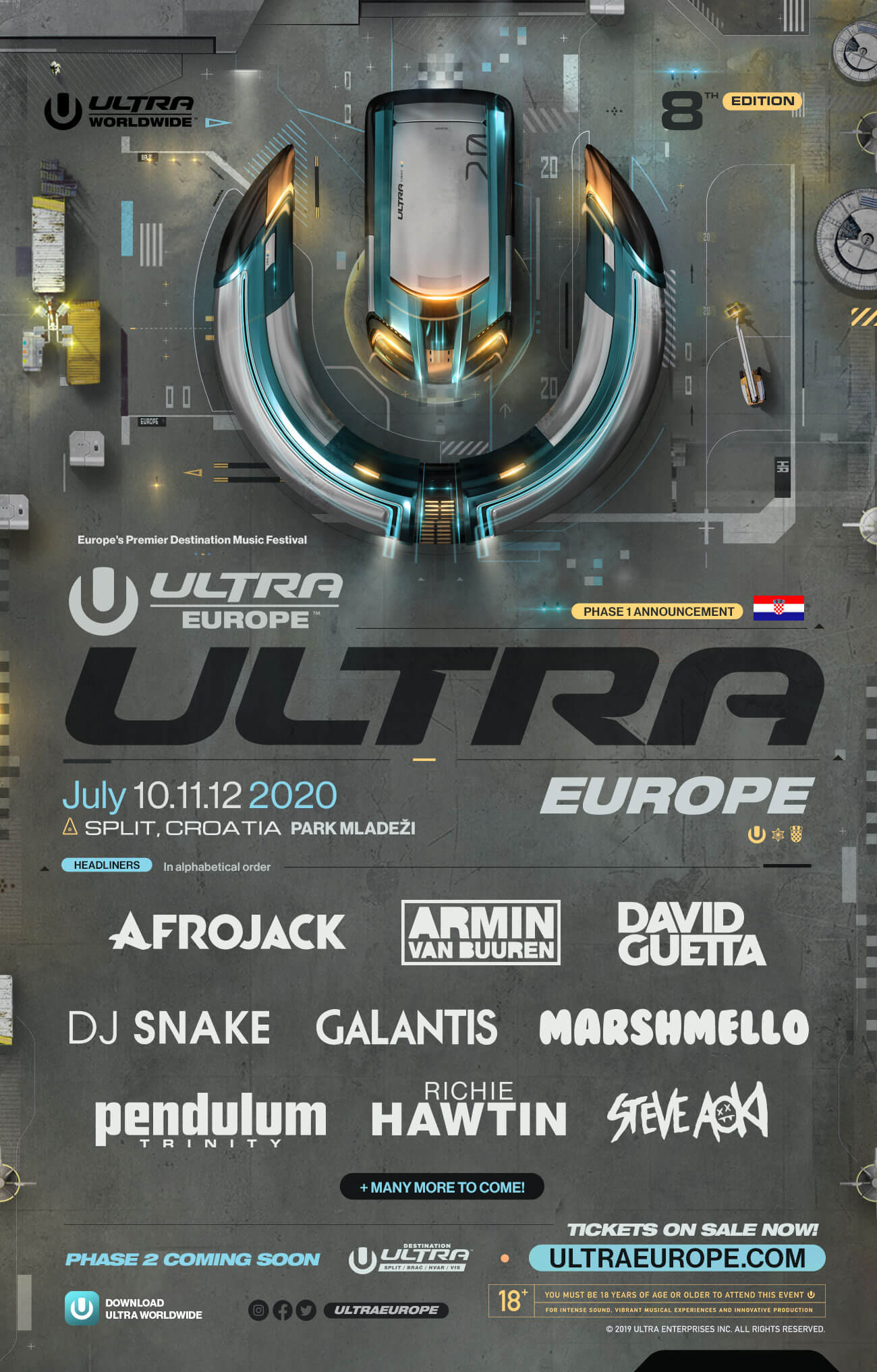 All we know is that the closing party is going to take place on the untouched Vis Island. Ultra promises that it will be a closing party you will remember for a lifetime!
For those worried about security issues, don't worry, past Ultra Europe festivals were very friendly and nothing serious happened. Just a lot of friendly faces from all over the world.
The following measures are ones that should be paid close attention to in order to improve your experience at Ultra Europe.
Be sure to take note of what items are allowed and not allowed into the event venue. Some prohibited items include obvious ones such as weapons and illegal drugs, but also include backpacks that are NOT made of clear material (plastic, PVC, mesh). A full list of prohibited items can be found here, and more information about the clear bag policy can be found here.
Pace yourself. There are three full days of festival fun, so make sure you take some time to give your body a break if you feel it needs one.
If you exit the event, you will not be able to re-enter the venue until the following day. However, everything that you need during the festival, you should be able to find inside the event venue.
Accommodation heads-up
We have to warn you about the accommodation prices. When the date for Ultra Europe comes closer, everyone in Split rise the prices for accommodation for whooping 300-500%. Better book early and save your money.
Best budget hotels and accommodation in Split
Web:
https://www.ultraeurope.com/
---
Address &amp contact details
Street: Park Mladeži
Postcode: 21000
City: Split
Last updated on
Tuesday, 06 July 2021