Slavonia holds raw beauty worthy of exploration and immense admiration.
The cultural heritage, traditional music and cuisine of Slavonia are a blend of historical influences making it quite distinct. Also known as The Golden Valley for both wheat growing and wine growing, including the famous Kutjevo wine growing district.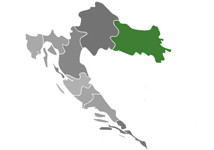 Emerging rather remarkably from its recent turbulent history is a region in Croatia unique to the rest. Here lies a land not only ample with the agricultural fertility of which it is famed for, but abundant with strength and resiliency.