Plitvice Lakes Travel Guide
Looking for a slice of magic in Croatia? Plitvice Lakes National Park is where it's at! This UNESCO World Heritage site boasts 16 lakes, over 90 waterfalls, and a fairy-tale vibe that's truly breathtaking.
The mineral-rich waters sculpt the rock, shaping ever-evolving tufa formations. The forests around Plitvice Lakes in the park are home to many rare bird species, including bears and wolves. The National Park sprawls across 300 square kilometres, with the lakes seamlessly connecting over a span of eight kilometres. There are 18 km (11 miles) of wooden walkways and trails throughout the Park.
First things first, Plitvice Lakes National Park is like a tale of two worlds: upper lakes and lower lakes. The upper ones are wild and forested, while the lower ones are more open and cultivated. Trust me, both are jaw-dropping, but if we had to pick, we'd say go high – more waterfalls, more wow!
Now, how to tackle this nature wonderland? You've got options! Stroll the boardwalks, take a boat on Lake Kozjak, hop on a panoramic train, or pedal your way around. Every choice unveils a kaleidoscope of colours, changing with the seasons, weather, and the water's mood.
Plitvice Lakes Highlights? Brace yourself:
Veliki Slap (Big Waterfall): The granddaddy at 78 meters – a jaw-dropping end to the lower lakes.
Galovački Buk (Galovac Waterfall): Majestic, 25 meters high, 40 meters wide, and it throws in a sunlit rainbow for free!
Šupljara (The Cave): A cool escape near Veliki Slap with funky stalactites and stalagmites.
Vidikovac (The Viewpoint): A hill climb from the lower lakes for a postcard-worthy panorama.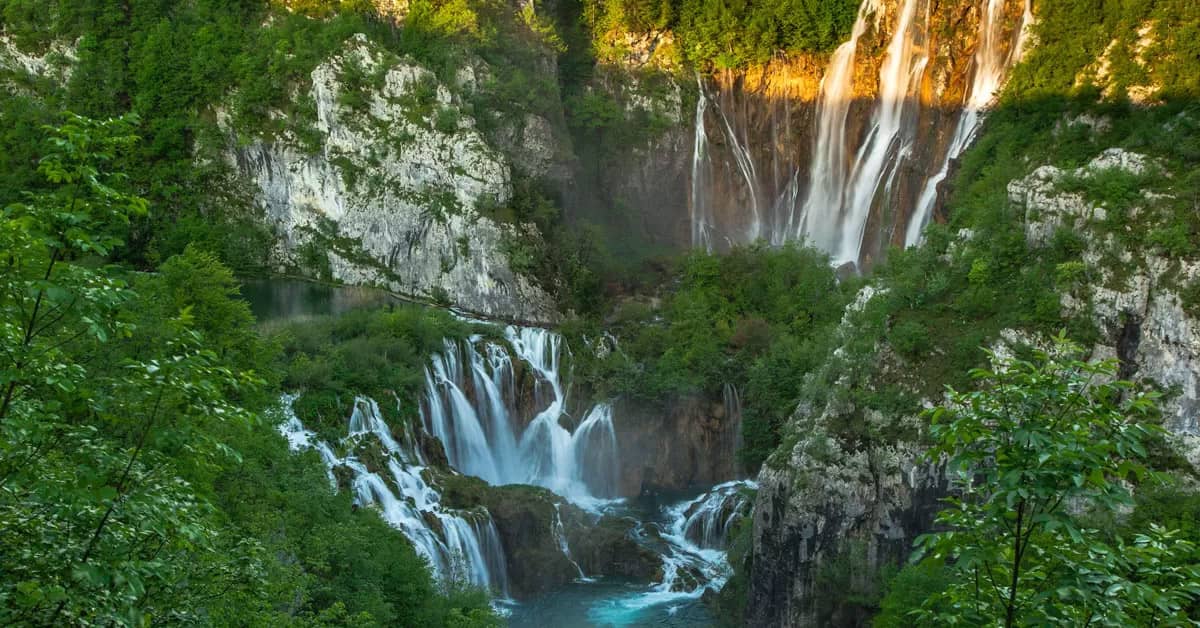 Plitvice Lakes National Park location
Situated in the heart of Croatia, Plitvice Lakes National Park boasts a prime location that offers accessibility from several major cities. It's approximately 140 kilometres from Zagreb, the capital of Croatia, providing a convenient day trip option. For those heading from Zadar, the distance is around 155 kilometres, making it a manageable journey. For those starting their journey from Split the distance to reach the park is approximately 260 kilometres.
This makes it an ideal distance for a guided day tour. Lastly, for travellers venturing from Dubrovnik, the distance extends to approximately 500 kilometres, requiring a bit more travel time but certainly worth the visit.
Drive distances from popular towns:
Zagreb: 135 km, 2 hours 15 minutes
Zadar: 136 km, 2 hours
Split: 260 km, 3 hours
Dubrovnik: 450 km, 5 hours
Pula: 275 km, 3 hours 45 minutes
Organised day trips from Zagreb, Zadar, and Split, especially in summer, are stress-free and help with planning and transportation. Read more about Day Trips from Split and Day Trips from Zadar.
Pro Tip: Maximise your experience by staying overnight near the park for an early start.
Getting to Plitvice Lakes National Park
Situated between Zadar and Zagreb, buses connect both cities to Plitvice. Travel tip: If coming from elsewhere, route through Zadar or Zagreb for convenience. Dubrovnik offers direct buses, but they arrive early after a 9-hour journey. Explore private transfers and organised day trips for a hassle-free experience.
Staying at least two days offers early lake access and ample time to explore this natural wonder. For solo exploration, rent a car or opt for intercity buses. Consider joining a guided tour or hiring a guide.
Here are the best ways of getting to the Plitvice Lakes National Park by bus and car from other parts of Croatia – including Zagreb, Zadar, Split and beyond. There aren't any airports that are especially close to the Plitvice Lakes. However, most travellers will usually take a trip to Plitvice Lakes as part of their holiday to Croatia. If you are considering coming to Croatia to specifically visit the Park and want to fly to the nearest airport, take a look at flying to either Zagreb airport or Zadar airport.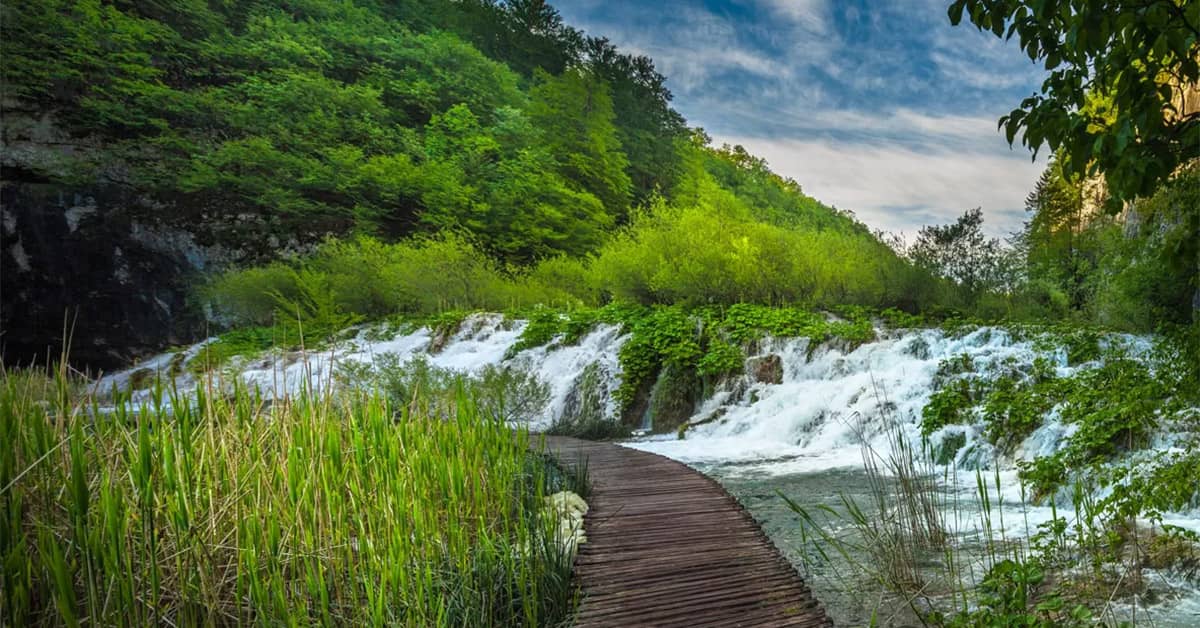 Travelling to Plitvice Lakes from Zagreb by Car: A Scenic Journey
Embarking on a day trip (or even better, an overnight stay in Plitvice accommodations) from Zagreb to Plitvice Lakes National Park is a must for your Croatian itinerary. It seamlessly blends the richness of architecture and culture in Zagreb with the breathtaking beauty of nature in Plitvice.
Start your road trip from Zagreb to Karlovac, a charming town 40 km southeast of Zagreb. Navigate through the picturesque state road D1 towards Slunj, Grabovac and Plitvice, situated about 80 km south of Karlovac. Enjoy the scenic drive with a nominal highway fee of around 3 €, covering the distance in under 2 hours.
Travelling to Plitvice Lakes from Zagreb By Bus: Easy and Convenient
Opting for a bus journey? It's hassle-free. Numerous buses depart from Zagreb's main bus station, offering flexibility throughout the day. The approximately 2.30-hour trip is not only convenient but also budget-friendly, with a ticket cost of approximately 15 €. We recommend buying tickets in advance online: Bus Zagreb - Plitvička Jezera availability and prices.
Visiting Plitvice Lakes National Park
Whether you're a nature enthusiast, a family on a getaway, or a solo explorer, here's your personalised road map for an extraordinary journey.
Entrances to Plitvice Lakes National Park
Entrance 1 (north) for the lower lakes, Entrance 2 (south) for the higher lakes—the choice is yours! Each entrance whispers a unique story, so listen closely. And winter wanderers, remember, Entrance 2 takes a brief nap from November to April.The Flora entrance caters to those near hotels Bellevue and Plitvice.
Plitvice Lakes National Park Trails and Programs
At Entrance 1, it's a green party! Choose from 4 routes, each a unique journey through the Lower Lakes. Feeling the orange vibe? Head to Entrance 2 for 4 more routes to explore. Hop on electric boats at Kozjak Lake or catch a ride on the visitor trains – just flash your park ticket, and you're set!
Nature loves a good game of hide-and-seek! The trails are marked, but let's be real - sometimes they play hard to get. Embrace it; getting a bit lost could lead to unexpected wonders! Are you the brisk 2-hour stroller or the all-day adventurer? Your best route depends on your vibe, fitness level, and how much time you've got.
Entrance 1 (marked in green):
Route A: Lower Lakes, Great Waterfall, Kozjaka Bridge (Easy, 2-3 hours)
Route B: Like A, plus a boat ride on Lake Kozjaka (Easy, 3-4 hours)
Route C: Extension of B, includes Upper Lakes to Proscansko Lake (Moderate, 4-6 hours)
Route K1: Comprehensive exploration from Entrance 1 (Demanding, 6-8 hours)
Entrance 2 (marked in orange):
Route E: Upper Lakes to Proscansko Jezero (Easy, 2-3 hours). Short, sweet journey through the Upper Lakes.
Route F: Boat ride, Upper Lakes, and lower lakes (Easy, 3-4 hours). Unique boat ride, Upper Lakes, and lower lakes exploration.
Route H: Upper Lakes to Great Waterfall from Studovac site (Moderate, 4-6 hours). A mix of bus ride, boat, and stunning waterfall experience.
Route K2: Similar to K1, starting at Entrance 2 (Difficult, 6-8 hours). A challenging trek through the entire lakes' section.
Entrance Fees to Plitvice Lakes National Park - Day Ticket
Entrance fees vary by season.
January, February, March, November, December: Adults €10, Children (7 to 18) €4.50, Students €6.50
April, May, October: Adults €23.50, Children €6.50, Students €14.50
June-September (arrival until 4 pm): Adults €40.00, Children €15.00, Students €26.50
June-Sept (arrival after 4 pm): Adults €26.50, Children €9.00, Students €15.00
Entrance Fees to Plitvice Lakes National Park - Two Day Ticket
January, February, March, November, December: Adults €15.50, Children (7 to 18) €7.50, Students €9.00
April, May, October: Adults €39.50, Children €10.00, Students €22.00
June-September: Adults €59.70, Children €22.50, Students €41.00
Plitvice Lakes National Park has a e-Ticket system where you can select the desired date and time of visit to Plitvice Lakes National Park. The system will then display the available tickets and you can buy them online.
Best time to visit Plitvice Lakes
Choosing the right time to visit Plitvice Lakes ensures you experience its magic to the fullest. While the park is open year-round, consider the following:
Peak Season (June-August): Expect larger crowds, vibrant greenery, and longer daylight hours. If you thrive on the buzz of fellow travellers and warm weather, this is your time.
Shoulder Seasons (April-May, September-October): Enjoy milder temperatures, blooming landscapes, and fewer visitors. Ideal for those seeking a more tranquil encounter with nature.
Winter (November-March): While snow blankets the park, creating a serene atmosphere, some facilities may have reduced accessibility. Winter visits appeal to those craving a unique, snow-covered panorama. Check out our article about Top Reasons to Choose Croatia for Your Winter Break.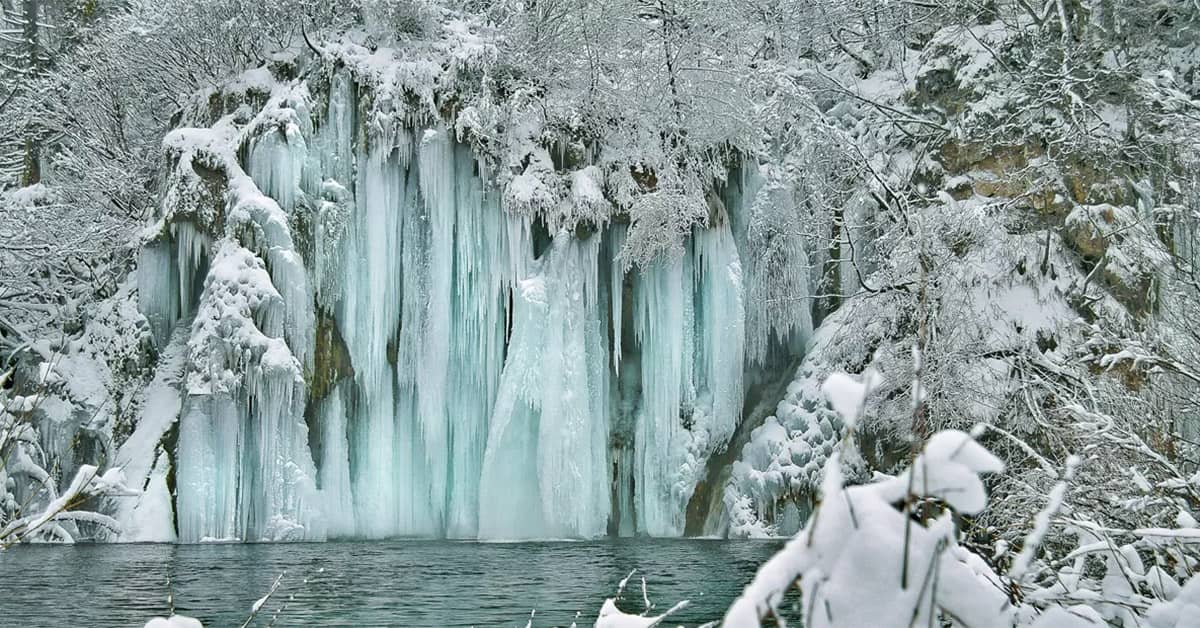 Ready to craft your Plitvice story? Pack your curiosity, a sprinkle of adventure, and let's immerse in the wonders that await. See you at Plitvice Lakes National Park—where nature takes center stage!
Plitvice Lakes National Park was granted UNESCO World Heritage status in 1979.
---