If ever there was a coastal region in the world considered to be the most endowed with natural beauty, Dalmatia would likely hold the reigning title.
Šibenik Region features numerous historical landmarks, 240 beautiful islets and reefs, magic landscapes of the Kornati archipelago or the famous waterfalls and lakes of National Park Krka.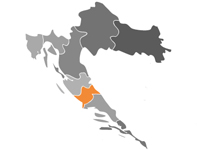 Highlights of Šibenik Region
Šibenik region is located on the central coast of Croatia offering visitors a wealth of attractions to explore.
Perhaps the most popular of these is the Krka National Park with its stunning waterfalls, lakes and abundant wildlife. Hiking, swimming, and boat tours are just some of the ways to discover the natural wonders of this park.
Šibenik town itself is a charming destination with plenty of history and architecture to explore. The UNESCO-listed St. James Cathedral is a must-see.
Nearby, the town of Skradin is another highlight, with traditional stone houses and delicious seafood restaurants. From here, visitors can take boat tours to explore the park's waterfalls and lakes.
The Šibenik archipelago, comprising over 200 islands and islets, is a dream destination for boating and island-hopping enthusiasts.
Finally, the Šibenik region is renowned for its excellent wines, the award-winning Bibich Winery in Plastovo is a must for wine lovers.
How to get to Šibenik Region
Visitors to Šibenik Region can consider flying to Split Airport, conveniently located just 60 kilometers south of Šibenik. Once you arrive at the airport, you can easily rent a car or take a bus from the Main Bus Station to reach Šibenik.
There are several highways leading to the region, take the A1 highway from Zagreb to reach the north or the A1 highway from Split to reach the south.
If you prefer to take public transportation, Šibenik has a well-connected bus network with daily routes from major cities in Croatia and neighbouring countries. The bus station is conveniently located near the city center.
Lastly, don't miss out on exploring the Šibenik archipelago and nearby islands! There are frequent daily ferry connections from Šibenik, which is an excellent starting point for island-hopping.
---
Top 5 things to do in Šibenik Region
Krka National Park
Explore Šibenik Old Town
Visit Fortress of St. Nicholas
Rivers Krka and Cetina, and a section of the Zrmanja River
Go island hopping
---
Sorry, still none, we are working on it!