With roots dating back to the 6th century, Dubrovnik holds the reining title as the oldest living walled in city in the world.
Dubrovnik Region is abundant in history and culture, stunning architecture, and picturesque landscapes. Dubrovnik Old Town is listed as a UNESCO World Heritage.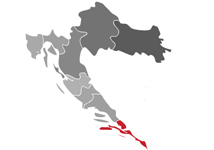 The Dubrovnik - Neretva county ("Dubrovačko-Neretvanska županija") is the southermost Croatian county with an area of 1782 km2. It consists of Dubrovnik and its surrounding (south to Montenegro and north to Pelješac), Pelješac penninsula, Korčula island, Lastovo island, Mljet island and the Elaphites, the Neretva Delta and Baćina lakes and a part of the hinterland near the south slopes of Biokovo.
Best places to visit in Dubrovnik Region
---
Highlights of Dubrovnik Region
Main attribute of Dubrovnik region is the Old town Dubrovnik surrounded by magnificent City Walls, but you shouldn't stop exploring! Dubrovnik region has much more to offer, starting from natural beauties such as National Park Mljet or Lokrum Island, gastronomy and oenology pleasures of Pelješac peninsula, or the pinnacle that sun & sea can offer: Šunj beach on Lopud Island.
Of course, there are much more sights that you could visit, so we strongly suggest that you explore each destination by your desire.
When to visit Dubrovnik Region
Tourism offer in the whole region is weather dependant. You can't go wrong by visiting during summer - tourist season starts with April and lasts until mid October. You are encouraged to visit the region out of season. It will be less crowded, but many objects in destinations will be closed. Find out more about Weather in Dubrovnik.
How to get to Dubrovnik Region
Best way to visit Dubrovnik region is by plane. Motorway runs through Dalmatia, but stops at Ploče, which makes visiting Dubrovnik region by car a bit exhausting, but rewarding in the end.
Top 5 things to do in Dubrovnik region
Old town Dubrovnik
Wines of Peljesac peninsula
National Park Mljet
Island Lokrum (read the spooky legend first!)
Sandy Sunj beach on Lopud Island
---