Zagreb as the capital of Croatia and the surrounding region were in the past spared from large scale war damage due to high population density thereby preserving numerous cultural heritage sites dating back to the Late Middle Ages.
Central part of Croatia is extraordinary rich in history and cultural heritage.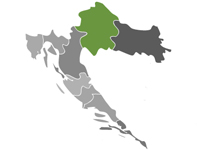 Explore numerous medieval castles and fortifications, churches, abbeys, and archaeological sites.
Zagreb, with its rich history, friendly locals and delicious food is still relatively undiscovered and cheap when compared with other mayor cities in western Europe.
Best places to visit in Central Croatia
---
Highlights of Central Croatia
If you are visiting Central Croatia, don't miss visiting one of the best preserved castles in Croatia, castle Trakoscan and take a tour through its rich history. When we mentioned a rich history, you probably didn't expect to meet Neanderthals and Krapina Neanderthals Museum.
When to visit Central Croatia
You won't make a wrong choice if you decide to visit Central Croatia at any time of the year.
How to get to Central Croatia
Zagreb is a central transportation hub for this part of Croatia, so plan going to Zagreb first and then take any connecting lines to your destination. You can arrive by train, plane, bus or a car.
Top 5 things to do in Central Croatia
Castle Trakošćan
Krapina Neanderthals Museum
St Mark's church in Zagreb
Old Town Castle of Varaždin
Spancirfest in Varazdin
---