The landscape of dreams roughly bounded by the Velebit and Pljesevica mountains, a traditional rural area with developed farming that boasts with two National parks - Plitvice Lakes and Sjeverni Velebit.
10 localities in Croatia are part of UNESCO List of World Heritage sites. Plitvice Lakes is Croatia's best known national park.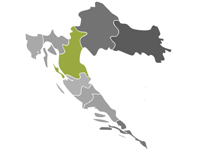 The inland region of Lika-Karlovac has Croatia's highest concentration of national and natural parks, a mixture of low-lying landscapes and forested hills and mountains.
HIGHLIGHTS OF LIKA REGION
WHEN TO VISIT LIKA REGION
HOW TO GET TO LIKA REGION
---
Top 5 things to do in Lika region
1. Plitvice Lakes National Park
2. Rastoke waterfalls near Slunj
3. Flyfishing on Gacka
4. Nikola Tesla Memorial Centre in Gospic
5. Nothern Velebit National Park
Sorry, still none, we are working on it!