Set against the Julian Alps, reflected by the Adriatic Sea sits a region rich with heritage and a wealth of natural goods.
A trademark red soil producing bountiful vineyards, truffle treasures, and expansive olive groves are attributes which give Istria its reputation as the new Tuscany.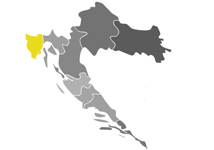 The Illyrians, the Hapsburgs, and the Venetians ensured a stage was set for dramatic history, intriguing mystery, and enchanting romance. What remains is a classy convergence of cultures and a dramatic landscape fit for international polo matches, golf excursions, wine tasting, and island hopping.
Best places to visit in Istria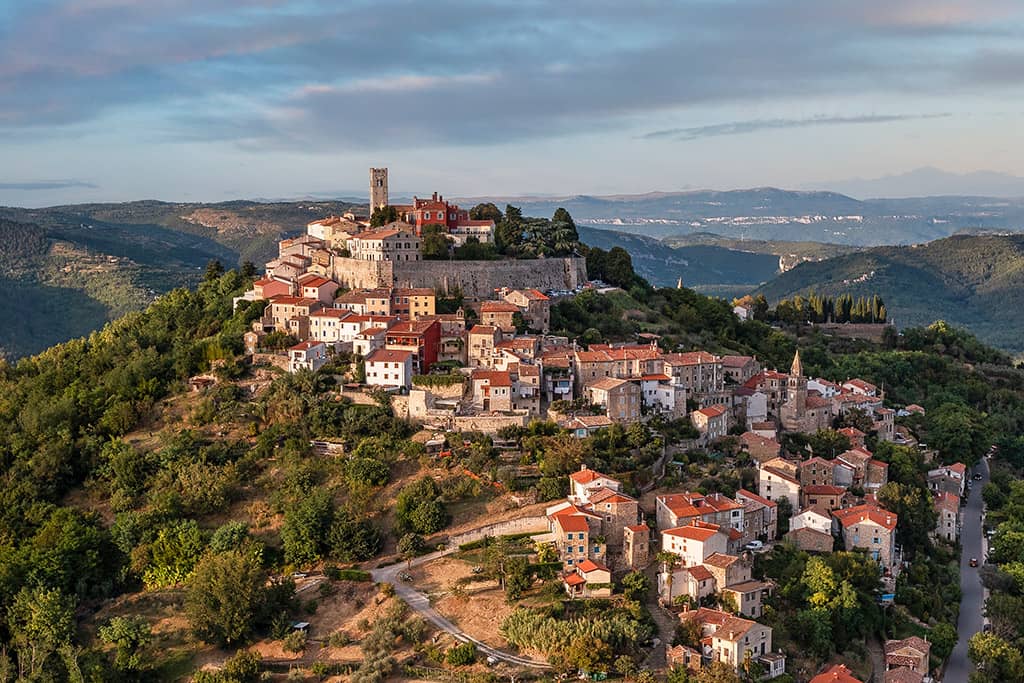 Highlights of Istria
Istria is a picturesque region located in the northwest part of Croatia and bordered by Slovenia and the Adriatic Sea. Known for its beautiful beaches, charming coastal towns, stunning countryside, and rich cultural heritage Istria attracts visitors form all across Europe.
One of the highlights of Istria is its food and wine, particularly truffles, olive oil, and Istrian Malvasia wine. The region is also home to several historical sites, including the Roman amphitheatre in Pula, the Euphrasian Basilica in Poreč, and the hilltop town of Motovun.
Popular outdoor activities are hiking, cycling, and water sports. Whether you're interested in history, food, or outdoor activities, Istria is a must-visit destination in Croatia.
When to visit Istria
Istria is a year-round destination due to its Mediterranean climate and closeness to many European countries. The best time to visit is during the shoulder seasons of spring (April to May) and autumn (September to October). The weather is mild and there are fewer tourists, making it easier to explore the region and enjoy its attractions.
In spring, the countryside is alive with colourful wildflowers, and the weather is perfect for hiking, cycling, and exploring the many picturesque villages and towns. In addition, many food and wine festivals take place during this time, offering visitors the chance to sample Istria's delicious cuisine and wine.
In autumn, the weather is still warm and sunny, but with fewer crowds. This is an excellent time to visit the region's vineyards, as the grape harvest takes place in September and October. Visitors can participate in the grape-picking process, and taste the freshly pressed juice or sample some of Istria's famous wines.
If you prefer warm weather and swimming the summer months (June to August) are a good time as the sea temperatures are warm. Just be prepared for larger crowds and higher prices during this time. Many towns and villages host festivals and events showcasing local culture, music, and cuisine.
How to get to Istria
Istria, located in the northwest part of Croatia, shares borders with Slovenia and Italy. The region can be accessed by air, with the closest airports being Pula Airport in the south of Istria and Trieste Airport across the Italian border, both offering flights from various European cities. Istria is also easily accessible by car, with several highways leading to the region.
It's recommended to rent a car upon arrival to explore the many small towns and villages scattered throughout Istria, although guided tours to popular sights and attractions are also available for those who prefer not to drive.
Bus routes are available from major cities in Croatia, Slovenia, and Italy, with the main bus station in Pula and other stations in Rovinj, Poreč, and Umag.
Ferries from Venice and other parts of Italy also run daily during the summer months to the port in Poreč.
---
Top 5 things to do in Istria
Roman Arena in Pula
Motovun film festival
Truffle Days in Istria
Wine routes of Istria
Brijuni Islands National Park
Romantic weekend in Rovinj
---