Centred on the Roman Palace of the Emperor Diocletian, the architecture alone is enough to make one drunk with awe. Beaches seduce and cafes beckon.
If ever there was a coastal region in the world considered to be the most endowed with natural beauty, Split Riviera in Dalmatia would likely hold the reigning title.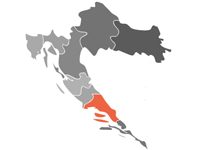 This is a land uniquely blessed with complete raw allure. With a breathtaking shoreline set against the Dinaric Alps, it's as if nature converged for the sole reason of providing the perfect setting for inspired indulgence. With over 1,000 islands, a pristine sea, and medieval fortresses all in their back yard, it's no wonder Dalmatians snub the "modern" world.
Dalmatian history is intricately laced with influences of the Illyrians, the Venetians, the Byzantines, and Romans. The architecture alone is enough to make one drunk with awe. Beaches seduce and cafes beckon. The stunning features of the region extend beyond the shores and into the high cheek bones and lengthy legs of its original inhabitants. If that wasn't enough, golden skin, dark hair, and light eyes are typical trademark Dalmatian attributes.
Best places to visit in Split Region
---
Highlights of Split Region
Split, the second largest city in Croatia and the largest in Dalmatia spreads itself over a central peninsula and its surroundings with all the neighbouring seaside towns being a part of the city's greater area. The biggest highlight is Split's urban heart, the Diocletian's palace - a palace dating back to the 4th century in which the city of Split formed. Other gems located in this area are the river Cetina canyon, Red and Blue lake near Imotski and of course, the popular island of Hvar.
When to visit Split Region
Although, just like Dubrovnik, the holiday offers in this whole region are weather dependant, Split is the largest Dalmatian city and thereby has more available activities during the pre and post season. Of course, it's the Croatian coastline so "formally", the season starts with April and lasts until mid October.
How to get to Split Region
Split is an international transport hub with many connections to the Adriatic islands. Also, not only the Motorway A1 passes by, the Adriatic Highway leads trough the city making it not just an important ferry harbour. Flying to Split? Find out more about Split Airport.
Top 5 things to do in Split region
Hvar Island
Cetina river canyon. Check out the Best day trips from Split
Town of Trogir
Biokovo mountain
---