Pošip, an esteemed Croatian white wine, is meticulously crafted from indigenous Pošip grapes cultivated for centuries by local wine making families in the vineyards of Smokvica and Čara on the captivating island of Korčula. This region, known as 'Smokvisko-Carsko Polje' or 'Smokvica-Čara Field', is renowned for yielding a full-bodied wine with an alcohol content ranging from 13.5% to 14.5%, and an acidity of approximately 5.8 g per litre when fully matured and bottled.
Interested in other Croatian wine varieties? Read our Guide to Croatian Wines.
Origin and Expansion of Pošip
Originating from the ancient vineyards of Island Korčula, Pošip production has flourished in recent decades, extending its reach across the broader expanse of southern Dalmatia. Today, Pošip vineyards grace the slopes of Pelješac peninsula and Biokovo, as well as the islands of Hvar and Brač.
Taste of Korcula by Bike Tour (food & drink tasting)
Embark on a delightful half-day tasting tour in Korčula's serene countryside.
Join a small group for a leisurely bike ride to local producers, where you'll indulge in a variety of treats including honey, wine, and jam. Gain insights into the production process and engage with locals to learn about Dalmatian culture. Immerse yourself in Korčula's culinary heritage Stay active during your Croatia holiday All biking equipment provided for your convenience Benefit from a small group setting for personalised attention from your guide.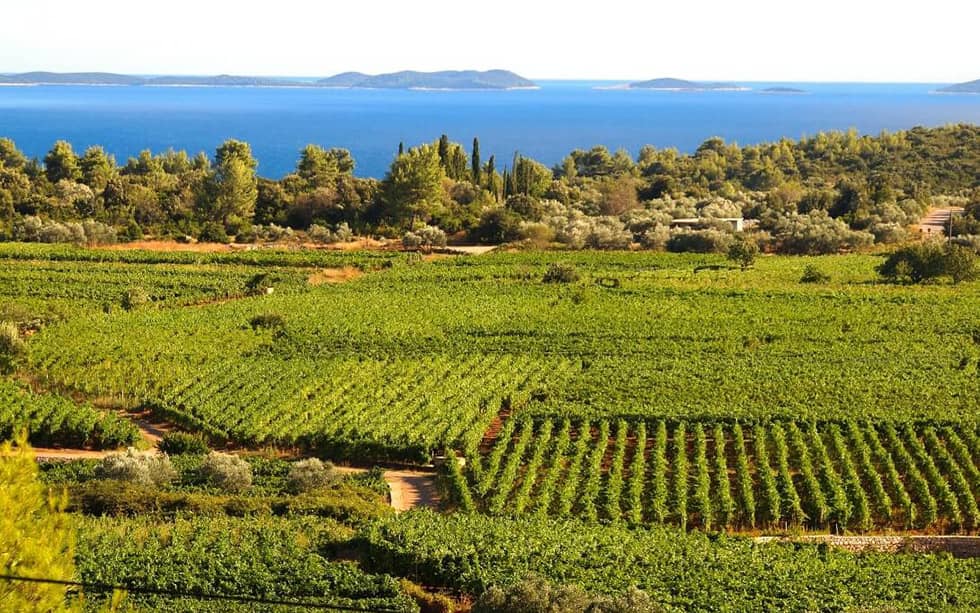 Key Characteristics of Pošip
Color: Spanning from pale with greenish highlights to the deepest honey gold.
Body: Presents a full-bodied profile.
Tastes: Offers a delightful medley of zesty apples, subtle vanilla spice, citrus fruit, and an enticing almond aroma.
Origin: Rooted in Čara and Smokvica on Korčula Island, Pošip stands as an emblematic Dalmatian wine.
Early Ripening and Ideal Conditions for Pošip wine
The early ripening of Pošip grapes, attributed to the distinctive Maestral wind, creates an ideal environment for their cultivation. Harvested in the initial week of September, these well-ripened grapes are fundamental to the creation of high-quality Pošip wine.
Meticulous Fermentation and Maturation
Fermentation of Pošip is a patient and gradual process, with the young wine carefully maintained at temperatures of up to 12°C, safeguarding the wine's unique aroma. The maturation process happens in cool, traditional cellars and spans approximately 6 to 9 months.
Bottling and Culmination of Pošip
The readiness for bottling is contingent on weather conditions, typically occurring after 9 months or more of meticulous maturation.
Wine tour Korčula - private tour
Explore the esteemed wine making heritage of Island Korčula and Croatia.
Delve into the ancient history of Croatian viticulture and uncover the distinctive flavours that emerge from the unique terroir of Korčula's vineyards. Hone your wine-tasting skills and savoir the picturesque landscapes that surround you. This exclusive private tour offers an intimate one-on-one experience, providing the perfect opportunity to indulge in renowned Croatian wines like Pošip and Grk. All wine tastings are included in the tour package./p>
The Legend of Pošip Grape: A Jewel of Korčula's Viniculture
Pošip, also recognized as Pošip bijeli, Pošipak, and Pošipica, is an indigenous white grape variety originating from the enchanting island of Korčula. While it flourishes in the sandy, wind-protected soils of Korčula, it also finds its home on Lastovo and Mljet islands, as well as throughout Dalmatia.
Legend has it that Pošip was a wild vine discovered by chance. Scientific research suggests it may be a spontaneous cross between two local Korčula varieties; Bratovina and Blatska zlatarica.
The name "Pošip" is thought to originate from the elongated and pointed shape of the berries, reminiscent of the sharp end of a farming tool called "šip." This esteemed white grape variety has deep historical roots, closely tied to Korčula where it has been cultivated since ancient times.
In a significant milestone for Croatian viticulture, the white wine produced in the village of Čara on Korčula received the first-ever Protected Geographical Indication (PGI) in 1967.
Aroma and Flavor Profile of Pošip
This grape yields large clusters, producing exquisite, high-quality wine. The resulting golden-yellow elixir boasts a dry profile with robust aromas of dried apricots and figs, and an alcohol content of 12–13%. Pošip wines are characterised by a unique fragrance and elevated acidity, making them excellent candidates for ageing.
Culinary Pairing Possibilities
This versatile grape variety can yield fresh wines for oak ageing and semi-sweet options for those with a sweet tooth. Pošip pairs wonderfully with grilled whitefish, barbecued blue fish, freshwater bottom-dwellers, clam stew and lobster in a variety of delectable dishes.