The airport Split, also known as Resnik airport is located in the town of Kaštela, 24km from Split and 7km from Trogir. Shuttle busses from Split Airport depart soon after air plane landings.
About Split airport
Split Airport (Resnik) is the 2nd busiest airport in the country, following Zagreb airport Pleso and surpassing Dubrovnik airport Čilipi. It is a small International airport with just one runway and one terminal, but it handles over 1.5 - 2 million passengers yearly.
How to get to and from Split airport?
There is a regular shuttle bus service from Split, departing 90 minutes prior every flight. It leaves from the main bus terminal from platform 5. The service is provided by Pleso prijevoz. The price of a one-way ticket is 8 Euro per person, payable in cash. Buses depart from the airport half an hour after landing. For the exact daily timetable you need to visit the official Split Bus Station web page and select Departures from Split or Arrivals to Split.
Across the parking lot and main road, there is a bus stop. Lines number 37 and 38 pass by:
No. 37 (Split – Trogir; Trogir – Split)
No. 38 (Split Airport – Kastel Stari – Split; Split – Kastel Stari – Split Airport).
---
Arrange a private transfer from or to Split Airport
Do you need transfer services from or to Split airport to your hotel or any other destination? Especially if you are travelling in a group or with your family check out safe and affordable transfer options from or to Split Airport.
Airport Transfers: See availability and prices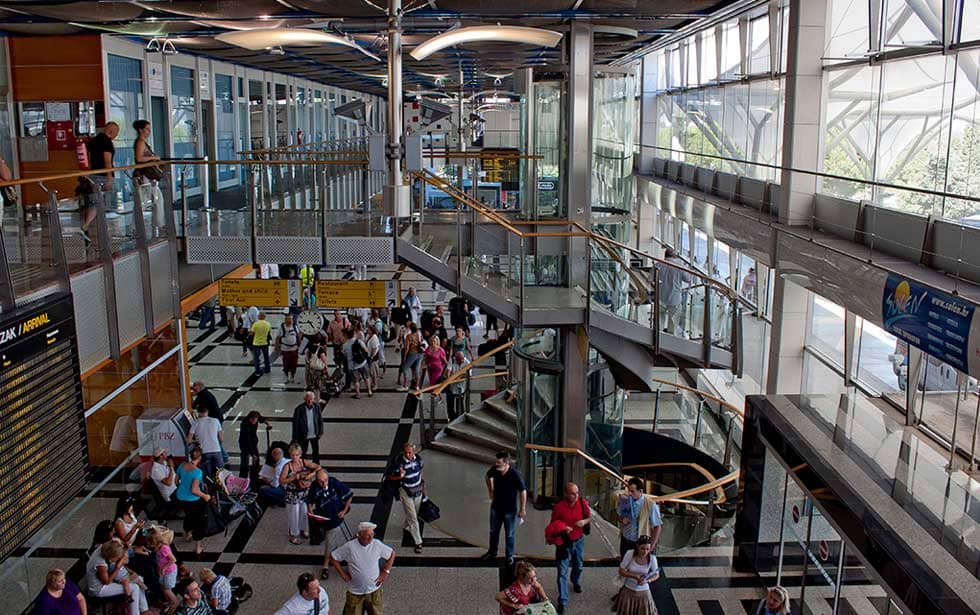 The most convenient and most comfortable way to visit Split is by plane as many International companies have flights either straight to Split or to Zagreb from where the Croatian national carriers have connections to Split or any other airport within the country.
Among the facilities at Split airport are shops, duty free shops, cafe bars, snack bar, VIP and business lounge, currency exchange office , ATMs, newsagents and tobacconist, luggage wrapping services, car rental offices.
Parking at Split airport
The airport's parking lot can take up to 385 cars and 118 rent-a-car vehicles so it tends to get very busy during summer season. Parking is charged at the exit and is payable by cash only - in Euro. Prices are as following:
15 min - free
15 min - 1 hour - 1 Euro
1-2 hours - 2 Euro
Every additional hour - 0.5 Euro
Lost ticket - 66 Euro
Find Best Deals - search and compare airfares from over 1000 airlines
Sleeping at Split airport
Just like Dubrovnik airport, Split airport is NOT open 24/7 so sleeping at the airport isn't possible. The airport closes at 22:00 if there are no later flights. There are also no hotels on the airport or close around so staying in Trogir or in Split are your options.
Accommodation is available in nearby Split hotels or Split hostels.
Split Airport Contact Information
Passenger Information
Tel: ++385 (0)21 203 589
This email address is being protected from spambots. You need JavaScript enabled to view it.
Lost & Found
Tel: ++385 (0)21 203 218
This email address is being protected from spambots. You need JavaScript enabled to view it.
---