Dreaming of exploring crystal-clear waters, charming coastal towns, and uncovering hidden coves?
Look no beyond than Croatia, an enchanting Mediterranean destination celebrated for its mesmerising coastline and alluring islands.
For those considering boat rental in Croatia, swift booking is vital. By March, 53% of boats are already reserved, soaring to 90% in peak mid-July and August. November records the lowest bookings. Planning a motorboat day trip can be managed a few weeks prior, yet reserving a yacht charter necessitates months of anticipation. Early securing of your Dubrovnik, Split, Zadar, Rovinj or any other popular coastal destination boat rental is paramount.
Our inclusive guide is here to lead you through the ins and outs of renting a boat in Croatia.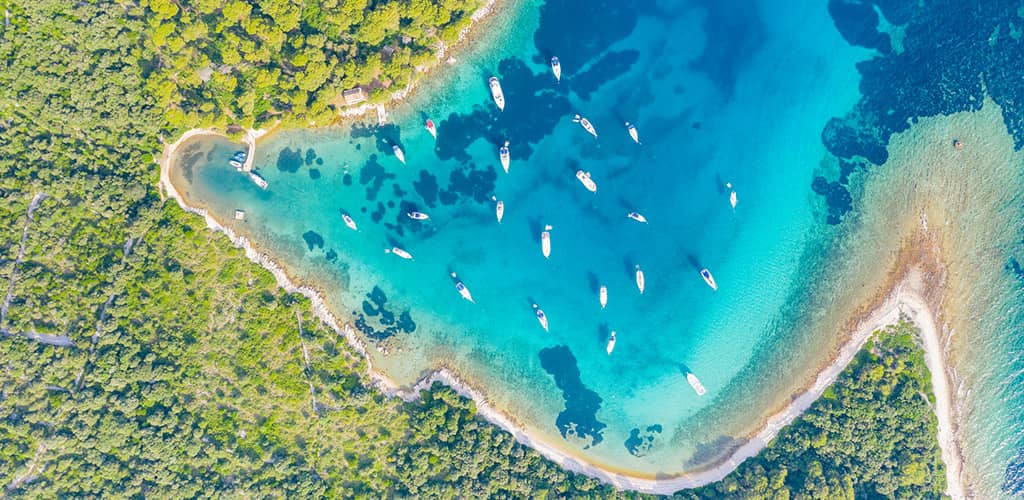 Introduction
Croatia's Adriatic coastline offers a mesmerising blend of clear blue waters, historic towns, and natural wonders. Renting a private boat gives you the freedom to uncover its treasures at your own pace, from hidden spots accessible only by boat to serene islands.
Croatia stands as the Adriatic's gem, offering a bounty of breathtaking coastal landscapes. Positioned between Central Europe and the Mediterranean, it boasts over 1,000 islands and more than 6,000 kilometres of coastline. While navigating its waters, discovering your dream beach is inevitable.
Kickstart your Croatian escapade from Pula, located on the Istrian Cape's coast, a haven of secure harbours. Delve into ancient history at sites like the Roman amphitheatre. Meanwhile, central Croatia's Biograd serves as a gateway to the Kornati islands, a tranquil expanse with calcareous isles, perfect for serene exploration via RIB or catamaran. Hvar, nestled on the Adriatic, beckons as a premier launch point for boat rental, famed for its idyllic vacation ambience.
With an abundant array of islands and coastlines stretching thousands of kilometres, Croatia beckons sailors and boating enthusiasts. Needless to say, it ranks among the Mediterranean's finest destinations.
Poreč, embraced by verdant bays, and Rovinj (Rovigno), adorned with a striking, rugged coastline of stone and rock, enchant with active fishing ports and distinct beaches. Don't miss tasting the local traditional cuisine.
Setting off from Croatia's heart, you're spoiled for departure ports: Zadar, Sukosan, Biograd, Murter, and Šibenik. The beguiling Kornati Archipelago, home to 147 isles and islets within a 15-kilometre radius, beckons sailors with secluded bays. Admire the sea cliffs of Donji Kornati and Klobučar Island, some towering at 80 meters. These mostly uninhabited isles lack hotels but offer fishermen's hospitality. Navigating from Hiljada to Žut is akin to paradise on calm waters, culminating at Kornat, the archipelago's largest island. Turquoise waters marked by floating buoys reveal waterfront taverns serving delectable seafood feasts.
Embarking south, Dubrovnik and the southern Dalmatia's islands await your exploration. To the north, charter a vessel from Split to circumnavigate Korčula, famed for its exquisite beaches, such as those near Lumbarda. Alternatively, rent a boat from Trogir to meander the central Adriatic's stunning coast.
Why Renting a Boat in Croatia is a Must
Imagine cruising along the Adriatic, feeling the gentle sea breeze and basking in the Mediterranean sun. Renting a boat lets you escape the crowds and discover secluded spots that are only accessible by water.
Types of Boats Available
Whether you're a seasoned sailor or a first-time boater with no experience, boat rentals in Croatia offer a variety of vessels to suit your preferences. From sleek motorboats of all sizes to traditional sailboats, you'll have no problems finding the perfect boat for your adventure. If you have no or little experience or lack the skipper licence we suggest renting a boat with a skipper.
Choosing the Right Boat for You
Selecting the right boat depends on factors like group size, comfort, and activities. If you're seeking luxury and speed, a motor yacht might be your best choice. For a more authentic experience, a sailing boat allows you to embrace the wind and waves.
Croatia Boat Rentals: See availability and prices
Best Destinations for Boating
Croatia boasts an array of breathtaking destinations. Sail to Dubrovnik for its historic charm, explore the stunning Kornati Islands, or party in style at Island Hvar. Some of the best boat tours are from Split, including the famous Blue Lagoon and island hopping. Each destination offers a unique slice of Croatian culture and natural beauty.
Read our guide on Renting a Boat in Dubrovnik
Navigational Essentials
Before you set sail, familiarise yourself with basic navigation. The Adriatic is generally calm, but understanding navigational markers and basic chart reading ensures a safe journey.
Safety Precautions on the Water
Whenever on open water safety should always be a priority. Ensure you have life jackets for everyone on board, a functioning communication device, and knowledge of emergency procedures. Familiarise yourself with the local maritime rules and regulations or make sure that your skipper has the experience needed.
Booking Your Boat Rental
Booking a boat rental is easy, thanks to numerous rental agencies. You can reserve your boat online in advance or find options locally. Make sure to read reviews, check for hidden fees, and confirm the rental's trustworthiness.
Cost Considerations
Boat rental prices vary based on the type of boat, rental duration, and season. While costs can be high, consider sharing expenses with a group to make it more affordable. Keep in mind that the experience often does not cover the fuel cost.
Packing for Your Boating Adventure
Pack essentials like sunscreen, hats, swimsuits, and non-slip shoes. Don't forget any necessary medications and a waterproof camera to capture the breathtaking moments.
Local Cuisine and Coastal Delights
Croatian cuisine along the coast is a delightful fusion of Mediterranean and Central European flavours. Anchor at local taverns to savoir fresh seafood, olive oil-drenched dishes, and fine wines.
Captivating Coastal Towns
Explore coastal towns like Split and Zadar, where ancient history and modern charm intertwine. Wander through narrow streets, visit historical sites, and experience the warm hospitality of the locals.
Exploring Hidden Beaches and Coves
With your boat, you can reach secluded beaches and coves that remain untouched by the masses. Drop anchor, swim in pristine waters, and have picnics surrounded by nature's beauty.
Island-Hopping Extravaganza
Croatia's islands are a sailor's paradise. Embark on an island-hopping adventure to experience diverse landscapes, from lush greenery to rocky shores.
Conclusion
Renting a boat in Croatia offers an unique experience to explore the stunning coastline, discover hidden gems and visit some of the many beautiful islands along the coast.
---
Frequently Asked Questions
Is boating experience necessary to rent a boat in Croatia?
No, many rental agencies offer boats suitable for beginners. However, some experience or a skipper might be required for larger vessels.
What type of boat license is necessary in Croatia?
Croatian regulations stipulate that at least one person aboard the vessel must possess valid Navigational and VHF licenses. If you intend to charter a yacht without a skipper, you'll need these licenses, in addition to having sailing experience. The issuance of Navigational and VHF licenses in Croatia is managed by Port Authorities.
When is the best time to rent a boat in Croatia?
The boating season typically runs from April to October, with July and August being the busiest months. May, June, and September offer pleasant weather and fewer crowds.
Can I rent a boat for just a day?
Yes, you can find rental options for various duration's, including half-day and day rentals. In fact, those options are the most available due to popular demand.
Are there age restrictions for boat rentals?
Yes, the minimum age to rent a boat without skipper is usually 18 years old. Some rental companies might have higher age requirements depending on the boat type.
What should I do in case of bad weather while at sea?
Your safety is always paramount...period! If bad weather approaches, head to the nearest sheltered area, follow maritime forecasts, and contact the rental agency for guidance.
Ready to embark on a boating adventure that promises unforgettable moments? Start planning your Croatian escapade today.