Ferry Booking Croatia
Is it worth purchasing a ferry ticket online?
One of the frequently asked questions in tourist offices is how to get from Croatia to Greece. The answer is either that there is no way or it's too complicated to fit in the same sentence. It doesn't have to be that way, because the answer is simple: by ferry.
By taking a ferry to Greece, you would have to switch ferries in Italy because there is no direct ferry line from Croatia to Montenegro, Albania or Greece. Fortunately, Absolute Croatia has got on-line ferry booking service where you can book all needed tickets and just switch ferries without having to look for a ferry office at the port. Easy as that!
To check prices and availability, select a ticket type (return, one-way or multi trips)and number of passengers. Continue to enter a departing date (available dates will be shown in the calendar) and your means of transportation (with vehicle or on foot). The price will depend on the type of cabin or seat you choose afterwords.
Find the best ferry deals
Book a ferry with Absolute Croatia
A quick, easy and secure way to make your ferry booking in Croatia!
REAL TIME BOOKING
Book with confidence • Find the right ferry • Save your money and time!
CONNECTING FERRY LINES
Ferries from Croatia to Italy and Greece with a few clicks!
CREDIT CARDS ACCEPTED
Visa • Visa Electron • Maestro • Mastercard
Complete list of ferry lines from/to Croatia
For more convenient use of the ferry booking system, here is the complete list of all ferry starting points and possible destinations covered by it. It may help you to visualise and plan your journey before booking your ferry tickets on-line.
Some lines are not direct, but have several stops before reaching the end destination (e.g. Rijeka - Dubrovnik is actually Rijeka - Split - Stari Grad - Korcula - Sobra - Dubrovnik) - because of that, we have prepared a map to visualise ferry lines. Same colour represents same line.
Please bear in mind that some ferry lines are seasonal and do not operate whole year.
Some lines may be cancelled, modified or new one added by their operators at any time. We will keep an eye out and inform you if this happens, so you could plan your journey right.
Unfortunately, at the moment you can't use ferry booking system to book a ferry ticket to smaller islands. For complete information and ferry timetables on local Croatia ferry lines, visit:
Dubrovnik ferry information | Split ferry information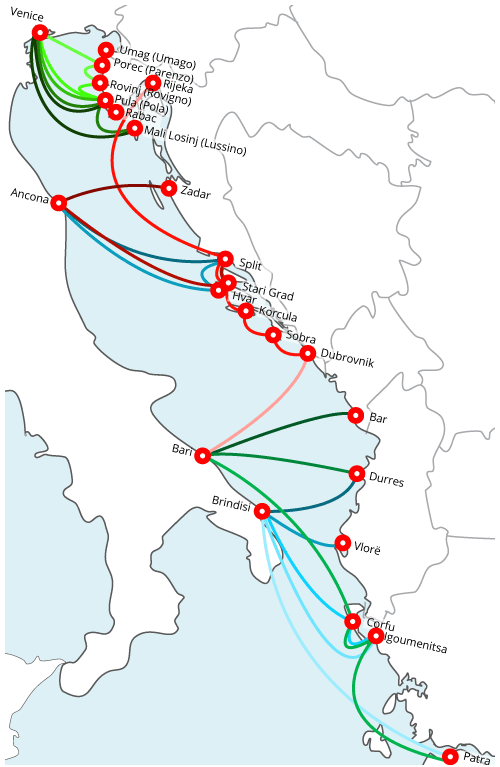 Ferries from Italy
Ancona - Hvar (Hvar Is.), Split, Ancona, Stari Grad (Hvar Is.), Zadar
Bari - Bar, Corfu, Dubrovnik, Durres, Igoumenitsa, Patras
Venice - Mali Losinj (Lussino), Pula (Pola), Porec, Rabac, Rovinj (Rovigno), Umag (Umago)
Ferries From Montenegro
Ferries From Greece
Brindisi - Corfu, Durres, Igoumenitsa, Patras, Vlore
Corfu - Bari, Brindisi
Igoumenitsa - Bari, Brindisi
Patras - Bari, Brindisi
Ferries From Croatia
Dubrovnik - Bari, Korcula, Rijeka, Sobra (Mljet Is.), Split, Stari Grad (Hvar Is.)
Hvar (Hvar Is.) - Ancona
Korcula - Dubrovnik, Rijeka, Sobra (Mljet Is.), Split, Stari Grad (Hvar Is.)
Mali Losinj (Lussino) - Venice
Pula (Pola) - Venice
Porec - Venice
Rabac - Venice
Rijeka - Dubrovnik, Korcula, Sobra, Split, Stari Grad (Hvar Is.)
Rovinj (Rovigno) - Venice
Sobra (Mljet Is.) - Dubrovnik, Korcula, Rijeka, Split, Stari Grad (Hvar Is.)
Split - Ancona, Dubrovnik, Korcula, Rijeka, Sobra (Mljet Is.)
Stari Grad - Ancona, Dubrovnik, Korcula (Korcula Is.), Rijeka, Sobra (Mljet Is.)
Umag (Umago) - Venice
Zadar - Ancona
Ferries From Albania
Durres - Bari, Brindisi
Vlore - Brindisi