Numerous bridges, viaducts, flyovers, underpasses, passages, wildlife crossings, and over 50(!) tunnels make the Croatian motorways quite impressive and interesting to drive on.
The Croatian motorways are actually surprisingly well maintained and overall in good condition. They are marked with a special green-white road sign similar to the European signs (motorway, autoroute, autobahn).
In case no other speed limits are noted (traffic regulations, road works, weather conditions) the speed limit on the Croatian motorways is 130km/h (81 mp/h) with a legal tolerance of 10% on speeds over a 100 km/h (60mp/h).
The motorways consist of two traffic lanes and an emergency stopping lane in each direction with many rest areas, gas stations, restaurants and panoramic points.
Embarking on a Croatian adventure? Flying in and renting a car at the airport opens up a world of exploration. With well-connected airports and a range of car rental options, you'll have the freedom to uncover Croatia's hidden gems at your own pace, see more in less time, and stop wherever and whenever you want.
Good to know
Note: You might hear the term "highway" from many Croatians. It is how some of us freely translate the motorway / free-way term from Croatian ("autocesta") so don't get confused.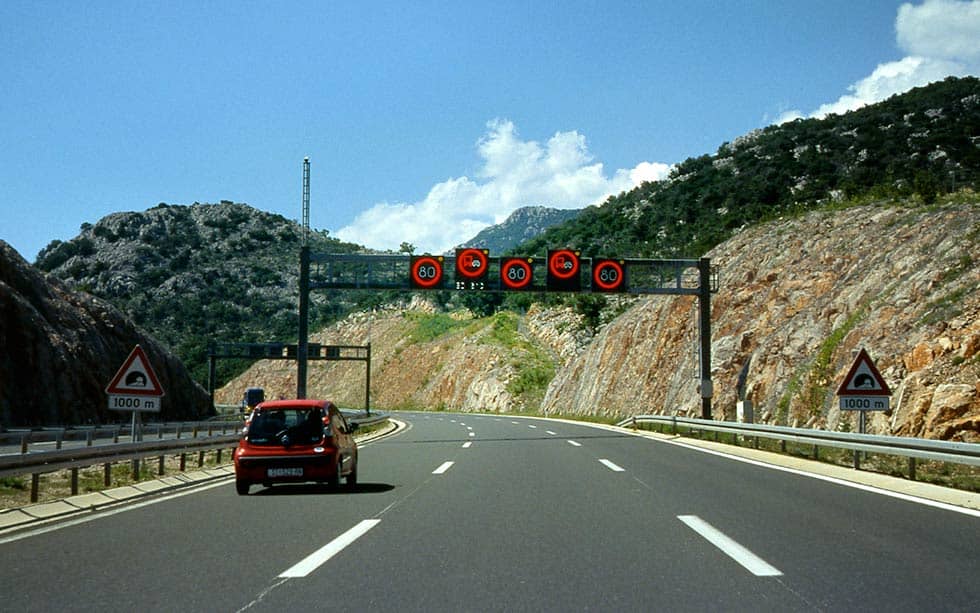 General Information
In recent years, besides the Adriatic coast, visitors have started to discover the attractions of inland Croatia. An interesting fact: almost 80% of all visitors to the country arrive by road. In 2021, Croatian Motorways received the prestigious international award for road safety from the International Road Federation.
You have probably noticed the variety of landscapes and terrains in a relatively small area. From vast plains to rolling hills, mountain massifs, and typical Mediterranean landscapes, you can experience several climate zones in just a few hours' drive, and awaken your sense of adventure.
Please pay attention to traffic signs, special traffic regulations, and peak congestion times. With good planning and information, your holiday can be safer and more comfortable.
Allow enough time for your journey, take frequent breaks, or extend your stay by visiting one of the many natural parks or other interesting sites near Croatia's motorway network.
Remember, you are on holiday, so take it easy, have fun, and discover the unknown.
Additional information is available at Hrvatske autoceste, the state owned company responsible for Operation, Construction and Maintenance of Motorways. Make sure to check the current traffic flow and road conditions regularly to stay updated.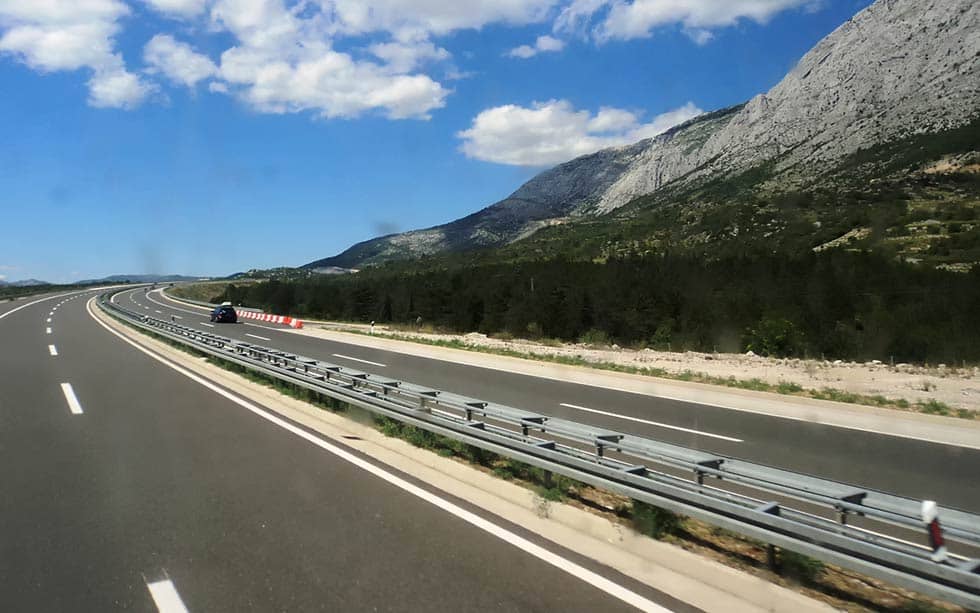 A1: Zagreb – Karlovac – Bosiljevo – Split – Ploce - (and eventually to Dubrovnik)
Part of the European E 65 and E 71
The "Autocesta A1" also known as the "Dalmatina" with its 480,7 km is the longest motorway in Croatia and a part of the planned Adriatic - Ionian motorway ( It connects the capital of Zagreb with Split and continues further south towards Dubrovnik.
Currently, due to the lack of finances and the fact that we are waiting for Bosnia and Hercegovina to complete its motorway which should eventually connect the coast of Croatia with Slavonia (connection with Hungary, Serbia..) the motorway A1 ends in Ploče (100km from Dubrovnik).
This motorway runs near a number of major Croatian cities, national parks, world heritage sites, nature parks as well as resorts which makes it of national significance due to its impact on our tourism.
Common road conditions
The A1 section of the motorway under Velebit mountain is characterized by very unfavourable weather conditions (wind gusts) especially in the winter, leading to cases of temporary closure of specific sections of the A1 motorway, of which the most frequent are Sveti Rok - Maslenica - Posedarje.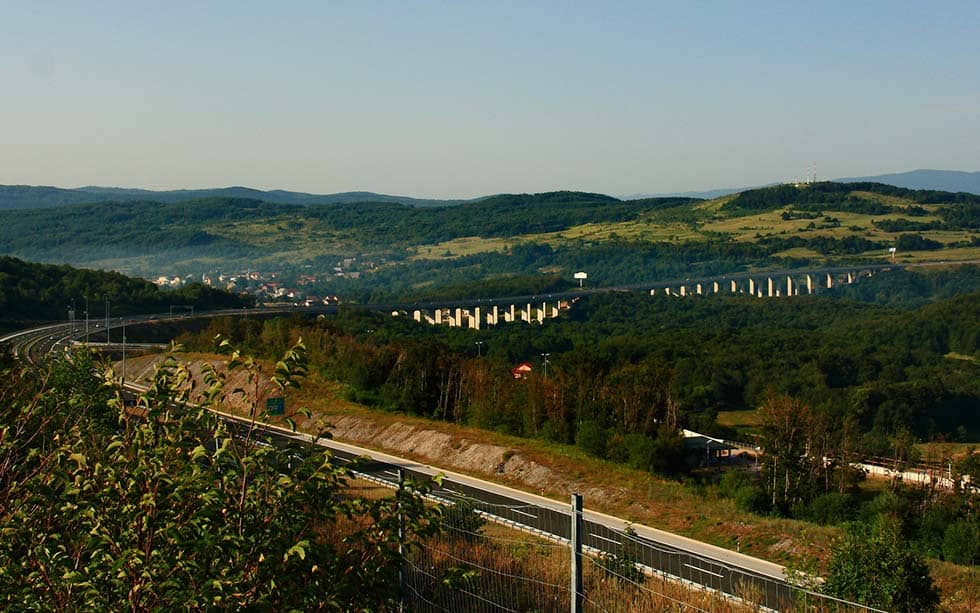 ---
A2: Border crossing Macelj (Slovenia) – Trakoscan – Krapina – Zagreb (Jankomir)
Part of the European E 59
A2, also known as the "Zagorska autocesta" connects Zagreb with the Macelj border crossing (into Slovenia, continuing to Austria) and is a part of the Pan-European corridor. The motorway follows a route trough the Hrvatsko Zagorje region, bypassing Krapina, Zabok, Zapresic and Trakoscan. With the construction of this motorway a long roundtrip via Ljubljana has been avoided.
Common road conditions
The road is frequently maintained due to a considerable volume of traffic throughout the whole year so you might run into some road works.
---
A3: Border crossing Bregana (Slovenia) – Zagreb – Sl. Brod – border crossing Bajakovo (Serbia)
Part of the European E 70
The 306 km of the A3 motorway represent a major east-west transportation corridor connecting Zagreb with Slavonia and its cities along the Sava river, continuing further on into Serbia. It serves as a route connecting the European Union states and the Balkans as part of another Pan-European corridor. This motorway was originally designed in the late 1940s with its construction beginning a few years later. An interesting fact is that a substantial portion of the work was carried out by youth from Yugoslavia and abroad through youth work actions. Nearly 300,000 youth, including Yugoslav army soldiers, took part in the construction of the "Brotherhood and Unity Highway"
Common road conditions
The road is frequently maintained due to a considerable volume of traffic throughout the whole year so you might run into some road works.
---
A4: Border crossing Gorican (Hungary) – Varazdin – Zagreb (Ivanja Reka)
Part of the European E 65 and E 71
The "Varazdinska autocesta" or A4 motorway is a 97 km long connection from Zagreb to Varazdin continuing to Budapest (Hungary) via the Gorican border crossing. It is a major north-south transportation corridor which connects to the rest of the Croatian motorway network. Just like the A1 motorway, it has a positive impact on Croatian tourism (it connects Hungary, Slovakia, Poland..)
Common road conditions
As the route spans itself over a hilly terrain, it is being regularly maintained so you might run into some road works.
---
A5: Border crossing Branjin Vrh (Hungary) – Beli Manastir – Osijek – Djakovo – border crossing Svilaj (Bosnia and Herzegovina)
Part of the European E 73
Also known as the A5 motorway or "Slavonika", it is a 56 km long connection from Hunary via Osijek towards Bosnia & Hercegovina (eventually connecting to the A1 via B&H;). At the moment its significance is not yet in fully glory as the original idea is connecting Eastern Europe with the Adriatic making it the fastest way to the sea.
Common road conditions
Usually good.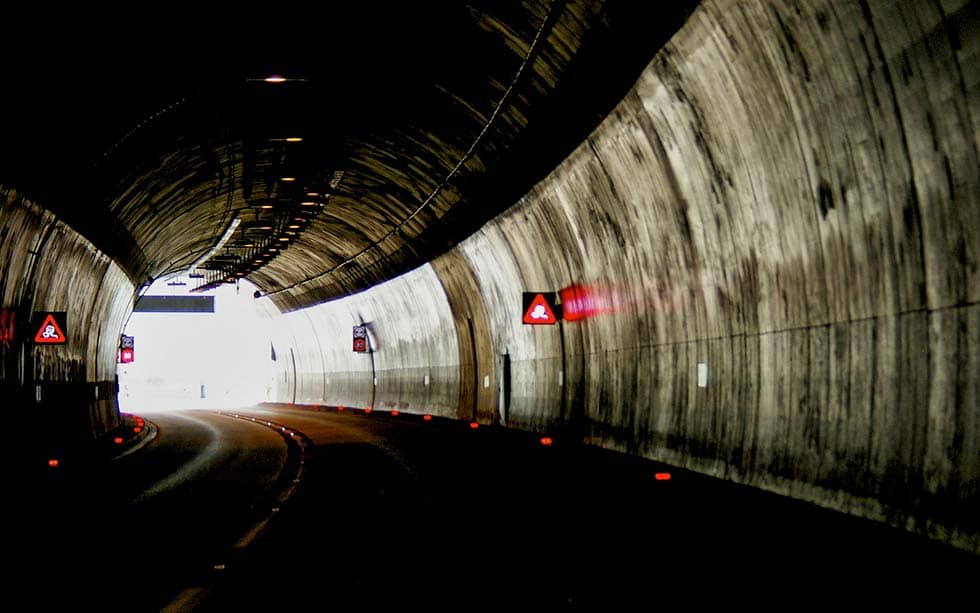 ---
A6: Bosiljevo 2 (from A1) – Delnice – Rijeka
Part of the European E 65
The A6 connects Zagreb with the seaport of Rijeka, running past a number of cities, provides access to Risnjak National Park and indirectly to numerous resorts, notably in the Istria and Kvarner Gulf regions. It has a positive impact on Croatia's economy (trading routes from Rijeka / tourism). As the A6 motorway route runs through mountainous terrain of Gorski Kotar, it has quite a number of major structures such as bridges, viaducts, tunnels, underpasses, flyovers, and culverts.
Common road conditions
The road is frequently maintained due to a considerable volume of traffic throughout the whole year so you might run into some road works.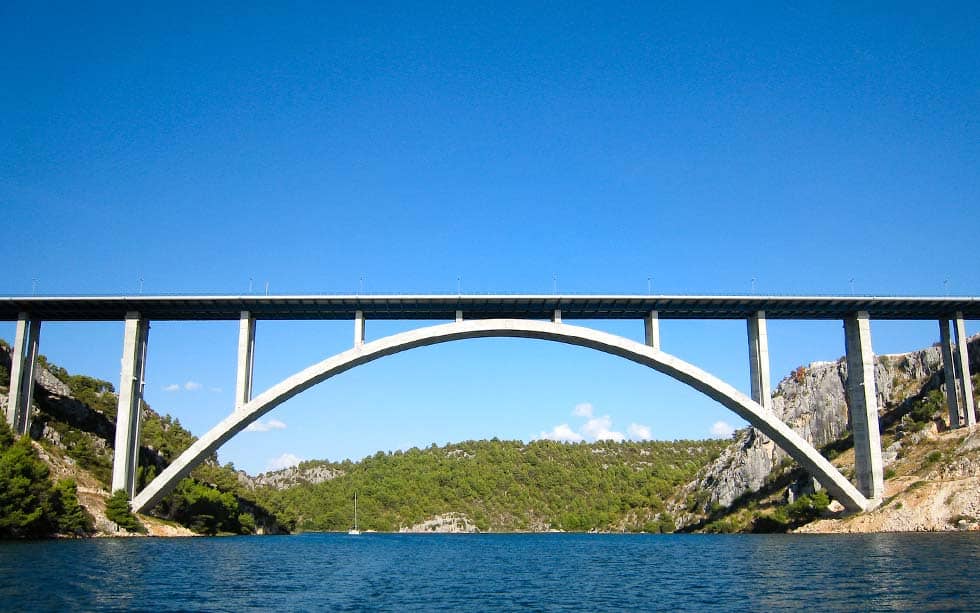 ---
A7: Border crossing Rupa (Slovenia) – Matulji – Orehovica – Rijeka - Krk island bridge
Part of the European E 61 and E 65
The A7 motorway, also known as "Kvarnerska autocesta" starts at the border with Slovenia and heads south towards Rijeka, interchanges with the A6 and continues to the Krk island bridge. It is significant due to its contribution to Croatia's tourism - it represents the shortest and the most convenient route between Trieste (Italy) or Ljubljana (Slovenia)and the Adriatic Sea.
Common road conditions
Possible traffic jams when entering/exiting the country in July and August (especially on weekends).
---
A8 & A9: Pula – intercharge Kanfanar - intercharge Umag (Slovenia border) or Pazin
Junction with the E 751
The Istrian Y is a motorway complex combining the A8 and A9 motorway spanning throughout the Istrian peninsula. Both motorways meet at the Kanfanar interchange in south central Istria. The A8 starts in Matulji (near Rijeka), pases the Ucka tunel and Pazin ending at Kanfanar, while the A9 heads down to Vodnjan and Pula or up north towards the Umag interchange.
Common road conditions
Noting special, just a bit of traffic during the summer.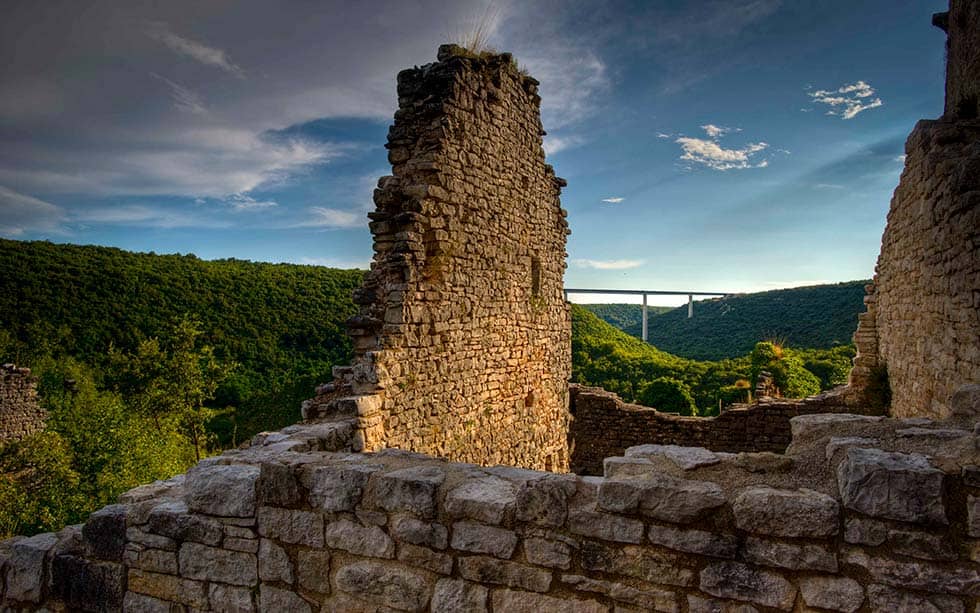 ---
Vehicle categories
Depending on a vehicle type, it is designated to its own category which servers as a base for a price calculation. Price lists are located next to each motorway.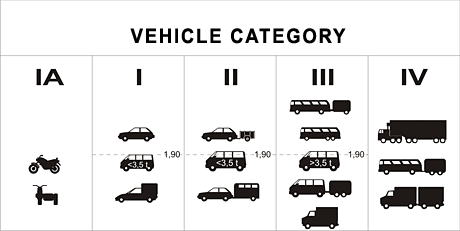 IA
Motorcycles, motor tricycles and four wheeler motorcycles
I
Motor vehicles with two axles, up to 1.90 m high
II
a) Motor vehicles with two axles above 1.90 m, with the maximum authorised mass of 3,500 kg
b) Motor vehicles with two vehicles, under 1.90 m, with a trailer regardless of number of axles and the trailer height
III
a) Motor vehicles with two or three axles, with the maximum authorised mass over 3,500 kg
b) Motor vehicles with two axles with the maximum authorised mass over 3,500 kg with a single-axle trailer
c) Motor vehicles from II a) pulling a trailer regardless of number of axles on the trailer
IV
a) Motor vehicles with four or more axles with the maximum authorised mass over 3,500 kg
b) Motor vehicles with two axles with the maximum authorised mass over 3,500 kg with a two or three axle trailer
c) Motor vehicles with three axles with the maximum authorised mass over 3,500 kg with a trailer regardless of the number of axles on the trailer
How to pay for a motorway in Croatia?
When using the motorways managed by Hrvatske Autoceste d.o.o., users must pay a toll fee based on distance and vehicle category. Payment options include cash, ETC, Diners, Mastercard, Maestro, Visa, INA card, and MOLGROUP card. Toll rates have VAT included.
Croatia's motorways use two toll systems: open and closed. The open system covers both entry and exit at toll plazas. The closed system requires user registration at entry, either through a toll ticket or ETC device, and toll payment at exit based on recorded data.
Users with an electronic toll collection (ETC) device (ENC) skip toll ticket collection at entry. They use a dedicated lane and pay through the onboard unit.
HAC ETC Mobile Application
This app is available for free installation on both iPhone and Android devices through the App Store and Google Play. Using the app on your mobile phone incurs no additional costs beyond standard data usage.
Who Can Use the HAC ENC Application:
This application is designed for users of electronic toll collection (ENC) as well as those interested in information about toll prices and traffic conditions on Croatian motorways.
Key Features of the HAC ENC Application
Top-Up ENC Subscription: You can add funds to your ENC subscription accounts using various methods, including credit cards, ENC vouchers, Internet banking, or the ENC SMS system.
Balance Monitoring: Keep track of the balance in one or more of your ENC subscription accounts and monitor the status of your ENC devices.
Toll Cost Estimation: Calculate the toll cost for your intended journey.
Service Area and Petrol Station Locator: Find the nearest service areas or petrol stations along Croatian motorways.
ENC Onboard Unit Information: Discover where to purchase an ENC onboard unit or ENC voucher and locate places to recharge your ENC while on the motorway.
Access for HAC ENC Users: If you are already an HAC ENC user, you can log into the application using the user data provided to you when you signed your contract at an HAC outlet.
Access for Non-HAC ENC Users: Even if you are not an HAC ENC user, you can still utilize the application to calculate tolls and access information on road conditions.
Approximate toll prices for popular Croatian motorways
| motorway / vehicle | length | cars | motorcycles |
| --- | --- | --- | --- |
| A1: Zagreb - Zadar | 253 km | € 16.5 | € 10.0 |
| A1, A6: Zagreb - Rijeka | 135 km | € 9.2 | € 5.5 |
| A2, A1: Trakošćan (SLO/HR) - Split | 444 km | € 24.8 | € 14.9 |
| A3: Zagreb Istok - Lipovac (HR/SR) | 258 kn | € 16.9 | € 10.2 |
Tip: Use the interactive map from Hrvatske Autoceste to calculate toll prices. Click on toll calculation from right menu.
Winter conditions
In Croatia, in the period from 15.11. until 15.04. it is mandatory to have winter equipment on the following motorways: A1 (from Maslenica towards Zagreb and vice versa), A2, A3, A4, A5 and A6.
Having winter equipment (for vehicles up to 3,5 tons) means having winter tires ( or M + S) on all wheels or summer tires with a minimum tread depth of 4 mm and snow chains standby in case they're needed. Drivers caught driving without the appropriate equipment will be fined and excluded from traffic. Studded tyres are prohibited.
Renting a car in Croatia
Renting a car offers the optimal means to explore Croatia and you can travel off the beaten path, see more in less time, and stop wherever and whenever you want.
In Croatia, renting a car proves especially cost-effective during the off-season, especially when booked in advance or if you happen to stumble upon one of the last minute offers. Croatia has a well-maintained road network. This includes a modern multi-lane motorway spanning east to west and north to south, complemented by a system of toll-free national roads. These routes are consistently paved, sufficiently wide, and boast clear and visible road signs.
Driving on Croatian motorways with a rented car
When driving on Croatian motorways with a rented car there are a few important things to keep in mind:
Valid driver's license: A valid driver's license i required to drive in Croatia and it must be in Latin script. If your license is in a non-Latin script, you will need an International Driving Permit.
Insurance: Make sure your rental car is properly insured. Ask you rental provider or read the rental agreement to understand what is covered and what is not. Most car rental companies provide basic insurance but you may want to consider purchasing additional coverage for peace of mind.
Toll fees: Croatian motorways are subject to tolls and you will need to pay for using them. Toll booths are located at the entry points for each motorway and can pay in cash or with a credit card. Some car rental companies may offer a toll pass for a daily fee.
When driving in Croatia stick to the speed limits because they are strictly enforced. In normal traffic conditions the speed limit on motorways for cars and motorcycles is 130 km/h. On Expressways or State roads (identified by the letter D) outside of built-up areas the limit ranges from 90 km/h to 110 km/h. The speed limit within built-up areas is 50 km/h.
Seat belts: All passengers in the vehicle are obliged to wear seat belts. Buckle all children ages 12 and younger in the back seat.
Drinking and driving: The allowed legal blood alcohol concentration (BAC) limit in Croatia is 0.05%.
Road signs: Make sure you understand Croatian road signs and traffic laws before you start driving. Some signs may be different from what you are used to in your home country.
Emergency services: In case of an emergency, dial 112 for assistance. Roadside assistance services are available but they may come at an additional cost.
We wish you a safe and hassle-free driving experience on Croatian motorways with your rented car.
---