The story tells that the Synagogue in Dubrovnik was established in 1352. but gained legal status in 1408. which still makes it the second oldest synagogue in Europe.
The synagogue is still active, located in a building which could be reached from within the surrounding houses in what was once the Jewish ghetto (Via del Ghetto, today's Žudioska ulica - Jewish street). There are slight differences in the look of the building when compared to surrounding houses. It is a narrow, two store building, as found anywhere in the Old Town, with different windows: on the first floor, windows have Saracen style arches. On the top of one of the windows, there is a sign saying: "Be blessed upon your arrival."
Dubrovnik Jewish Heritage Private Walking Tour
Explore the captivating Jewish heritage of Dubrovnik on a private 2-hour walking tour. Discover significant landmarks such as the Jewish fountain, remnants of the old Jewish ghetto, and visit one of Europe's oldest synagogues.
You can further customise the experience according to your interests, ensuring an enlightening journey guided by an expert.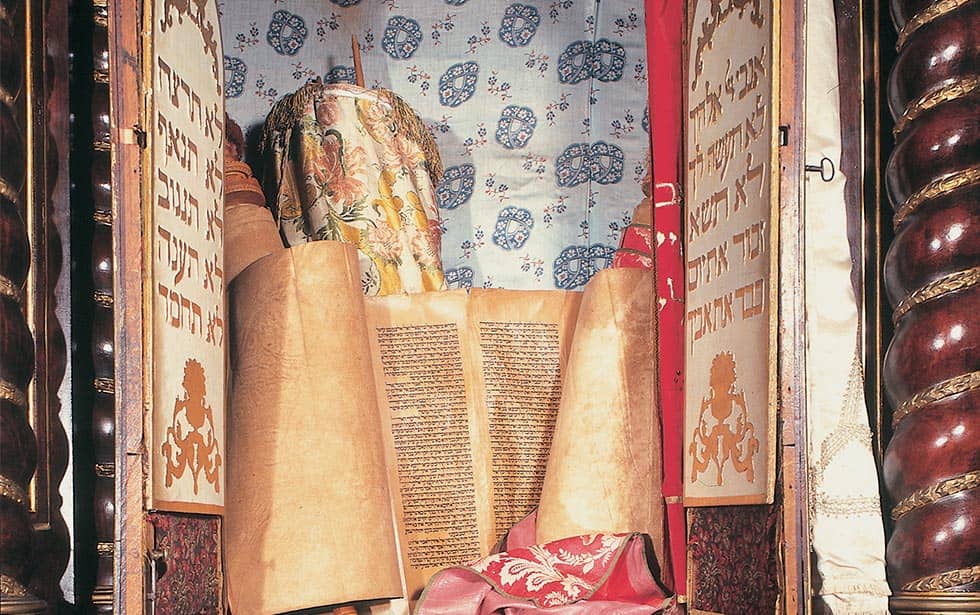 In the past the synagogue was connected to other buildings by passages. Interior of the synagogue was renovated in 1652. and preserved till today. The synagogue survived two earthquakes in the past, received a direct hit to the roof during the bombardment in 1992. and was repaired in 1997.
The synagogue also houses a museum which contains valuable menorahs and Torah scrolls, alongside information on the history of the Jewish community in Dubrovnik.
History
Documents related to the fist Jewish inhabitant of Dubrovnik in 1421.
Documents about famous people who inhabited Dubrovnik
List from 1546. - Dubrovnik Senate allows Jews to inhabit four houses and six warehouses in (then called) Lojarska street
Document about establishing ghetto
List of casualties from 1667. earthquake
Licence for medical practice for Amatus Lusitanus
Marital agreement from 1641.
Ban on medical practice from 1557.
Decree from 22.6.1808. - Marshal Marmont bans old laws against Jews (Equal citizen rights)
World War II
Rojnice proclamation - a document taken from the Sephardim when the Gestapo searched for the well hidden Torah in 1941.
Names of the 27 Holocaust victims
Jewish sacral art
Ritual textiles - silk Torah wrappings
Decorative curtains of Spanish / French velvet wool
Silver cubed Torah crowns
Parchment Torah scrolls that were according to a legend brought in 1492. by Sephardim. The calligraphy of the Hebrew letters is significantly different from most known.
Behavior advices and terms for during prayer
Decorated leather prayer books
Working Hours
1.5.–30.9. Every day 10–20 h
1.10.–30.4. Mon-Fri 10–15 h, Closed on Sat-Sun
Features
First floor houses a museum
One of the oldest synagogues in Europe
Address & contact details
Street: Žudioska ulica 5
Postcode: 20000
City: Dubrovnik

---
Where to stay in Dubrovnik
Our top picks for where to stay in Dubrovnik.
Hotels and apartments in Dubrovnik