When sightseeing Split, the Diocletian's palace and it's most valuable sights will be the first landmark you'll get to know. With its size and the state that it's in, the palace is one of the most important monuments of late Roman architecture.
Let us give you a short intro first: Diocletian was a Roman Emperor born in Salona (today: Solin; then the capital of the Roman province of Dalmatia). The massive palace was built as a preparation for his retirement. So, upon returning to his homeland he moved into the expensive fortified compound around later on the city of Split formed.
Split - "Emperor's City for History Lovers"
Private Walking Tour+Cellars Museum
Guided tour of Old Town Split, including the famous Diocletian's Palace (UNESCO World Heritage Site), Peristyle and the basement cellars.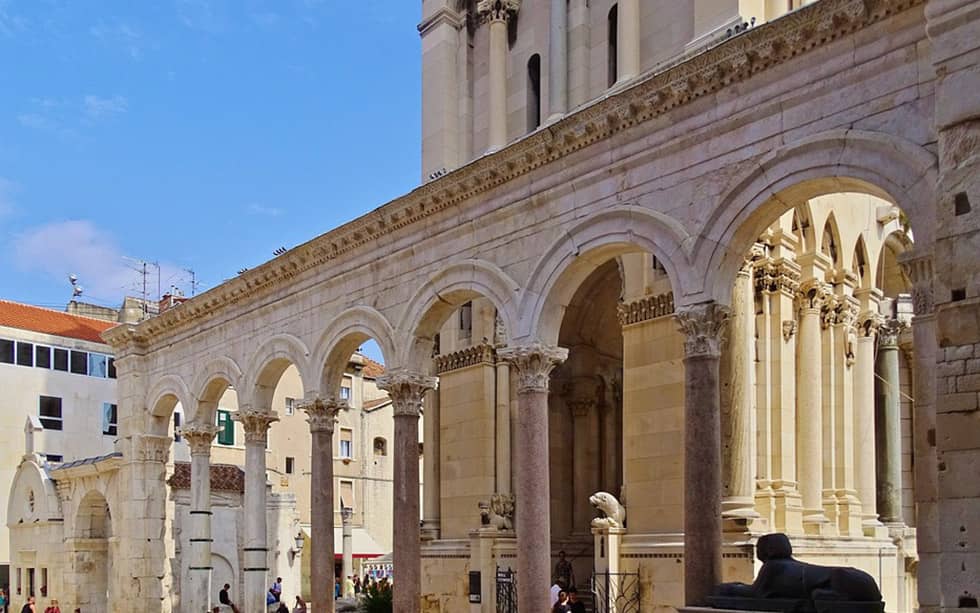 Spalato (Split), started forming in the 7th century when nearby residents fled from barbarian invasions. As the palace was abandoned by the Romans and was empty for several centuries, its new residents started making their homes and workshops inside the walls. Today, within the palace itself, approximately 3000 citizens live in some 200 residential buildings. But with the many bars, shops and cultural events - that number rises dramatically, especially during summer.
Diocletian was buried in his palace. His tomb was later turned into a Christian church, the Cathedral of St. Domnius, which is still standing nowadays. Because of the fact that Diocletian persecuted Christians, while the palace wasn't in use anymore, they came back and destroyed all images and signs of Diocletian. Afterwords, many other sights were destroyed, built upon and similar. They replaced Roman-era imagery with Christian imagery.
In November 1979 UNESCO declared the palace remains a World Heritage site as a important archaeological complex.
The Diocletian's palace was also featured on the back side of the Croatian 500,00 kuna banknote.
Working Hours
open 24 hours
Features
One of the most valuable building of the Roman era on the Adriatic coast
Address & contact details
Street: Dioklecijanova 1
Postcode: 21000
City: Split

---
Where to stay in Split
Our top picks for where to stay in Split.
Hotels and apartments in Split