Exposed to sea and surf, medieval Mljet was far from world cultural affairs.
In order to preserve the island's unusual features, especially at the northwest end, Mljet was places under the protection of the state in 1948, proclaiming it a "protected natural sanctuary". In 1960 Mljet was proclaimed a national park, side by side with Plitvice Lakes, Paklenica and Risnjak.
Getting to Mljet National Park
The catamaran ferry connects Dubrovnik with Mljet island, check the daily departure timetable from Gruž Harbour in Dubrovnik.
If you are travelling by car there is a regular car ferry from Pelješac peninsula: Pelješac to Mljet car ferry.
Boat Tour to Mljet National Park & 3 Islands
Experience the stunning natural beauty of the southern Dalmatian Islands with a guided full-day boat tour.
Marvel at the breathtaking scenery as you sail across the glistening ocean, visiting some of the most gorgeous destinations including Mljet National Park, Odysseus Cave, and the historic town of Lopud Island. Throughout the tour, the experienced crew will ensure your safety and relaxation, while offering opportunities for swimming, kayaking, and snorkelling in the crystal-clear waters of the islands.
The tour includes safety equipment such as life jackets and insurance, as well as bottled water for your convenience and comfort. Admission entry fees are also covered, so you can explore the beautiful natural environments without any worries.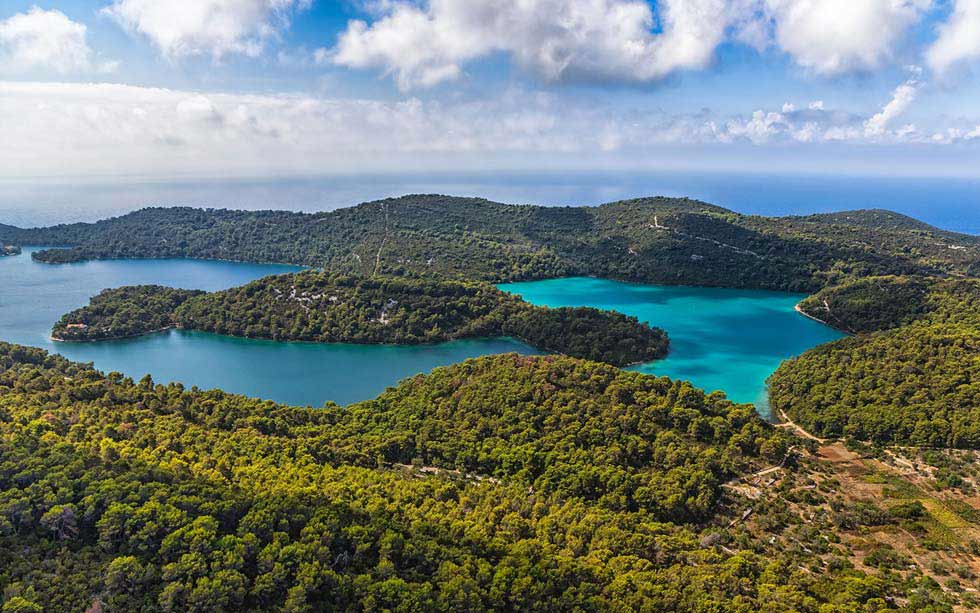 Veliko jezero (Big lake)
The first inhabitants of Mljet, with all options available, chose the northwest tip of the island for their new home. In doing so they provided that the area of first priority for habitation are the Mljet lakes with their surrounding, wooded lands. Nature has nurtured a secret life here, a marvellous world of enchantment, long before human beings encroached. And the humble Benedictines loved the area and strove to keep it for themselves, happy that they could revel in its wonders.
The Veliko and Malo Lakes and Soline are the heart of the Mljet National Park. Until the human hand got involved, with clumsy attempts at correcting nature, Veliko Lake (actually a sea bay that originated from sunken karst coves) could only be entered through Soline by small boat. The passage was small and shallow and it was probably the Benedictines who had it artificially dredged in the 15th century to facilitate passage.
Powerful currents started washing sea water along the channel, changing the direction in sequences of high and low tides. The clever Benedictines immediately put this natural phenomenon to good use by building a mill on the shore of the channel. The small bridge was probably built at that time. Around year 1960. the deserted Benedictine monastery was re-built as a hotel, a lovely stone bridge was devastated so the channel could be widened and the old mill was gone.
The water in it is salty, since it is connected to the open sea through Solinski Channel, but since there are no other outlets to the sea, the replacement of water in lakes is limited. This is the origin of the differences in salinity and temperature between lakes and the sea: the waters in the Lake are warmer in summer (about 24 to 26°C) and colder in winter, than open sea water. The salinity on the surface of the Veliko Lake is lower than that of the sea, and it decreases with depth.
The Big Lake abounds in varied forms of aquatic life: grey mullet, sea bass, gilt head, eel, red mullet, sea bream, moray eel, annular git head, lettered perch, scorpion fish, spiny lobster...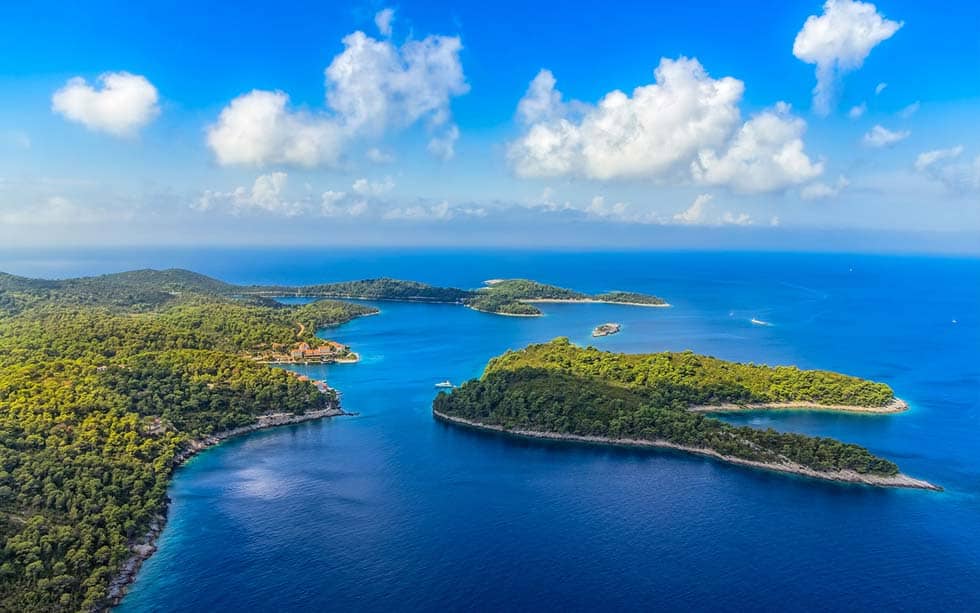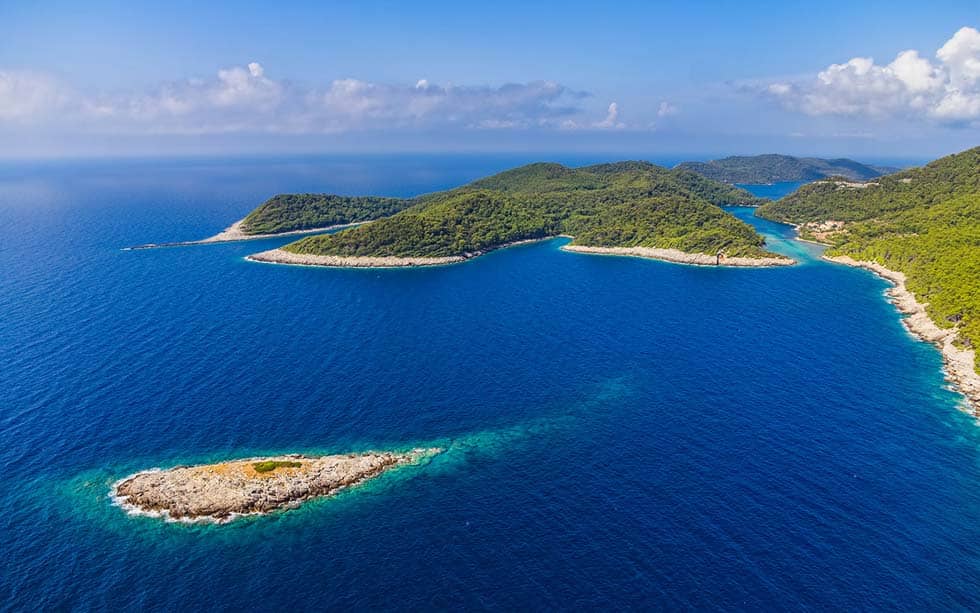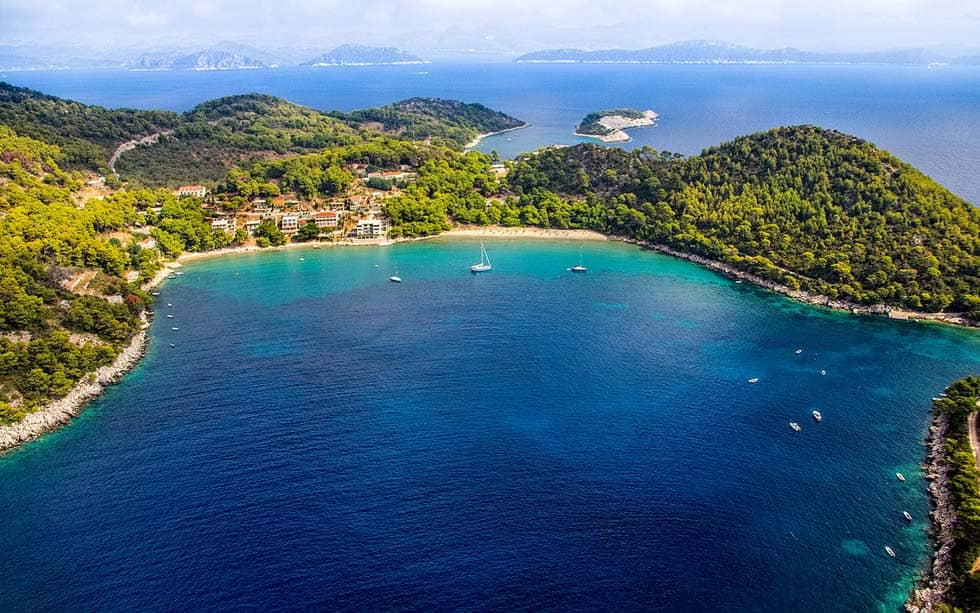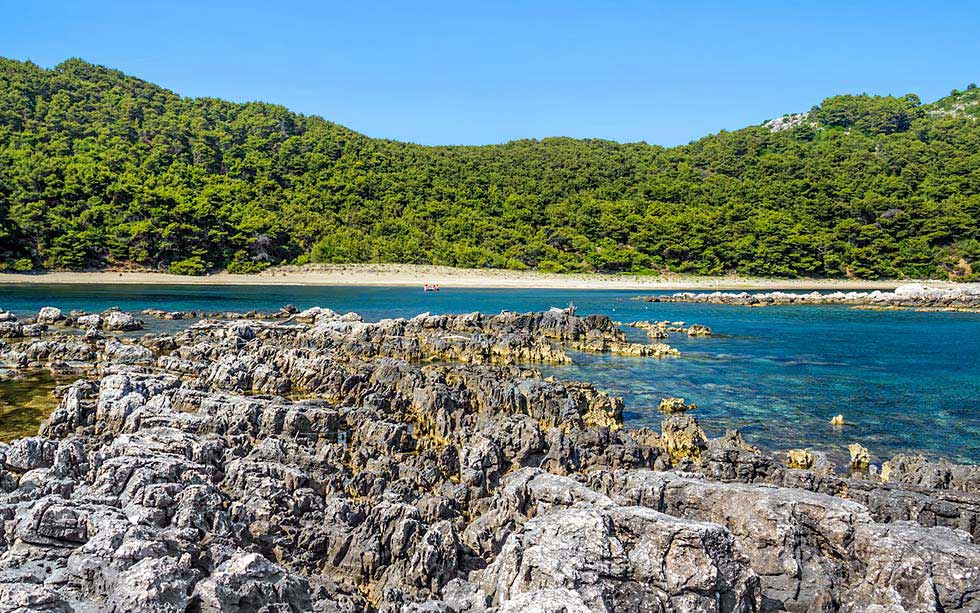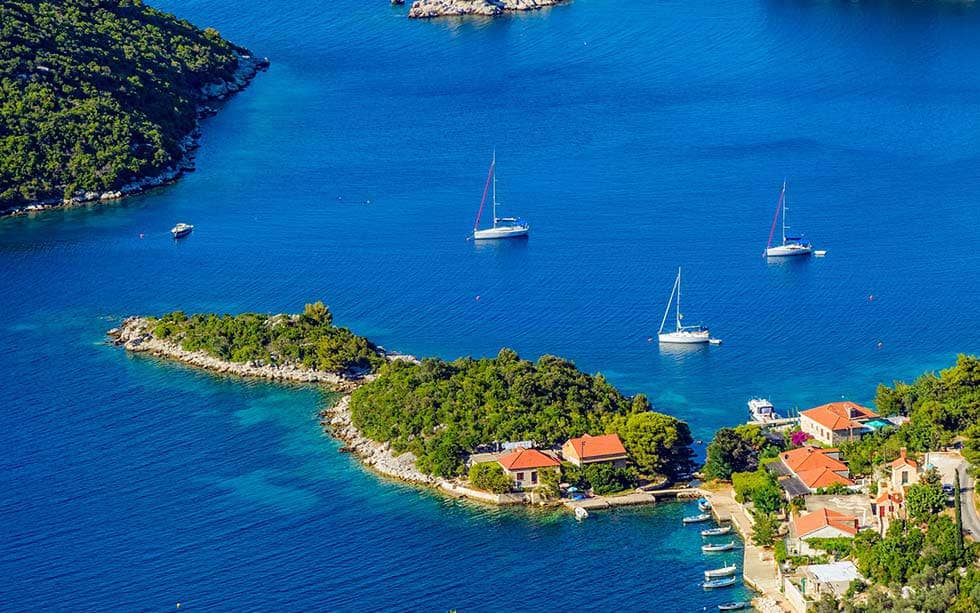 Malo jezero (Small lake)
The Big and Small Lakes used to be connected by a channel so shallow that one could wade across it. On the eve of WWII, during the construction of a road around Big Lake, a broader passage was dredged, so that small boats could have access. At that time the channel was bridged with the stone Small Bridge.
Small Lake is fed by rainwater, and underground stream, just as Big Lake is. The temperature of the water in Malo Lake in summer (average 26 to 29°C) is greater than the temperature of Veliko Lake and the sea, while in winter (about 5°C) it is considerably below that of Veliko Lake and the sea. The salinity of the Malo Lake surface is lower than that of the sea, but it increases towards the lake floor. It is assumed that somewhere there must be a direct underground connection between Small Lake and the sea.
Activites
Two most popular activities in the Mljet National Park are hiking and biking. There are numerous hiking trails all over the national park, and tarmac and gravel roads that suit all levels of biking. Near the Small Bridge you can rent a bike, canue or a kayak. Renting a canue or a kayak is one of the ways to get to the St.Mary Island due to sailing restrictions in the Veliko and Malo Lakes.
If you are arriving to Mljet on a sailboat or a yacht, anchoring is permitted in Polače, Pomena and Lokva bays.
Mljet National Park entrance fees
Tickets can be bought online, at ticket offices in Pomena and Information centers. Please not that the web page for online tickets for Mljet National Park is currently available in Croatian language only.
Discounts are also available if you choose to purchase Dubrovnik Card.
| VISITOR CATEGORY | 01.01. – 31.05. | 01.06. – 30.09. | 01.10. – 31.12. |
| --- | --- | --- | --- |
| Entrance ticket for adults bought on webshop | 7,96 Eur | 18,58 Eur | 7,96 Eur |
| Entrance ticket for adults bought at NP Mljet | 9,29 Eur | 19,91 Eur | 9,29 Eur |
| Entrance ticket for children from 8 to 18 bought on webshop | 2,65 Eur | 5,31 Eur | 2,65 Eur |
| Entrance ticket for children from 8 to 18 bought at NP Mljet | 4,65 Eur | 6,64 Eur | 4,65 Eur |
| Entrance ticket for students bought on webshop | 5,31 Eur | 10,62 Eur | 5,31 Eur |
| Entrance ticket for students bought at NP Mljet | 6,64 Eur | 11,95 Eur | 6,64 Eur |
| Entrance ticket for children up to 7 years | Free | Free | Free |
| Additional return boat ticket to the island of St. Mary (upon presentation of entrance trcket) | 3,98 Eur | 3,98 Eur | 3,98 Eur |
| Entrance hiking ticket | 6,64 Eur | 9,29 Eur | 6,64 Eur |
| Adults DU Card 30% | 6,50 Eur | 13,94 Eur | 6,50 Eur |
| Children above 8 years DU Card 30% | 3,25 Eur | 4,65 Eur | 3,25 Eur |
Working Hours
08:00 - 20:00
Features
Mljet National Park covers the entire north-west part of Mljet Island
Address & contact details
Street: Polače
Postcode: 20210
City: Island Mljet

Website: Javna ustanova "Nacionalni park Mljet"
---
Where to stay on Island Mljet
Our top picks for where to stay on Island Mljet.