Zagreb's Technical museum and its 60 year tradition proudly follows the footsteps of the great science and technology museums of the world. It is one of the cities' gems.
The Technical Museum in Zagreb is definitely one of the most famous museums in the country and a favourite of many.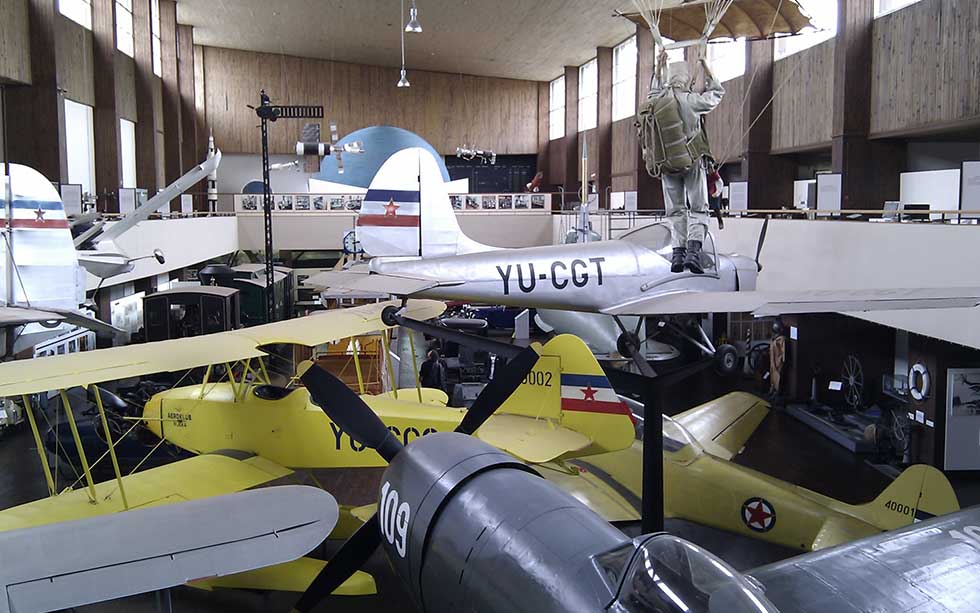 Further, models of steamboats and boat artifacts can be observed as well as an valuable collection of ships' engines. Beside the Maritime conquests gallery, many rare and valuable artifacts represent WW I and WW II, the exhibit also includes a unique collection of torpedoes - the most valuable exhibition within the museum.
The museum provides adequate access for visitors with special needs.
Old Zagreb Private Tour
Discover the history, culture, and modern way of life of Zagreb, the capital of Croatia, on this two-hour introduction tour.
With a leisurely pace, you'll explore the medieval precursors of Zagreb, Gradec and Kaptol, as well as all the essential sights of the city, including Ban Jelačić Square, Stone Gate, St. Mark's Church, Lotrščak Tower, and Zagreb Cathedral, among many others. Along the way, your knowledgeable guide will provide recommendations for places to visit during your free time, ensuring that you have an informative and enjoyable experience.
About
The idea of establishing such a museum dates back to the late 19th century.There was even a Trades & Crafts Museum established in Zagreb for some time, but the real Technical Museum's history began on December 21st 1954. when it was finally decided to establish.
Since 1959., when it was relocated to its today's location, the museum invests a lot of effort into popularising science and technology. They organize lectures, workshops, presentations, festivals both for grown ups and kids.
Exhibitions
Thanks to the warehouse it is located in, the Technical museum has a lot of space for a wide and selection of exhibits.
Energy Transformation
Demonstrates the historic development of inventions and solutions for converting less valuable forms of energy into more useful forms to humans.
Means of Transportation
Offers a chronological journey through the development of water, land, and air transportation. The display predominantly features original items, including the pocket-size submarine Mališan CB-20 from 1943, airplanes from the first half of the 20th century (Bücker Jungmann, Trojka, DAR-9, Aero-3, Thunderbolt..), the popular Samoborček (train) locomotive from 1930, a Dubrovnik tram car from 1912, the motor sled constructed by Zagreb mechanic Marko Knez from 1931, and several old automobiles (the Renault NN from 1926, the Mercedes-Benz S from 1927, and a Hansa from 1939).
Astronautics Department with a Planetarium
Features models of famous spacecraft, rocket-carriers, and orbit stations that illustrate the early development of astronautics. The greatest attraction is the Planetarium where, with the help of a specially constructed projector, visitors can view the starry sky from the North Pole to the Equator at any time of the night and in any season.
Geology/Mining/Oil
Centred around the methods that our ancestors used to find ores and minerals. A special attraction is the 350 m long model mine, built below the Museum, which illustrates the history of mining in Croatia.
Essential Agriculture
Focuses on different technical implements that were used for digging and ploughing with a collection of Specimen Glass Bee-Hives with Live Bees
Fire-Fighting Department
Illustrated by original items, including hand and motor-powered hoses, horse-drawn fire fighting vehicles, ladders, piping, sprayers, and other fire fighting equipment.
Demonstration Cabinet of Nikola Tesla
Visitors can observe a rotating magnetic field, Tesla's high frequency transformers, the wireless transfer of electromagnetic oscillations, a remote-controlled ship, Tesla's turbine, etc. Not only do visitors watch the experiments, but they may also take part in them if they wish.
General useful information
Taking photographs is allowed for personal use only
Disabled access is available for departments located at the Museum's ground-floor
Getting to the Museum is possible by local trams N° 9, 12, 13, 14, and 17
Museum's publications, badges, and postcards can be purchased at the cashier's desk
There is a public parking lot in the Museum's immediate vicinity
Tickets
Adults - 3.60 EUR
Working Hours
Tuesday - Friday: 9 am - 5 pm, Saturday and Sunday: 9 am -1 pm
Closed on Mondays and public holidays.
Sunday and holiday 09:00 - 17:00
Features
Planetarium
Museum tram ride is free for all visitors
Search in advance when there is an English tour guide
Address & contact details
Street: Savska cesta 18
Postcode: 10000
City: Zagreb

Web: Technical Museum Nikola Tesla
---
Where to stay in Zagreb
Our top picks for where to stay in Zagreb.
Hotels and Places to Stay in Zagreb