Dubrovnik Airport is located in Čilipi, approximately 21 kilometers from Dubrovnik and 6 kilometers from Cavtat. It takes about 30-45 minutes by shuttle bus from Dubrovnik airport to the city of Dubrovnik.
Shuttle bus from Dubrovnik to Dubrovnik Airport timetable
Reaching Dubrovnik Airport by car
For those looking to drive to or from Dubrovnik city centre, the route is straightforward. Simply follow the main motorway D8 and heed the signs when nearing either the city or the airport. This journey typically takes about 25-30 minutes. Beware that during high season this journey can take up to one hour due to heavy traffic.
Flight schedule off all Arrivals to Dubrovnik airport today
Dubrovnik Airport Arrivals, list off all planes arriving to Dubrovnik today.
Flight schedule off all flights departing from Dubrovnik Airport today
Dubrovnik Airport Departures, list of all planes departing from Dubrovnik today
Flight schedules are © Dubrovnik Airport
---
Arrange a private transfer from or to Dubrovnik Airport
Should you need transfer services from or to Dubrovnik airport to your hotel or any other destination please check out Dubrovnik Airport Transfers or contact us at: This email address is being protected from spambots. You need JavaScript enabled to view it.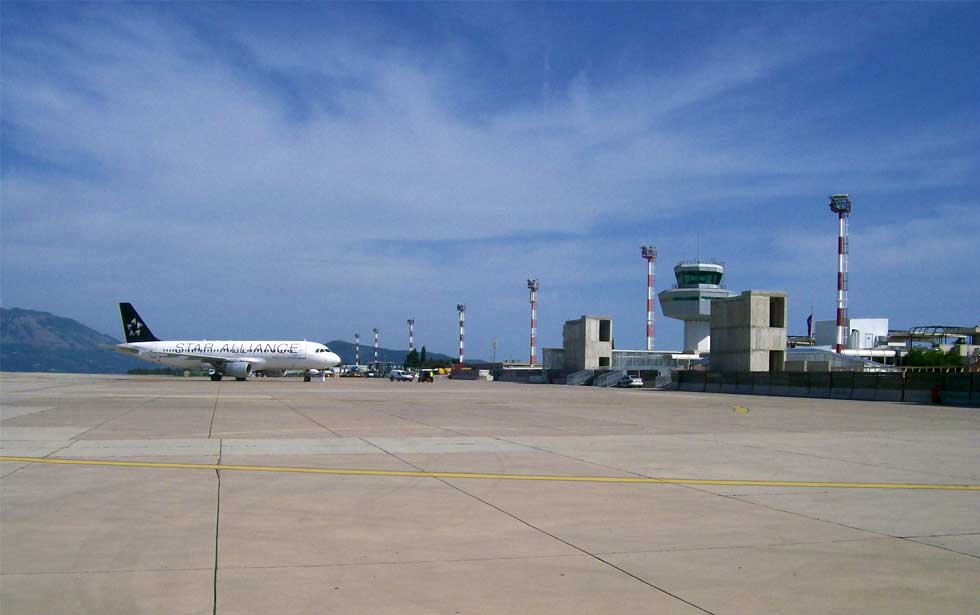 The most convenient and most comfortable way to visit Dubrovnik is by plane as many International companies have flights either straight to Dubrovnik or to Zagreb from where the Croatian national carriers have connections to Dubrovnik or any other airport within the country.
Find Best Deals - search and compare airfares to find the best deals
Facilities at Dubrovnik airport
Among the facilities on the airport are shops, duty free shops, cafe bars, snack bar, VIP and business lounge, currency exchange office , ATMs, newsagents and tobacconist, luggage wrapping services and car rental offices.
Parking at Dubrovnik airport
The airport has a parking lot with a capacity of 200 vehicles.
Please pay at the automatic pay station located next to the exit ramp. Payment accepted by cash and credit card.
Parking price list for passengers and visitors
Description
Time Unit
Price (EUR)
Kiss and Fly
1h
13,20*
Parking P2 - short term parking in front of Terminal (parking up to 15 min free of charge)
1h
2,60*
Parking P3 - parking area for buses
1h
6,60*
Parking P4 - parking area for buses
1h
6,60*
Parking P5 - short term parking in front of Terminal (parking up to 15 min free of charge)
1h
2,10*
Parking P1 - main parking area for vehicles
(parking up to 15 min free of charge)
up to 1h
1,30*
up to 2h
2,60*
every following hour
0,20*
Parking P10 - parking area near GAT for long term parking
(parking up to 15 min free of charge)
1 day
4,60*
* VAT included
Fee for lost parking card is 132,70 EUR
Place of payment: automatic payment cashiers next to exit ramps
Payment accepted by cash, credit card and Bmove
parking up to 15 min free of charge
Overnight at Dubrovnik Airport
Overnight stays are not permitted at this airport. For uninterrupted sleep, there are several hotels and apartments near the airport. The shuttle bus departs from Dubrovnik main bus station according to the daily flight schedule.
Accommodation is available in nearby Cavtat hotels and apartments or Dubrovnik hotels and apartments
Dubrovnik Airport Contact Information
Passenger Information
Tel: ++385 20 773 100
This email address is being protected from spambots. You need JavaScript enabled to view it.
Lost & Found
Tel: ++385 20 773 328
This email address is being protected from spambots. You need JavaScript enabled to view it.
---
Frequently Asked Questions
How far is Dubrovnik Airport from Old Town Dubrovnik?
The journey from Dubrovnik Airport to Dubrovnik Old Town covers a distance of 21 kilometres by road (motorway D8).
How much should you expect to pay for a taxi from Dubrovnik Airport to Old Town Dubrovnik?
Outside the Dubrovnik Airport terminal, you'll find readily available taxis. The trip from the airport to Dubrovnik city centre typically lasts around 30 minutes, with an estimated cost of approximately 40 euro. It's advisable to confirm the fare with the driver before commencing the journey.
How early do you need to get to Dubrovnik airport?
The general guideline for Dubrovnik (Ćilipi) Airport (DBV) is to check in three hours prior to international flights for citizens of Canada and the USA, two hours before European flights, and ninety minutes before domestic flights.
Can I buy the shuttle bus tickets at Dubrovnik Airport?
Dubrovnik is linked to the airport by a regular shuttle bus service. Tickets are available for purchase at the airport (Platanus travel agency counter), Dubrovnik Main Bus Station, Cable Car Station (Shuttle bus office), or online. The bus departs from the Main Bus Station in Gruž Port and makes a stop at the cable car station before heading to the airport.
Are there taxi services at Dubrovnik Airport?
The taxi stand is located in front of the passenger terminal of Building B, serving both Domestic and International Arrivals. Services are accessible every day during airport operating hours. Information and rates can be readily obtained at the taxi terminal in the passenger terminal of Building B.
Upon request, the driver is obligated to provide an invoice following the ride.
Can I get some food at Dubrovnik Airport?
Yes, you can find cafés offering a variety of hot and cold beverages, snacks, and light meals in both terminals.
Does Dubrovnik Airport have a lounge?
Dubrovnik Airport offers two exclusive lounges – a business lounge and a VIP lounge. Access to these airport lounges can be obtained through a membership, a day pass, or by holding a qualifying airline ticket. Passengers flying business or first class typically enjoy complimentary access.
Can I rent a car at Dubrovnik Airport?
Yes. There are many respectable car rental agencies offices located just outside the Main Terminal. However, due to high demand in high season we recommend that you consider renting your car in advance with the option to pick it up upon arrival at Dubrovnik Airport. Check out our comprehensive guide about renting a car in Croatia.
Can I return a car at Dubrovnik Airport?
Yes. Most of the larger car rental agencies have offices at Dubrovnik Airport and you can return the car directly before your flight departure.
---
Where to stay in Dubrovnik
Our top picks for where to stay in Dubrovnik.
Hotels and apartments in Dubrovnik