The favourite place for locals to buy fresh meat, vegetables and more importantly - this morning's fish!
The open-air market in Gruž is a vibrant, busy market where everyone comes to buy fresh ingredients for today's lunch or dinner. Gruž market is mainly known as a fish market where you can buy fresh fish that just came in from the sea, off the fishing boats. Also available is a wide range of fresh fruits, organically grown vegetables other local products.
Gruž market has been completely renovated and is now up to the highest standards. Fish is no longer sold in plastic crates, but is sold on ice, which meets the European standards. It now also has the facilities for washing and cleaning the fish.
While there are parking spots in a vicinity, don't get your hopes up, taking a walk or a local bus is a much better choice!
When to go?
Some stands already open around 6:30 in the morning, others around 8:00 o'clock, when the locals start shopping. In the summer the working hours are longer, approximately until 15:00 with the flower stands working even later. Of course, the earlier you get there, the better.
Friday and Saturday are usually the most busy days on the market. On Friday, everyone buys fish, therefore the selection is the best, and Saturday is traditionally a market day. If you're taking the morning ferry from Gruž Port, don't forget to purchase some tasty organic fruit for your journey.
Finding a parking spot near Gruž market can be challenging, consider exploring alternative parking options in the vicinity.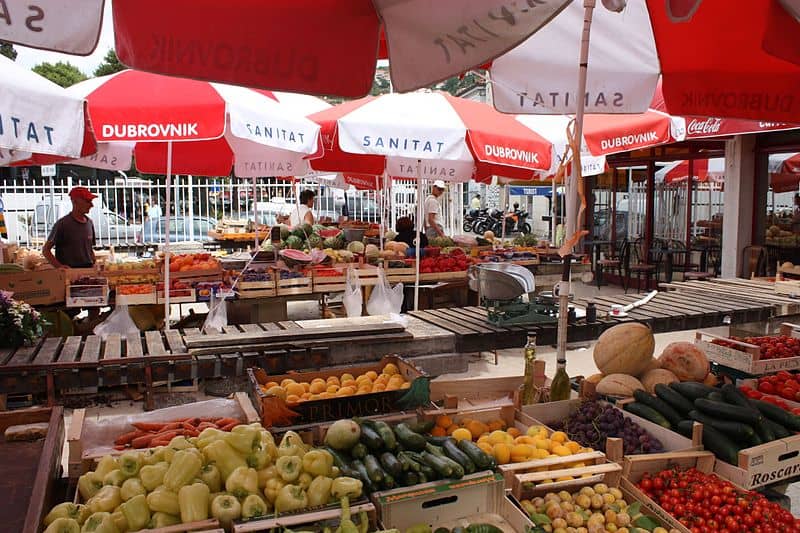 Working Hours
06:30 - 13:00
Features
Fish market, Open-air market
Address & contact details
Street: Obala Stjepana Radića 21
Postcode: 20000
City: Dubrovnik

---
Where to stay in Dubrovnik
Our top picks for where to stay in Dubrovnik.
Hotels and apartments in Dubrovnik