Pleso airport (Franjo Tuđman Airport) is located 10 km from Zagreb city centre and is the main International airport in Croatia. It is both a public and military airport as it is the base of the Croatian Air Force.
About Zagreb airport
Zagreb Airport is Croatia's largest airport and the main hub for Croatia Airlines, the national flag carrier. Split Airport (Resnik) is the 2nd busiest airport in the country, followed by Dubrovnik airport.
Zagreb Airport is located south-east of the capital. The airport building consists of two floors, the Arrivals terminal is on the ground floor while the Departures terminal occupies the first floor. Eating and drinking options are somewhat limited once you pass the security check.
How to get to and from Zagreb airport?
There is a direct shuttle bus line from the main bus terminal on Marin Držić Avenue provided by Pleso prijevoz. The shuttle bus terminal is located at the ground floor. If you arrived to Zagreb by train, get onto the tram number 2 (direction Savišće) or 6 (direction Sopot) and get off at the 3rd stop to reach the main bus terminal.
The regular shuttle bus service from Zagreb departs generaly 90 minutes prior to every flight. It leaves from the main bus terminal. The service is provided by Pleso prijevoz. The price of a one-way ticket is 5,97 Euro per person. Travel duration is 35-40 minutes.
View complete timetables for the Zagreb shuttle bus service.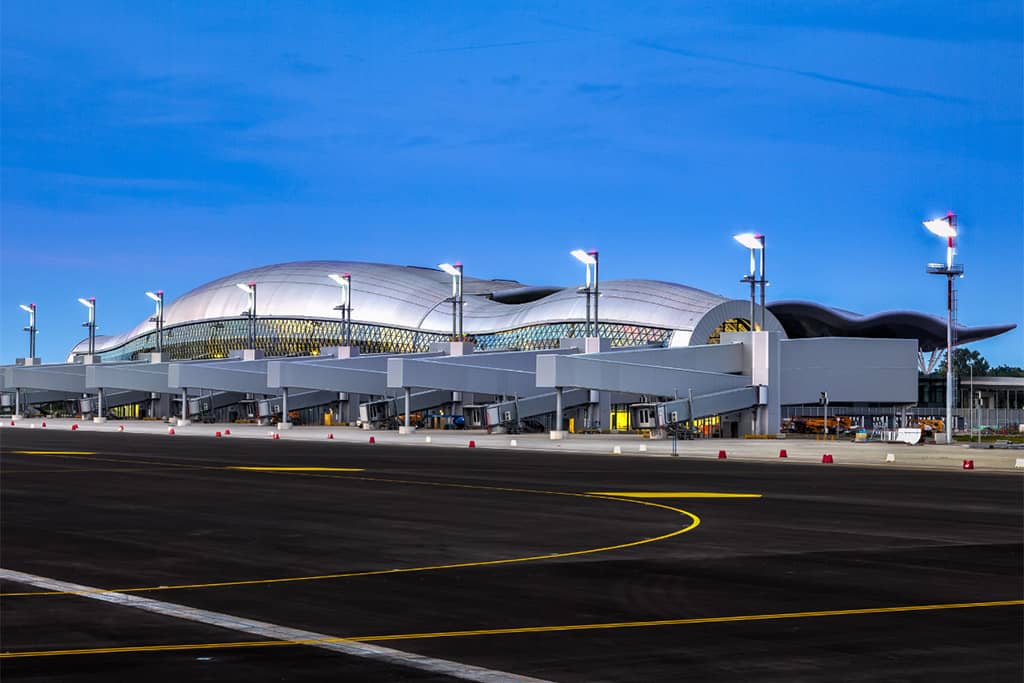 Arrange a private transfer from or to Zagreb Airport
Do you need transfer services from or to Zagreb airport to your hotel or any other destination? Especially if you are travelling in a group or with your family book a safe and affordable transfer from or to Zagreb Airport.
The most convenient and comfortable way to visit Zagreb is by plane as many International companies have direct flights. The Croatian national carriers have regular connections to Split, Dubrovnik, Zadar or any other airport within the country.
Among the facilities at Zagreb airport are shops, duty free shops, cafe bars, snack bar, VIP and business lounge, currency exchange office , ATMs, newsagents and tobacconist, luggage wrapping services, car rental offices and a Prayer Room.
Franjo Tuđman Airport offers free Wi-Fi access throughout the passenger terminal. Available in all public areas, F&B facilities as well as the Business lounge.
Parking at Zagreb airport
The airport's public parking lot is large. Parking is charged at the parking payment desk in the passenger terminal arrivals (ground floor). Prices are as following:
10 min - free, up to 29 minutes 3,50 Eur, up to 59 minutes 8 Eur (Kiss & Fly Rates)
up to 1 hour - 3.50 Euro
up to 2 hours - 7 Euro
3 hours - 10.50 Euro
6-12 hours - 17.50 Euro
In case of loss of your parking ticket contact Parking services at a self-service payment machine
Find Best Deals - search and compare airfares from over 1000 airlines
Taxi Service and Uber at Zagreb airport
The Taxi station is just outside of the Arrival Terminal. Be sure to pick a registered taxi with a yellow sign on top. Registered taxis will have their licensing information clearly displayed. A taxi to the centre of Zagreb will cost between 25 and 34 euros, depending on time of day and traffic.
If you consider getting an Uber the flat fee should be ca. 20 euros.
At Zagreb airport you can also rent a car from international and local car rental companies.
Sleeping at Zagreb airport
It is possible to stay overnight at Zagreb Airport as it is open 24 hours, 365 days/year. On the first floor there are comfortable deck chairs where you can sleep.
Accommodation is also available in nearby Zagreb hotels or Zagreb hostels.
Zagreb Airport Contact Information
Passenger Information
Tel: 060 320-320 for calls within the national network, +385 1 4562 170 for calls outside Croatia
Traffic department: This email address is being protected from spambots. You need JavaScript enabled to view it.
Lost & Found
Working hours: 8am - 8pm
Tel: + 385 1 456 2229, Fax: + 385 1 456 2139
This email address is being protected from spambots. You need JavaScript enabled to view it.
Website: Zagreb Airport
---
---
Where to stay in Zagreb
Our top picks for where to stay in Zagreb.
Hotels and Places to Stay in Zagreb