The Zadar Sea Organ is a seventy meters long natural music instrument with thirty-five organ pipes placed under the concrete waterfront in a specific position so that the sea and wind movements produce a beautiful sound. Zadar's new landmark, built in 2005 by architect Nikola Bašić, are the only organs in the world played by nature itself.
The sound is produced with no moving parts, solely from the vibration of air driven over an open window and against a sharp lip called a Labium which plays 7 chords of 5 tones.
These stairs descending into the sea are Zadar's top place for relaxation, contemplation and long conversations and gossips. In 2006, the Sea Organ was awarded with the prize of the fourth edition of the European Prize for Urban Public Space as the best among 207 other spaces.
Best of Zadar with St. Anastasia viewpoint
Join a guided sightseeing tour of Zadar and visit some of its most popular sites.
Your knowledgeable guide will take you on a walking tour to see the city's landmarks including the Zadar Land City Gates, Roman Forum, and the famous Sea Organ that produces unique sounds from the movement of the tides.
The tour also includes an admission ticket to the Cathedral of St. Anastasia. You'll also see the 9th-century Byzantine Church of Donat and walk along the ancient main street Kalelarga. The tour includes guidance from a certified local guide and the entrance fee for St. Anastasia's Cathedral Bell Tower.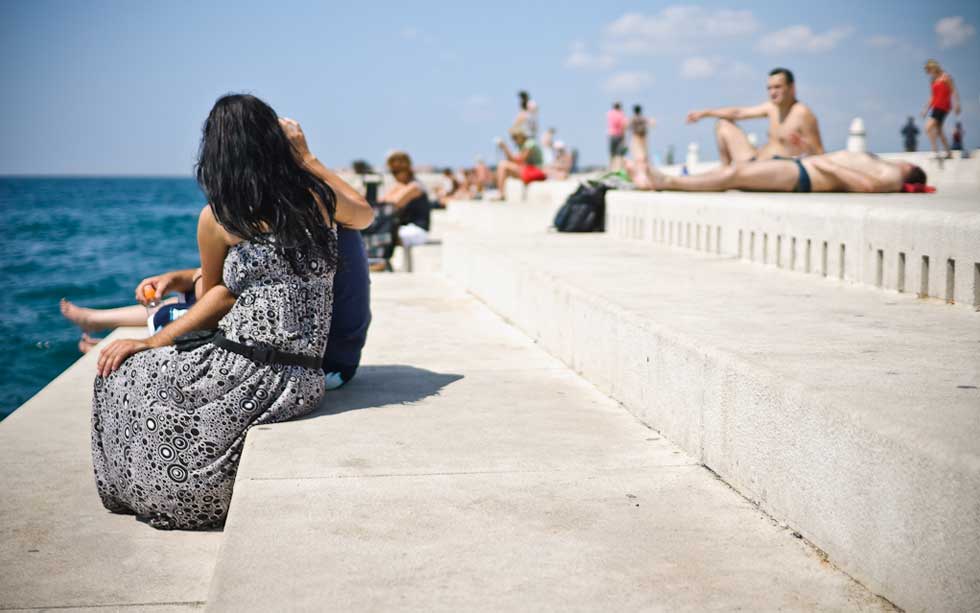 Working Hours
open 24 hours
Features
Chill on the Riva and hear that dreamlike sound
Address & contact details
Street: Obala kralja Petra Krešimira IV
Postcode: 23000
City: Zadar

---
Where to stay in Zadar
Our top picks for where to stay in Zadar.
Hotels and apartments in Zadar