Flickering candlelight, silent prayer and hope will greet you as you pass the Stone gate and wonder what this place is. The Stone Gate is the most significant oath site in Zagreb. Feel free to stop by, light a candle and pray for health, happiness, good luck and love.
History
When citizens of Gradec received the "Golden Bulla" in 1242. which proclaimed "a free royal city on Gradec, the hill of Zagreb", one of the hardest commitments was that they had to build strong walls around the city. They fulfilled that commitment and between 1242. and 1266. strong walls with several gates were erected. Some parts of the walls and the Stone Gate are the only parts preserved till today.
How the Gate used to look originally is unknown, the only thing that is known for sure is that they were made of stone in a city where wood was the main building material. The oldest document that describes the look of the gate dates back to 16th century: it was an open building with no roof, with a tower in the north-west and a bridge over the dike. It was roofed in 1555.
Other gates were: Mesnička Gate in the western part, Opatička or New Gate at the end of Opatička Street, the gate under Friar's Tower (also called "Frauentor" - Woman's Gate, due proximity to a convent), and small gate "Dverce" in the southern part.
Old Zagreb Private Tour
Discover the history, culture, and modern way of life of Zagreb, the capital of Croatia, on this two-hour introduction tour.
With a leisurely pace, you'll explore the medieval precursors of Zagreb, Gradec and Kaptol, as well as all the essential sights of the city, including Ban Jelačić Square, Stone Gate, St. Mark's Church, Lotrščak Tower, and Zagreb Cathedral, among many others. Along the way, your knowledgeable guide will provide recommendations for places to visit during your free time, ensuring that you have an informative and enjoyable experience.
Zagreb City Tour including visit to Mirogoj Cemetery and Funicular Ride
Embark on an immersive 3.5-hour journey in Zagreb, joined by a limited group of up to 15 individuals, and led by a knowledgeable local guide who will take you through the city's remarkable highlights by car and foot.
Explore Zagreb's rich history and culture as you witness its impressive architectural landmarks, stroll through the cobbled streets of Upper Town, and visit the revered Mirogoj Cemetery. Includes complimentary pickup service from centrally located hotels, and access to the iconic Funicular Railway with flexible departure timings available throughout the day.
The legend
History of Stone Gate is by far more interesting than any other. It is sure that Stone Gate exists since 1266. despite the first mention dates only back to 1492. In 17th and 18th century, Stone Gate was damaged in fires four times: 1645., 1674., 1706. and 1731. The city was mainly made out of wood and fires were a frequent occurrence. During the last fire (in 1731.), Stone Gate was damaged badly but one painting remained intact - the painting of Virgin Mary with baby Jesus. Widow Modlar, the owner of it built a chapel inside of Stone Gate where it still stands (named "The Virgin and Child"), guarded by an impressive baroque fence, built in 1778. by craftsman Ivan Korta from Zagreb. Author and age of the painting are unknown, but it is a common opinion among experts that it is a work of a talented native artist.
The painting shows Virgin Mary as a ruler with a sceptre in her left hand and baby Jesus in her right hand, while Jesus holds a small globe in his left hand. It was painted on linen, sized 57x47 cm. On the 200th anniversary of its miraculous preservation in the fire it was crowned with a golden crown.
Find out more about The legend of the Stone Gate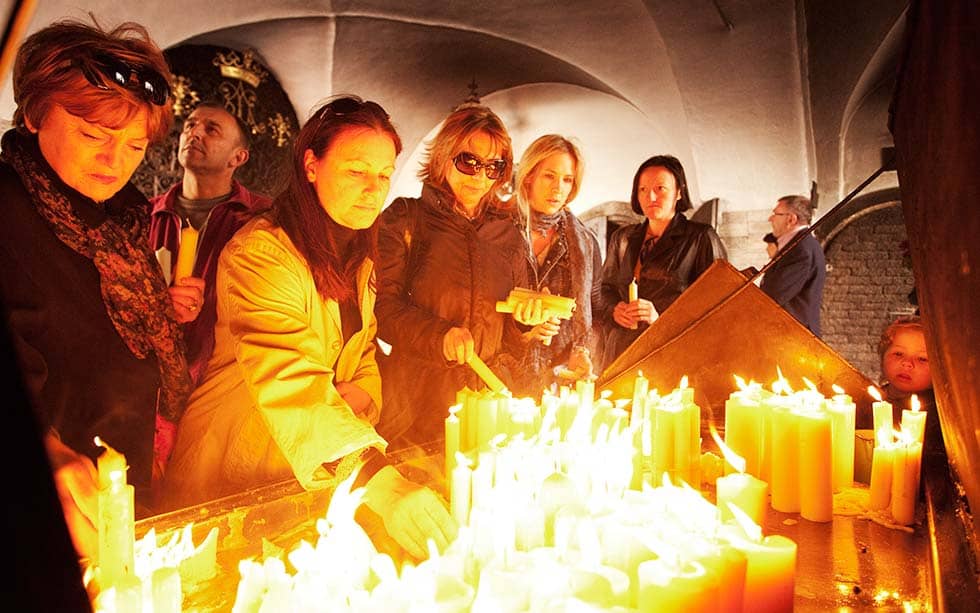 Oath site
Long time ago, Virgin Mary of Stone Gate became the most significant oath site, where pious find comfort and hope, light candles as a token of gratitude or a prayer. Many citizens of Zagreb got their prayers answered to, and plates with engravings of gratitude stand as a testimony. During centuries you can hear people in Zagreb saying: "I'll light a candle in Stone Gate if Virgin Mary hears my prayer."
Such words are not a figure of speech, you can see it every day in Stone Gate, where citizens of Zagreb stop by, light candles and pray for health, happiness, good luck and love. Even in the times when praying publicly was forbidden, citizens of Zagreb continued visiting the Stone Gate, which testimonies the significance of the Gate in everyday life. On May 31st 1991., 260th anniversary was celebrated and archbishop cardinal Franjo Kuharic named Virgin Mary of Stone Gate the protector of Zagreb.
Art gallery in the open
Many Croatian sculptors recognised the importance of the new cemetery and decided to contribute to the architectural marvel to give it artistic value. The work of Ivan Rendic, the founder of modern Croatian sculpture, is considered the first artistic stamp of the new cemetery. Other significant sculptors that contributed to Mirogoj were Robert Franges-Mihanovic, Rudolf Valdec, Ivan Mestrovic, Antun Augustincic, Frano Krsinić, Vanja Radaus, Grga Antunac and Zelimir Janes.
Preservation and function of Stone Gate
When the Gate lost its defensive role, on the ground floor you could find different stores and upper floors were used as a living space. Gate keepers used to live there, for a while a girls' school was there, different offices and associations.
In 1841. an idea appeared that the Stone Gate should be demolished, because "making the city happier with a bigger ornament and providing comfort and safety to public using that passage..." Preliminary contract between city council and trader Daniel Jaksic (living next to Stone Gate) was made, which stated that Stone Gate should be demoished. Plans for new gate were made by Felbinger (plan wasn't saved) and Kappner who imagined it in classicist style, merging functions of a passage, trading building and a chapel. Fortunately, the contract was never signed.
About 30 years later, same idea that Stone Gate should be razed appeared again. In "Vienac" newsletter, Isidor Krsnjavi (influential Croatian painter, art historian, curator and politician) opposed the idea writing: "Let us not raze antiquity! ...Domes, gates, towers of city and church are the most adequate means to profile cities..."
City magistrate budget for 1878. included 2.500 forints for demolition. This time, citizens of Zagreb took matter in their own hands and pleaded to magistrate to save the Gate because:
"Stone Gate and church of St.Mark are only significant monument buildings of our city, which stand as a living testimony to past times and free royal Gric city, predecessor to Zagreb. Elsewhere, monuments as these are preserved, returned to original form, so citizens could experience its wisdom and past."
At the beginning of 20th century, same idea appeared again. Fortunately, Stone Gate got a new function. As proposed by Knight's Order "Brethren of the Croatian Dragon", in Stone Gate three significant establishments were found: City library, History archives of Zagreb and Zagreb city museum.
Nearby points of interest
"The Goldsmith's Gold"
Bit past the gate, on the left side a statue of Dora Krupiceva is located in a niche, made by sculptor Ivo Kerdic. Dora Krupiceva is a beautiful heroine from a novel "The Goldsmith's Gold" written by August Senoa, one of the greatest Croatian writers.
Old pharmacy (1335.)
In the same street (Kamenita street), an oldest pharmacy in Zagreb is located, working continuously since 1355. Of special interest is a plate located behind the corner, with engravings:
"As pharmacist, since 1399. Dante's (note: Dante Alighieri, writer of Divine Comedy) grand-grandson Niccolo works in it (in the pharmacy). It is familiar that he was married, so he lived in Zagreb with his family. Niccolo is a grandson of poet's first-born Pietro."
Admiral Nelson's lion
On the other side of the street, as opposed to the pharmacy, on a small terrace stands a stone lion, and underneath, between two columns, chains which held Nelson's admiral ship "Victory" after the Battle of Trafalgar. So the legend says.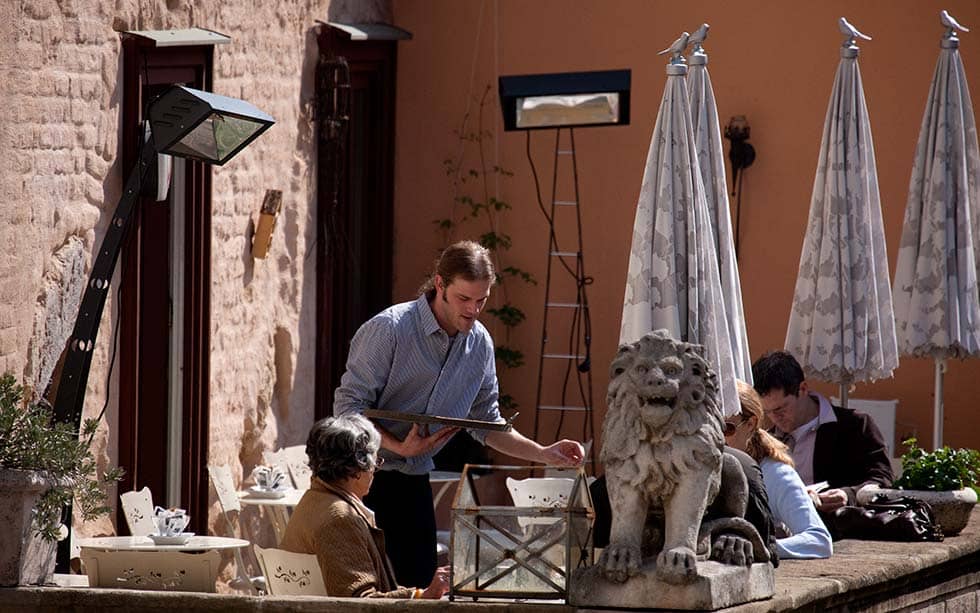 Working Hours
Open 24 hours
Features
Landmark of the Upper Town of Zagreb
Address & contact details
Street: Kamenita ul. 1
Postcode: 10000
City: Zagreb

---
Where to stay in Zagreb
Our top picks for where to stay in Zagreb.
Hotels and Places to Stay in Zagreb