During October every year Dubrovnik organises the gastronomy event "Good Food Festival", a gastronomic treat for all lovers of good food and wine. The full program is available bellow.
The tenth edition of the Good Food Festival, a culinary extravaganza for food enthusiasts, is being organised by the Dubrovnik Tourist Board this year. This two-week long event, from October 9th to October 22nd, 2023, promises a diverse array of delectable food and exquisite wines.
During the festival, various workshops will be organised, such as a workshops on preparing traditional Dubrovnik desserts, traditional Croatian dishes, as well as a food styling workshop.
The festival's program features an many activities, including workshops on preparing well known Dubrovnik desserts and traditional Croatian cuisine, themed dinners, an exclusive dinner hosted by a Michelin Star Chef, special menus at Dubrovnik's finest restaurants, gastronomic tours, and other captivating culinary events.
Dubrovnik Food and Drink Walking Tour with a Local Guide
Embark on an authentic journey through Dubrovnik's culinary scene, steering clear of touristy spots.
Immerse yourself in the Dubrovnik's ambience, gaining cultural insights and tailored recommendations by a knowledgeable local guide. Visit four charming, family-run restaurants to savoir specialities like fresh seafood and exquisite wines, all in the company of a small, intimate group. Rest easy knowing that food and drinks are included in the tour price, sparing you any unexpected expenses. Explore the city on foot, absorbing its history and culture from your guide.
At the same time, Dubrovnik restaurants will offer special menus to their guests. Renowned chefs from thirty Dubrovnik restaurants have created special festival menus for the festival that will be available for tasting all four days at a promotional price.
Fancy a drink before or after lunch or dinner? Check out the Bars and Clubs in Dubrovnik.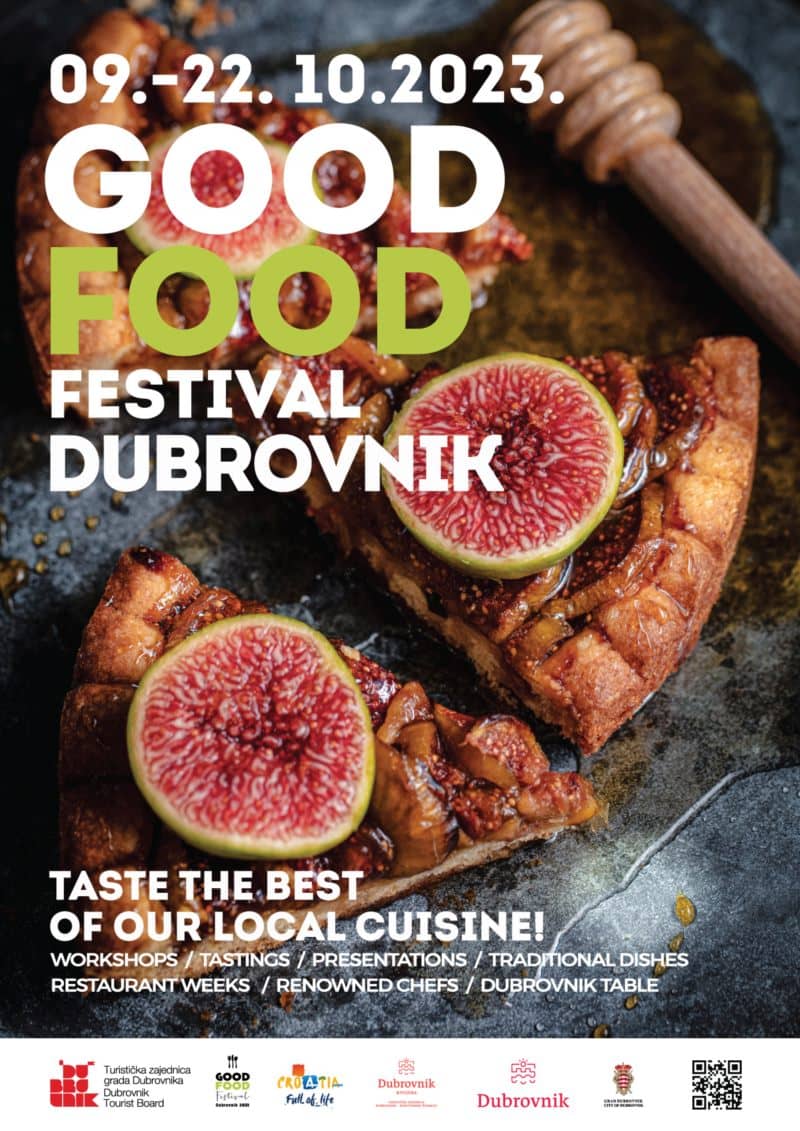 The Good Food Festival will also include films the topic of which is food. The event which will mark the beginning of this new gastronomy festival is a traditional "Dubrovačka trpeza", offering variety of specialities, which will be held on Stradun.
Dubrovnik Old Town Food Tour
Escape the touristy dining establishments.
Indulge in a genuine experience of Croatian gastronomy on this delightful tasting tour through the charming streets of Old Town Dubrovnik. Visit cherished local eateries, delve into the city's rich history and culture, and relish in an array of complimentary samples, all in the company of a small, intimate group ensuring individualised attention. Immerse yourself in the true flavours of Dubrovnik on this Old Town tasting adventure.
Enjoy a diverse selection of at least five Croatian delicacies. Opt for the personalised touch of a small-group tour, and gain unique insights into the city's culinary heritage directly from its proud residents.
Good Food Festival Programme 2023 (pdf)