Šunj beach is one of the few true sandy beaches in Dubrovnik region. It is located on the outer side of Island Lopud, a 25 minute walk from the settlement and Lopud Bay beaches.
The long breakwater at the beach protects the small bay from the jugo southern wind so you'll fins a lot of families with kids on the main part of the beach. Keep in mind that dogs are also allowed to this part during the day.
When you go further west and pass the big rock, you will reach the unofficial FKK beach. Beach umbrellas or deckchair are available for hire or you can have a cup of coffee at one of the two bars. There is also a public toilet and a shower available.
Getting to Šunj beach
The ferry line from Dubrovnik to Elaphite Islands connects islands Lopud, Šipan, and Koločep with several daily departures.
Šunj is accessible either by sea (with your own boat / private transfer) or by foot from Lopud settlement. Just before the remains of hotel Grand, a street on your left hand side will lead you to the beach trough a beautiful shady forest. Just keep following the signs.
If you're not keen on walking the 20 minutes south from the ferry port to Šunj Beach, don't worry - golf-style electric buggies are available to reduce the travel time to just five minutes.
Šunj Beach, including Blue and Green Cave Tour from Dubrovnik
For active travellers seeking adventure.
The Elaphiti Islands offer stunning sea caves, especially on Koločep Island. The tour also includes a stop at the beautiful sandy Šunj Beach on Lopud Island, a cruise past Dubrovnik's city walls and Fort Lovrijenac, and the opportunity to swim or snorkel in the caves. To keep you fuelled, the tour includes a sandwich, soft drinks, and water. You can choose between a morning or afternoon tour to fit your schedule.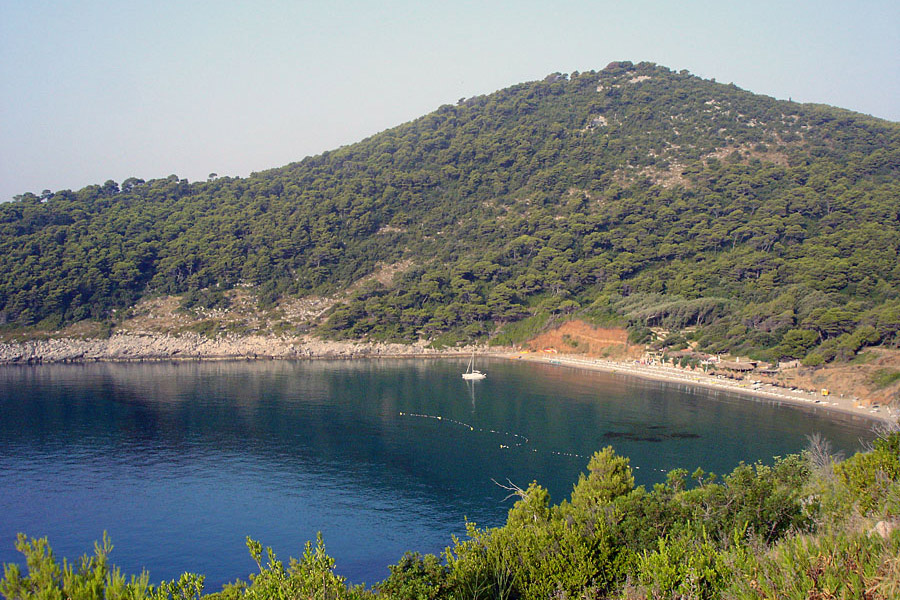 What is Šunj beach known for?
The beach is very popular for swimming and although its considered remote due to its location, it has two restaurants with toilets, deck chairs and parasols, pedal boats and kayaks. Because of its surrounding, not much shade can be found on the beach so don't forget to bring a lot of sunscreen and water with you.
The beach is very shallow (on some part you have to walk more than a 100m before you can start swimming) and there is often a fresh breeze because of which you can easily get sunburned. The beach is very clean, with an excellent quality of the sea.
When facing the sea, the left part of the beach is FKK reserved. Join locals in the popular game "picigin" - played in shallow water with a small ball. And don't worry... it only looks painful!
Note that there aren't many shops on the island and that they are not open for the whole day. Bring enough food and drinks with you or enough cash to order something at the higher priced restaurants and bars on the beach.
If you are interested in legends: The wretched woman of Lopud (the legend of Šunj)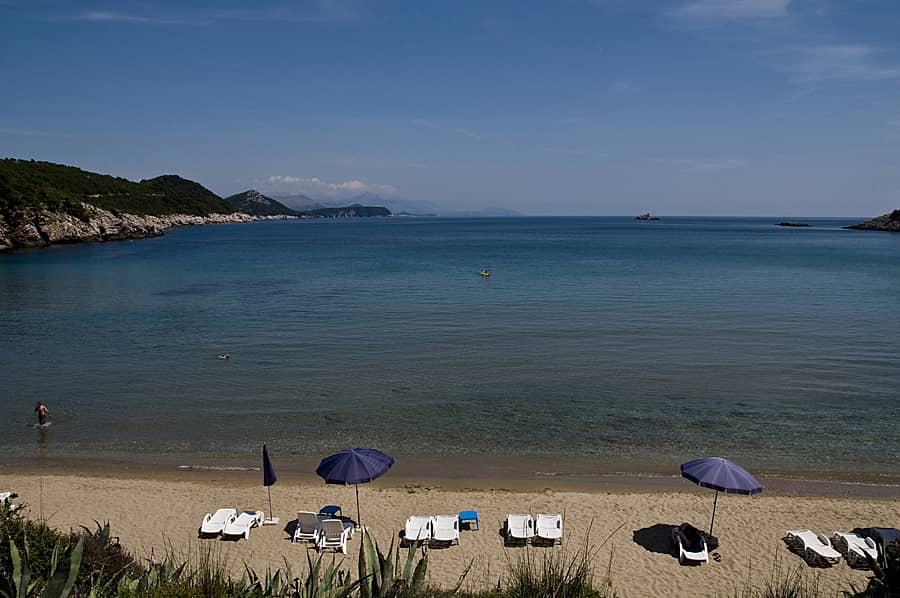 Working Hours
09:00 - 21:00
Features
Sand beach, beach lounge bar, shallow water
Address & contact details
Street: Šunj beach
Postcode: 20222
City: Lopud

---
Where to stay on Island Lopud
Our top picks for where to stay in Lopud.