Island Šipan Travel Guide
Šipan is probably the quietest and best-preserved island in the Elaphite archipelago, offering a place to relax and recharge for new life challenges.
As the largest of the Elaphite islands, Šipan is situated approximately an hour's ferryboat ride away from Dubrovnik. The romance that permeates this part of the Adriatic is also due to the fact that Šipan has perhaps undergone the least change among Dalmatian islands in the last twenty years.
---
Elafiti Islands Sea kayaking: Full-Day Bike and Kayak tour on Lopud and Šipan
Discover the stunning beauty of the Elaphiti islands on a full-day tour from Dubrovnik that includes biking and kayaking.
You'll be part of a small group and take a ferry to Lopud Island. From there, you'll kayak over to Šipan Island and bike to a seaside restaurant for lunch (at your own expense). You don't have to worry about navigation or directions, as your guide will lead the way including information about the area's flora, fauna, and history.
This tour is suitable for all experience levels. The tour includes all activities, such as kayaking, biking, hiking, and swimming, as well as round-trip ferry transfers.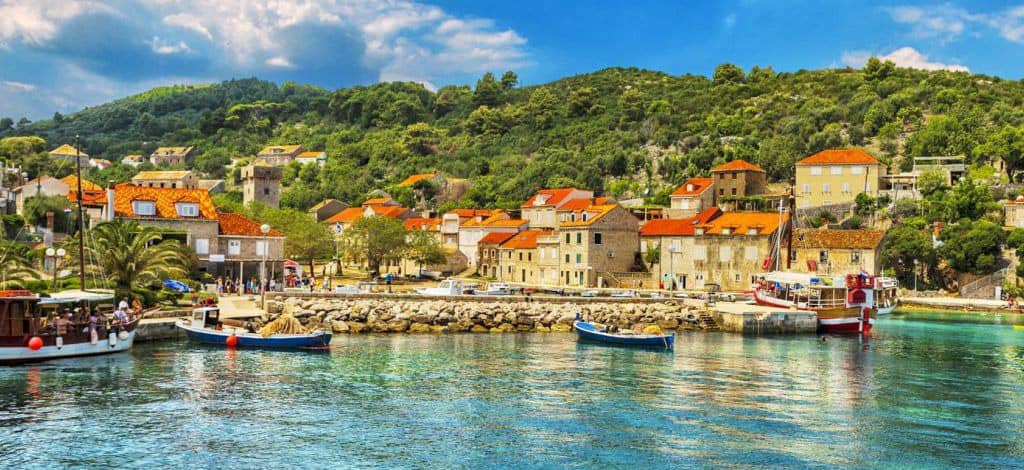 How to get to Island Šipan
To reach Island Šipan, there are daily ferries operated by Jadrolinija with a journey time of 1 hour. Water taxis may also be available from Dubrovnik. The ferries leave from Gruž Port.
View complete Dubrovnik to Elaphiti islands ferry timetable.
Where to buy tickets
The Jadrolinija office in Dubrovnik is situated opposite the pier where the ferry departs. To avoid missing the ferry, it is recommended to purchase tickets 30-40 minutes before departure.
Wondering which one of the Elaphiti Islands to visit? Visit our Elaphite Islands guide.
When to visit Šipan
The best times to visit Šipan Island are during the spring (June) and autumn (September) seasons when there are fewer tourists. July and August are busier months, with both visitors and locals flocking to the island. Also, Island Šipan is an important stop for nautical routes, especially in the bay around Šipanjska Luka. When you sail into Šipanska Luka, you will find a small berth for yachts on the north side and a few buoys opposite it.
Aside from the usual beach activities like swimming, sunbathing, and snorkeling, the mild temperatures during spring and autumn make for great opportunities for outdoor activities such as hiking. With the average sea temperature at around 22°C in June and September, visitors can comfortably take a dip in the stunning Adriatic Sea.
If you venture inland, you'll come across a vast fertile field with approximately one million olive trees. Šipan holds a Guinness World Record for having the highest number of olive trees per square meter, which is partly due to tradition and partly because of drinking water sources on the island.
Can you stay on Island Šipan?
Šipan is renowned for its olive fields, wine, sea food and laid-back atmosphere. The island has two main towns Suđurađ and Šipanska Luka, both of which feature a number of fascinating historical sites, such as a 16th-century castle, the 11th-century Church of St. Peter, and the impressive ruins of an archbishop's palace.
Visitors are drawn to Šipan for its captivating landscape, stunning beaches, and uncomplicated way of life. The best accommodations on the island are affordable and blend modern amenities with locally sourced rustic charm.
Šipan also has a rich religious tradition; it has as many as 43 churches that once served as shelter from pirate attacks for the locals. The memory of days gone by is kept alive by the old palaces on the island that are slowly being given a modern makeover, such as the summer palace of Vice Stjepović-Skočibuha in the village of Suđurađ, the most famous one among them.