Human head on a lion's body, originally from Egypt and brought to Split 3500 years ago under orders of the Emperor Diocletian.
Twelve sphinxes were brought to Split after Diocletian put down a rebellion in Egypt somewhere around the year 297. Unfortunately, only one survived and is now standing at the Peristyle.
The sphinx on the Peristyle is made of black granite. It dates back to the period of pharaoh Tuthmosis III who lived from 1479 until 1425 BC. She holds a vessel for offerings in her hands.
Just like a major part of the palace itself, the sphinxes were decapitated and destroyed with arrival of Christianity. Why this one still stands remains a mystery. She has been standing here since the 3rd century watching generations pass by. Please have respect for this old lady.
Split - "Emperor's City for History Lovers"
Private Walking Tour+Cellars Museum
Guided tour of Old Town Split, including the famous Diocletian's Palace (UNESCO World Heritage Site), Peristyle and the basement cellars.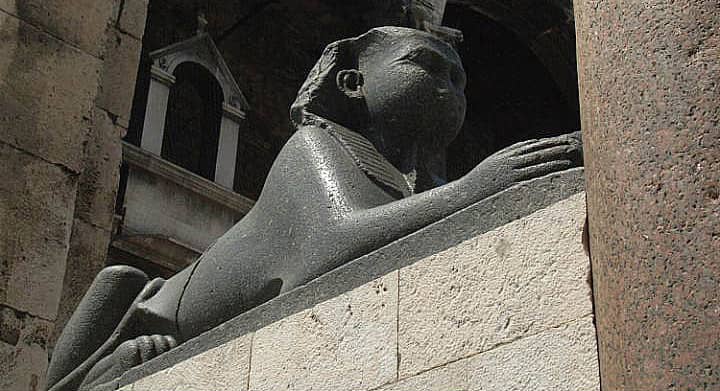 Working Hours
open 24 hours
Features
Granite sphinx brought to Split 3500 years ago
Address & contact details
Street: Peristil ul. 3
Postcode: 21000
City: Split

---
Where to stay in Split
Our top picks for where to stay in Split.
Hotels and apartments in Split