Probably the best place to park your vehicle if you are going to visit the Old City Dubrovnik and avoid the dense traffic around the city.
Everyone will strongly recommend you to park your car in a public garage on Ilijina Glavica, on the one-way Zagrebačka street leading to the Old city Dubrovnik. Most of the time the garage is usually at least half-empty (and it has 711 parking spaces) so you will find a spot at any time.
Parking in a public garage in Dubrovnik is the cheapest option, compared to other parking spots on the street next to the Old Town Dubrovnik. For a long time parking in the public garage was considered pricey, but since drastic price change of street parking, the public garage is considered a more moderate option.
Dubrovnik also has a really good public transport service, check out Dubrovnik City Bus Timetables
If you are going to visit Old City Dubrovnik, you can take stairs through the Baltazar Bogišić park just below the garage. It will take you less then 10 minutes to reach Pile Gate entrance. (but a bit more when going back ;) )
Public garage parking fees
| Duration | Price |
| --- | --- |
| Per hour (1h) | 7.00 Eur |
| Daily rate / 24 hours | 80.00 Eur |
| One week | 400.00 Eur |
| Monthly rate | 800.00 Eur |
| Lost ticket | 450.00 Eur |
* For a daily, weekly or monthly parking rate you should inform the car park operator at level 0 within 15 minutes of entering the car park, so you can get a special rate. Otherwise hourly charge will apply.
More information about parking in Dubrovnik.
Another way of getting around Dubrovnik is by public bus transportation. For more information visit Dubrovnik public bus connections. If you plan to rent a car check out the best rates on rental cars in Croatia.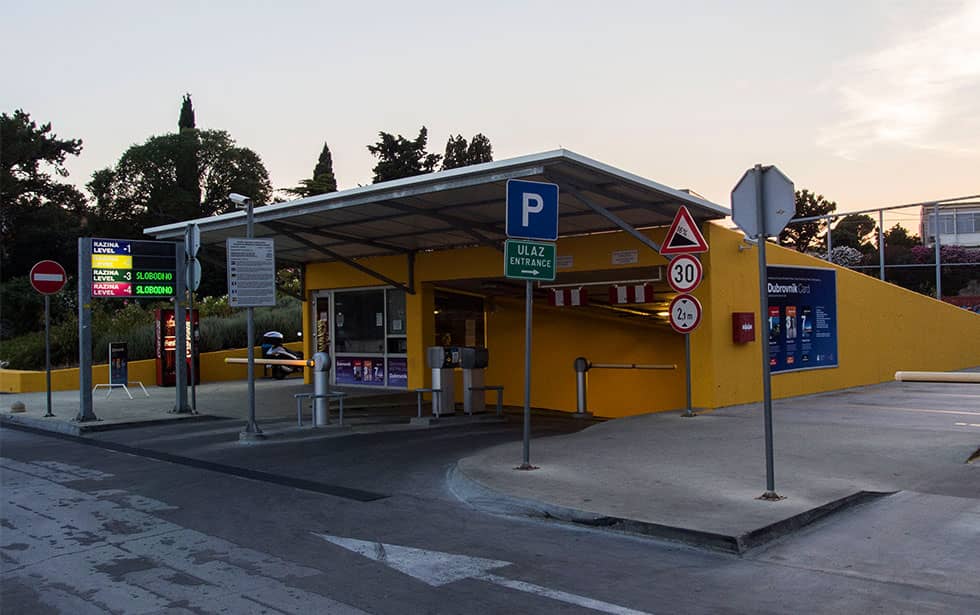 Working Hours
Open 24 hours
Features
walking distance to Old Town Dubrovnik
Address & contact details
Street: Zagrebačka ulica bb
Postcode: 20000
City: Dubrovnik

---
Where to stay in Dubrovnik
Our top picks for where to stay in Dubrovnik.
Hotels and apartments in Dubrovnik