Best Attractions and things to do in Rovinj
If you're planning a visit to Rovinj you're in for a treat!
Take leisurely strolls through the Rovinj's historic old town, savoir a glass of exquisite local wine by the glistening sea, and simply relish in the joy of watching the world go by.
Couples love exploring the romantic settings along Rovinj's cobbled streets. Families love the children friendly beaches and resorts. Food enthusiasts can choose among a reputable selection of restaurants featuring the amazing local cuisine of Istria. Nature lovers and artists cherish the peacefulness and inspiration in its untouched beauty and breathtaking vistas.
Here is our in-depth guide on the top attractions and things to do in Rovinj.
---
Rovinj's Old Town - A Stroll Through History
Rovinj's Old Town, with its cobblestone streets and pastel-coloured buildings, transports you back in time. The imposing Church of St. Euphemia, standing tall over the town, offers panoramic views of the Adriatic Sea.
Wander Through the Charming Old Town cobblestone streets on foot. While you can cover the main attractions in a few hours, the town's alluring nooks and crannies will invite you to return for more.
Rovinj walking tours
Discover the best of Rovinj with this 1.5-hour guided walking tour.
Venture beyond the usual tourist hot-spots and discover the historic Old Town through the eyes of the locals.
Led by a knowledgeable local guide, you'll explore both the lower and upper towns, soak in the breathtaking views from Saint Euphemia's, and gain insider insights on the best places to leisurely stroll, shop, and savoir local cuisine.
With a convenient central meeting point, you'll easily find your way to this intimate small-group tour, limited to just 12 people.
Cultural Treasures of Rovinj: Museums and Galleries
Rovinj Heritage Museum
Rovinj Heritage Museum features ancient artefacts and maritime exhibits, a testament to the rich maritime history and cultural heritage of Rovinj and Istria.
Batana House Eco-Museum: Preserving Maritime Tradition
Located in the heart of the Old Town, Batana House is dedicated to preserving the legacy of Rovinj's famous traditional fishing boat, the Batana. Ticket prices for adults are 3,32 €.
Grisia Street - galleries, studios and art exhibitions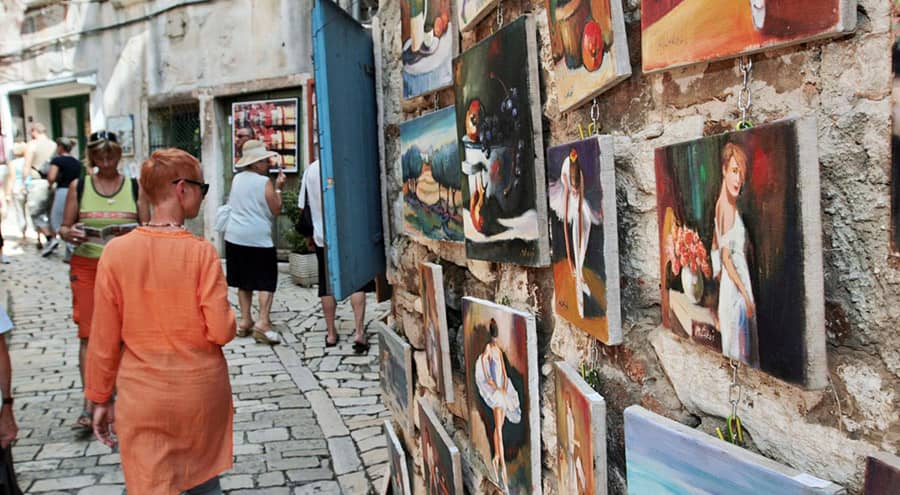 In the heart of Rovinj lies Grisia Street, affectionately known as Grizia, a charming cobblestone pathway that leads to the magnificent Church of St. Euphemia. Taking a leisurely stroll along this historic route allows you to witness firsthand the artistic spirit that defines Rovinj.
Grisia Street is also known for its annual fine arts event that features artists from Croatia and Europe. Each year, thousands of art enthusiasts converge upon Grisia, giving rise to its nickname, "Atelier under the vault of heaven." This open-air art exhibition is held on the first Sunday of August annually.
Grisia Streeet also features small shops with handmade jewellery, intricate ceramics, authentic Istrian keepsakes, captivating performances, and sculptures crafted by talented artists. With its wealth of galleries, studios, and art exhibitions, Grisia has rightfully earned its reputation as the esteemed "artist street" of Rovinj.
Natural Wonders: Rovinj's Coastal Beauty
Rovinj's natural beauty is nothing short of spectacular. From the enchanting Lim Bay to the serene Golden Cape Forest Park, and the unspoiled islands and coastal regions, these landscapes hold remarkable value. Immerse yourself in these awe-inspiring natural treasures, where the air and sea quality consistently reach peak levels of excellence.
Lim Fjord, one of the most beautiful natural resources of the Istrian peninsula, is an area where land and sea dramatically meet, forming a truly unique and awe-inspiring sight. The Rovinj Archipelago boasts twenty islands, with St. Andrija and St. Katarina being the largest. This area extends from St. Ivan promontory to Barbariga. You can easily access the islands of St. Andrija (also known as the Red Island) and St. Katarina through local ferries.
Golden Cape Forest Park: A Verdant Oasis
Situated on the edge of Rovinj, Golden Cape Forest Park is a haven for nature enthusiasts with its dense pine forests, meandering trails, and secluded coves.
Punta Corrente Park: Beaches and More
Punta Corrente, also known as Zlatni Rt, boasts crystal-clear waters and pebbled beaches. Visitors can indulge in a variety of water sports or simply bask in the Mediterranean sun. The park's lush greenery invites picnics and leisurely bike rides.
Rovinj Golden Cape Desert Islands Kayak & Snorkeling Tour
The Rovinj Archipelago, consisting of our carefully selected eight islands and islets, represents the epitome of the finest coastal gems.
Embark on an unforgettable three-and-a-half-hour kayak tour through the breathtaking Rovinj Archipelago, a carefully curated selection of the eight finest islands and islets in the vicinity. No prior kayak experience is required.
Vrsar, Lim Fjord and Rovinj Day Tour by Boat with Drinks
For over a decade and a half, we've been delighted to open our hearts to our treasured guests.
Our captain, a steadfast member since the very beginning of our maritime journey, embodies the enduring connection we hold dear. Whenever you seek refreshment, count on us to top up your cup, propelled by a sincere wish to craft an unforgettable experience, without seeking anything in return.
Should the captivating presence of dolphins bless our return voyage, we always take a moment to savoir the company of these extraordinary creatures. Captain Marko frequently becomes a friendly fixture in your cherished memories, as guests often delight in capturing moments with him.
Experience a Journey in a Traditional Batana Boat
Embark on a unique and unforgettable rowing trip aboard a traditional Batana boat, offering visitors a magical experience of the town. This enchanting journey typically commences at sunset, with the boat adorned with "sviće" (lights) used for night fishing.
The excursion follows the 'Rovinj trip of dreams,' starting from Mali Mol, circling the peninsula of the old town's center, and culminating at Spacio Matika, where the Eco-museum hosts its gastronomic-musical evenings. Your hosts, also owners of Rovinj's Batana boats and members of the Eco-museum, are seasoned barkarioli (boatmen) who infuse this experience with genuine joy and Rovinj's distinctive charm, ensuring an unforgettable perspective of the town "from the batana".
Departing from Mali Mol at 7:30 pm, this extraordinary adventure is available every Tuesday and Thursday throughout the summer season, priced at approximately 14 € per person. Reservation and information: tel. +385 52 812-593, e-mail: This email address is being protected from spambots. You need JavaScript enabled to view it.
It's an absolute must-do for any visitor to Rovinj!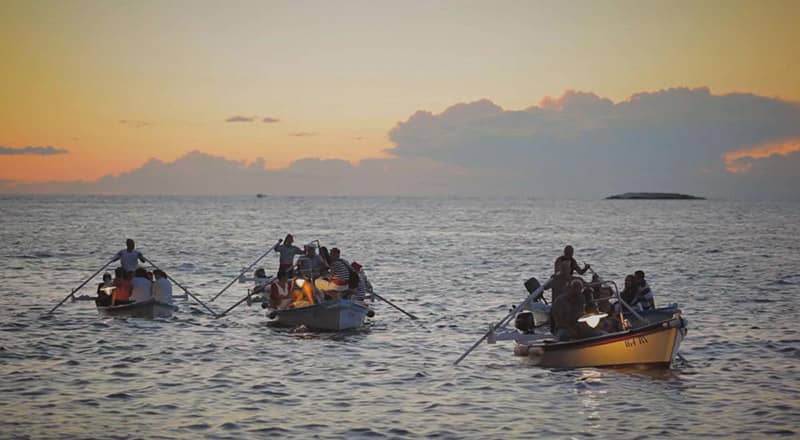 Savor the Culinary Delights - Traditional Rovinj`s Cuisine
In Rovinj, food enthusiasts are in for a treat! Picture this: charming local eateries with mouthwatering seafood and cosy cafes wafting the aroma of Istrian coffee. The Istrian gastronomy faithfully reflects all of the historical, geographical and climatic characteristics of this area.
The tumultuous past times considerably impacted the gastronomy as well. Various traditions are interlaced in the traditional cuisine, which founds its fundamentals in the nature (self-propagating plants, aromatic condiments, seasonal vegetables, sea fruits…), and influences of Franc and German feudal authorities as well as the Roman food and that of the Slavic populations which arrival started in the 7th century, were imported.
Certainly the greatest impact on istrian gastronomy was done by the Venetian gastronomy, which authority lasted in these areas almost for five centuries – until the year 1797. The Venetian culinary heritage probably left the most enduring mark on Istrian cuisine.
Delight in Local Seafood Specialities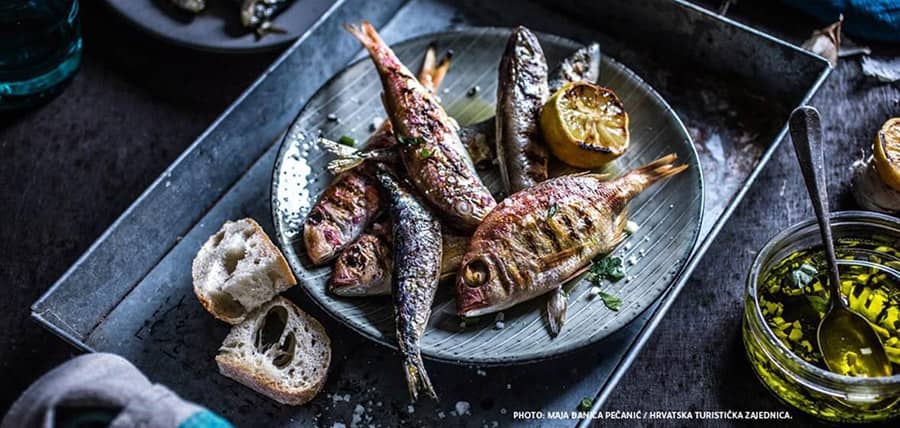 Dive into the Adriatic's bounty with Rovinj's abundance of fresh seafood and other products representative of this area. We recommend to try dishes like grilled sardines, octopus salad, black risotto, Istarski boškarin (Beef Cattle Breed), Pljukanci (Pasta Variety), Fritaja sa šparogama (Egg Dish with asparagus) and truffle dishes, each expertly prepared with a fusion of local ingredients and culinary mastery.
Truffle and wine / Taste of Istria from Rovinj
Explore the flavours of the Istrian countryside on this exclusive private tour.
Travel in comfort with your knowledgeable driver-guide in an air-conditioned vehicle. Engage in a truffle hunt alongside a guide and a skilled truffle-sniffing dog, then venture to a charming wine cellar. Indulge in a tasting of local wines and regional tapas, all while receiving personalised attention and the freedom to savoir the countryside at your own pace.
Enjoy a hassle-free hotel pickup, relax in a well-appointed, air-conditioned vehicle with a dedicated driver, partake in an authentic truffle hunt led by a trained dog, and savoir the essence of Istria at a renowned wine cellar.
Embark on Wine Tasting Tours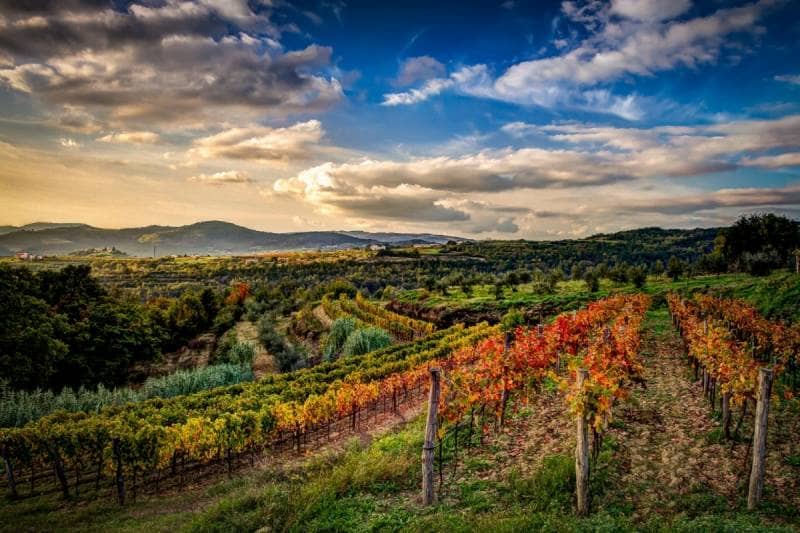 Experience the elegance of Istrian wines on a journey through Rovinj's picturesque vineyards. Sample some of Croatia's finest vintages, ranging from crisp whites to robust reds, as local wineries showcase the distinct flavour profiles of the region.
Welcome aboard the Istrian Wine Express!
Prepare to savoir a tasting of 5 distinct wines at each stop.
After securing your reservation for this intimate wine tour, your dedicated driver will collect you from the specified pickup locations. The wine adventure begins as you visit a minimum of 2 significant wineries in Istria, each with its own unique wine making techniques and ambience.
Visit National Park Briuni - a beautiful archipelago in Istria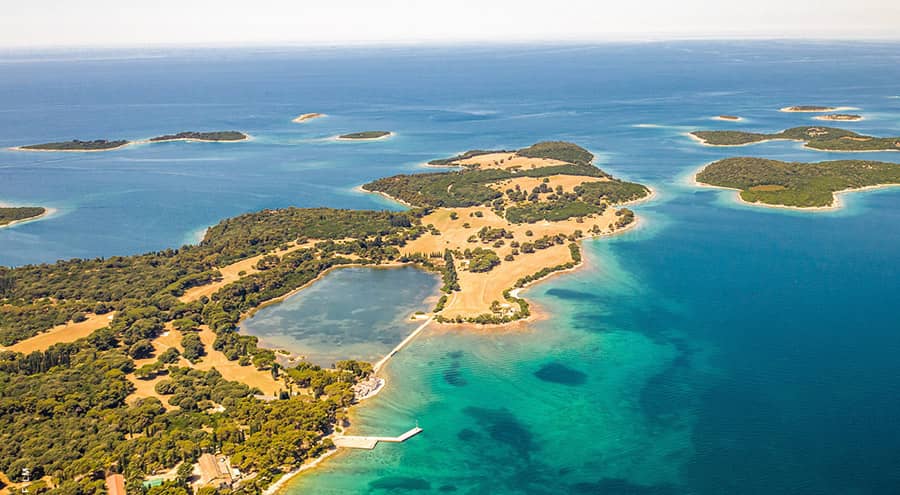 One of the eight national parks in Croatia, Brijuni is a beautiful archipelago consisting of 14 islands and islets. The boat for Brijuni departs from Fazana, a 30-minute drive from Rovinj. Visiting the Brijuni islands makes a great day out! Take your swimming suit because there are many nice swimming spots in Brijuni.
The Brijuni Islands are located in the south of the Istrian peninsula, north of the entrance to Pula Port.
By car it is possible to go all the way to Fažana, near Pula, while very good traffic connections enable comfortable driving on the Istrian Y highway ("Istarski ipsilon"). There are traffic signs on this road which clearly indicate the direction and the distance from the Brijuni Islands.
For those planning a trip by one of the direct flight connections, there are several options: Pula Airport is 15 km away, the airport on the island of Krk is 120 km away, while the airport of Trieste is 150 km away.
How to visit the Brijuni National Park?
To visit the National Park, you have to board a boat in the small town of Fažana. In the center of the town, there is a jetty from which the ship departs, and before boarding it is necessary to buy tickets at the National Park Briuni office in Fažana, while the possibility of online ticket purchase is new for our visitors. One way ticket price is ca. 27 Euro.
Arrival by boat
The ride lasts about 15 minutes, and during that time you can enjoy on the deck with a beautiful view of Brijuni, Fažana Channel and the south-west of the Istrian peninsula.
After docking in the Veliki Brijun port, you will be welcomed by a tourist train and a guide with whom you will take a peek into the world of Brijuni Islands.
Fantastic Dolphin & Sunset Tour with dinner (Pula - Np Briuni)
Experience the enchanting Brijuni National Park just off the coast of Pula.
Encounter playful dolphins in the bay throughout much of the year. Glide along the coastline on a scenic boat ride and savoir a traditional dinner featuring local delicacies, all complemented by inclusive drinks and panoramic views from the sun decks and terraces. The tour price covers all food and beverages.
Visit Pula- a a must-visit for history enthusiasts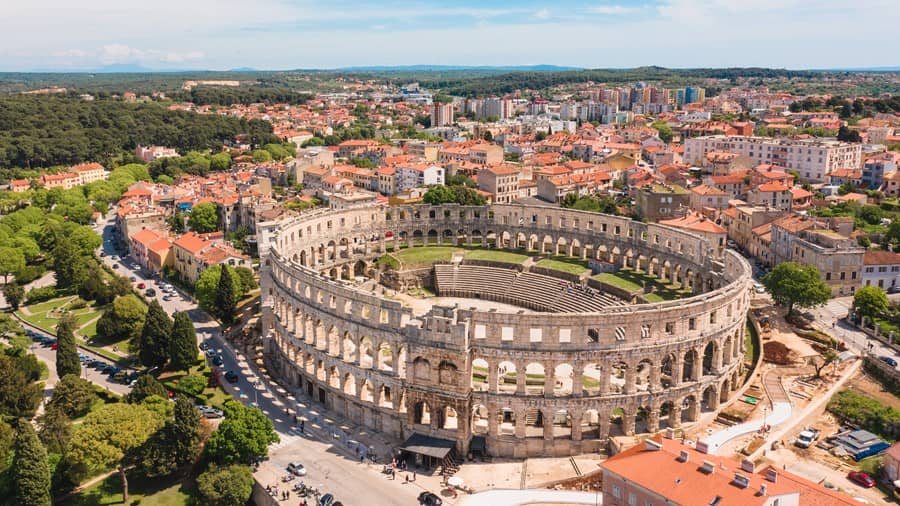 Pula is the largest town in Istria abound in pristine beaches and Roman antiquities, from the awe-inspiring Roman amphitheatre to the Temple of Augustus, Forum, Arch of Sergii, intricate mosaic floors, and a charming little Roman theatre.
The well-preserved Arena, a magnificent Roman amphitheatre dating back to the 1st century AD, now serves as a venue for summer festivals and concerts. Pula also boasts a robust network of picturesque walking and cycling trails.
You can even combine a visit to Pula and Briuni National Park in one day.
Pula E-Bike Tour: From Verudela to Pula City Center
Embark on an E-bike journey from Verudela to Pula city centre.
Our first destination is the renowned Amphitheatre, also known as the Arena, a remarkably preserved Roman amphitheatre where grand gladiator battles and theatrical spectacles once took place. Continuing our adventure, we'll head to a nearby fortress (entry included), offering sweeping panoramic vistas of Pula and its idyllic surroundings. From this elevated vantage point, absorb the city's beauty, from its quaint rooftops to the glistening Adriatic Sea beyond.
Next stop is the Sergii Arch, a splendid Roman triumphal arch often referred to as the Golden Gate.