Discover the Best Restaurants in Rovinj: for all budgets
Are you planning to dine out in Rovinj? We've carefully selected a list of restaurants based on our own experiences and high ratings by other fellow travellers.
Many of Rovinj's restaurants boast inviting exteriors. Whether situated by the seafront, within the old town, or with a view, they all offer fantastic settings. However, looks can be deceiving, as some charming terraces may lead to tourist-centric, mediocre establishments. Here's our list of Rovinj restaurants that are truly worth a visit.
---
Dining out in Rovinj offers options for every budget. In the old town, a few restaurants offer lunch menus for tourists priced as low as €10 to €15 for a complete meal, including dessert. "Marenda", one of the most popular daily meals among locals is called, ranges from €7 to €10, though fewer places in Rovinj still serve this, especially during the summer season. Our "Marenda" favourite spots in Rovinj are Bistro Punkt, Konoba Tre Volti and Kutak.
High-end hotels in Rovinj often house exquisite fine-dining establishments. It's a natural fit. Combine that with Rovinj's long-standing reputation for quality restaurants across all categories, and you'll see why Rovinj is considered a culinary hub in Istria and a must-visit for foodies in Croatia.
Rovinj offers a diverse range of delectable dishes, with a strong emphasis on an extensive selection of fish and seafood, complemented by traditional delicacies like prosciutto, truffles, asparagus, ombolo (dried pork loin), sausages, and boscarin (Istrian ox meat). All of this is further enhanced by the inclusion of exquisite Istrian olive oil and paired with exceptional white and red wines. After dinner, dive into the local nightlife and visit some of the bars and clubs in Rovinj, treating yourself to a glass of wine and dancing to the beat.
Beyond its breathtaking scenery, Rovinj boasts a longstanding reputation for exceptional fish restaurants. The renowned Blu restaurant infuses a contemporary flair into its stellar setting. For a taste of modern Adriatic cuisine, the Wine Vault restaurant at Hotel Monte Mulini and the L Restaurant at the adjacent Hotel Lone stand as some of Istria's finest choices. Additionally, Male Madlene presents an intriguing option for bite-sized haute cuisine.
Experience the best flavours around Rovinj with additional favourites like Cap Aureo Signature Restaurant, Monte, Puntulina, and Barba Danilo.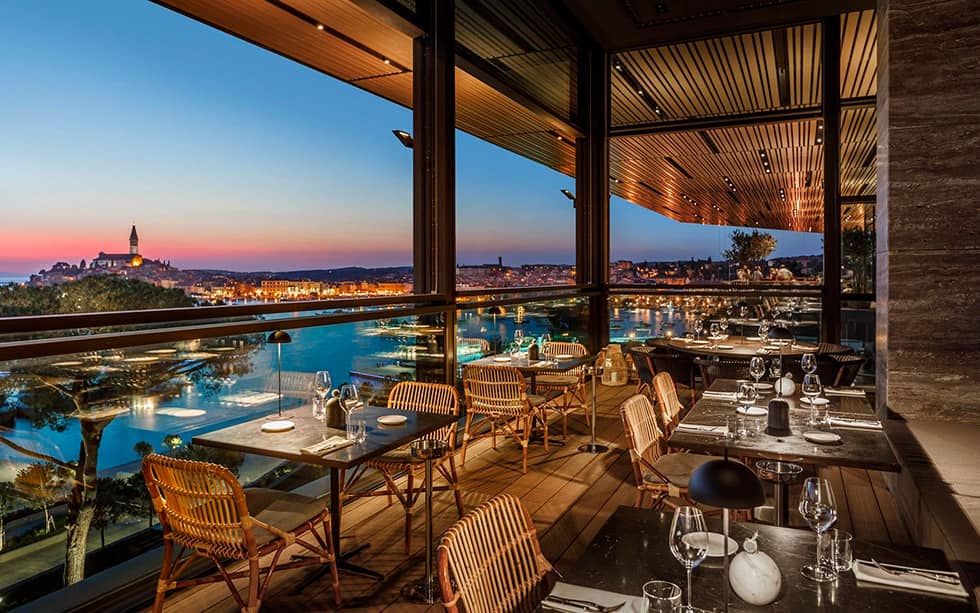 Elevate your dining experience at Cap Aureo, where Istria's rich tapestry of flavors comes to life. Nestled on the fifth floor, the glass-walled terrace offers a breathtaking panorama of Rovinj's marina and historic town.