Best beaches in Rovinj
Beaches in Rovinj are considered to be amongst the most beautiful in Istria. Located within a protected coastal area of 2289 hectares, featuring 14 stunning islands, islets, and six majestic cliffs Rovinj beaches offer a backdrop for the most romantic moments.
Looking for a break from the beaches in Rovinj? Elevate your holiday with these exciting day trips from Rovinj.
---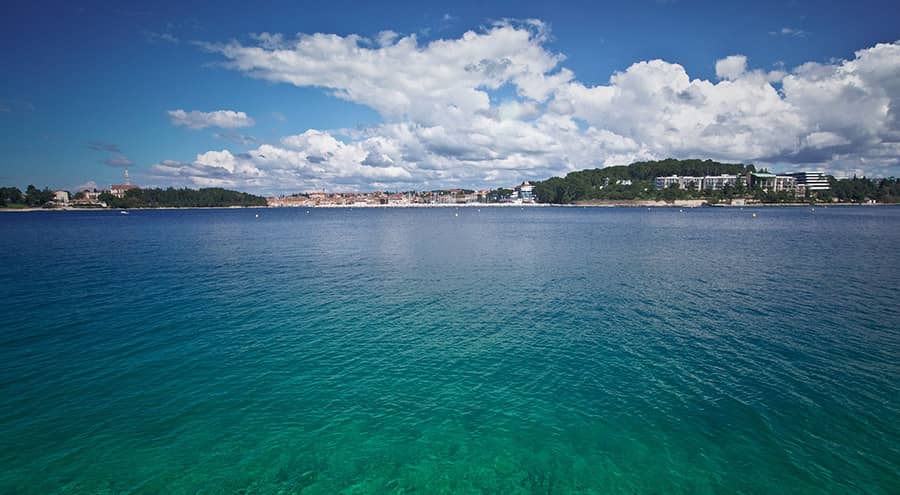 Explore the Diverse Beaches of Rovinj
Rovinj caters to a diverse range of beach enthusiasts, from naturist and dog-friendly beaches to areas designed for individuals with reduced mobility and therapeutic beaches.
Rovinj islands kayak tour
Embark on an unforgettable half-day kayak adventure exploring the breathtaking Rovinj islands.
Dive into crystalline waters for snorkelling, discover charming isles, and relish a break on the renowned Red Island. Immerse yourself in scenic natural surroundings and enjoy a picnic to refresh yourself. Stay hydrated with provided bottled water.
Included in the tour are snorkelling equipment, kayak & paddle, dry bag and inflatable vest.
A Natural Marvel: Rovinj's Unique Coastal Environment
Rovinj's coastline is very indented, offering a variety of bays and small coves, mainly combining rocks with pebble and fine gravel. Spanning 2289 hectares, these areas are meticulously protected, offering a sanctuary of lush greenery, 14 captivating islands, islets, and six awe-inspiring cliffs.
Local Favorites: Secluded Swimming Spots
For those seeking an authentic experience, locals gravitate towards a small swimming area on the south side of the Old Town peninsula consisting of rocks and concreted platforms. Although the shoreline may be jagged, the absence of sand ensures unparalleled clarity, perfect for snorkelling and diving adventures.
Pine-Forested Bliss: Beaches on the Edge of Town
Venture to the pine-forested beaches at the town's periphery, where you'll want to don sandals to navigate the rocky shore. While the terrain may be rugged, the reward is crystal-clear waters that beckon for exploration. The scenic walk along the water, just over a kilometre from town, unveils a succession of pebbly coves that form the enchanting south side of Lone Bay.
Rovinj coastline
The coastline of Rovinj is a tapestry of hidden bays and cozy coves, where rugged rocks mingle with smooth pebbles and fine gravel. Some spots offer an easy dip into the sea, while others challenge even the most seasoned swimmers with their rocky terrain.
There's a world of exploration awaiting you, from finding your own little "private" haven to indulging in the amenities of bustling beaches within the campsites. And oh, the sea! It's a crystal-clear haven, perfect for both snorkelling and diving adventures.
Dog friendly beaches
For those with furry friends, Rovinj extends a warm welcome with several dog-friendly beaches, complete with designated play areas. Remember to keep your pup close and leashed, even in the most inviting waters.
Naturist beaches
Embracing nature in its truest form, naturism finds a home here, particularly within the dedicated spaces of naturist campsites. But if you prefer a dash of liberation, there are also spots on public beaches where nudity is embraced.
---
Here is our list of the best beaches to swim and sunbathe in Rovinj:
Lone Bay and beach: Nature's Serenity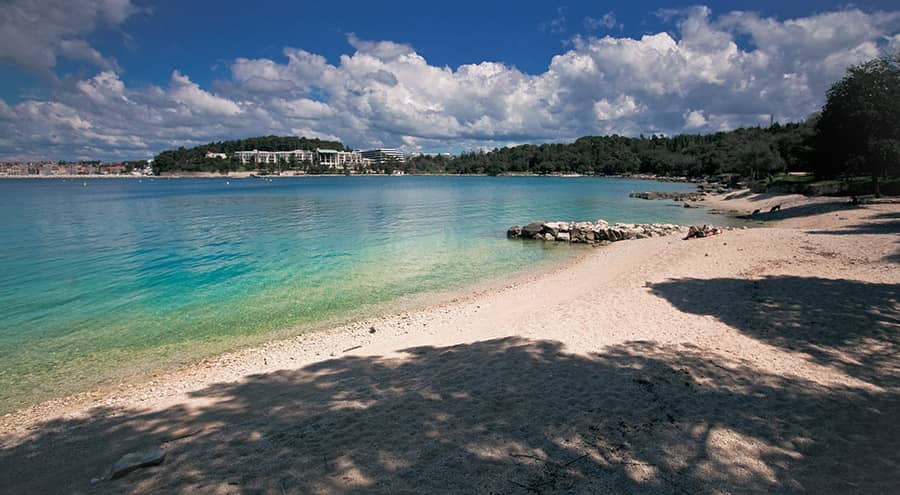 Nestled in the heart of Park Forest Zlatni Rt, Lone Bay stands as the go-to bathing spot for visitors. A very popular choice among locals and tourists due to its prime location near the Rovinj Old Town and various hotels.
Stretching along the picturesque Lone Bay, this beach meanders from Monte Mulini beach in the north to the entrance of the Nature Park Zlatni Rt (Golden Cape or Punta Corrente) in the south, approximately 1500 meters from the old town. Accessible solely by foot or bicycle, it immerses you in the mesmerising natural beauty of the landscape, far from the hum of traffic.
Enveloped by vibrant greenery and translucent waters, Lone Bay offers a serene retreat from the lively town centre. The pebbled shoreline beckons you to relax and soak in the gentle sea breeze. The area near the Lone and Eden hotels boasts gravel shores, wide green expanses for sunbathing, and shaded spots. As you venture deeper the park takes on a rocky character, adorned with delightful pebble inlets that are perfect for little ones. The Nature Park's lush, cool lawns cast soothing shadows, providing a tranquil respite after a sun-soaked day.
This sheltered bay also enjoys popularity as an anchoring haven for private yachts and motor boats, with moorings diligently managed by the local harbour authorities.
Features
Lone Bay is a perfect spot for nature lovers with fantastic snorkelling and swimming opportunities. Shaded pockets are ideal for a leisurely afternoon picnic.
Rovinj walking tours
Explore the beautiful town of Rovinj, renowned for its picturesque beaches, cobbled Old Town, and lively bay area.
This guided walking tour takes you off the usual tourist paths to experience the town's history through local eyes. Accompanied by a native guide, you'll traverse both the lower and upper towns, savouring panoramic views from Saint Euphemia's and discovering the finest spots for leisurely walks, shopping, and delectable dining.
Included in this tour is an engaging 1.5-hour walking tour for a comprehensive city introduction, insider insights and recommendations from a Rovinj-born guide, central and easily accessible meeting point, intimate small-group experience with a maximum of 12 participants and expert guiding services by licensed and professional guides.
Mulini Beach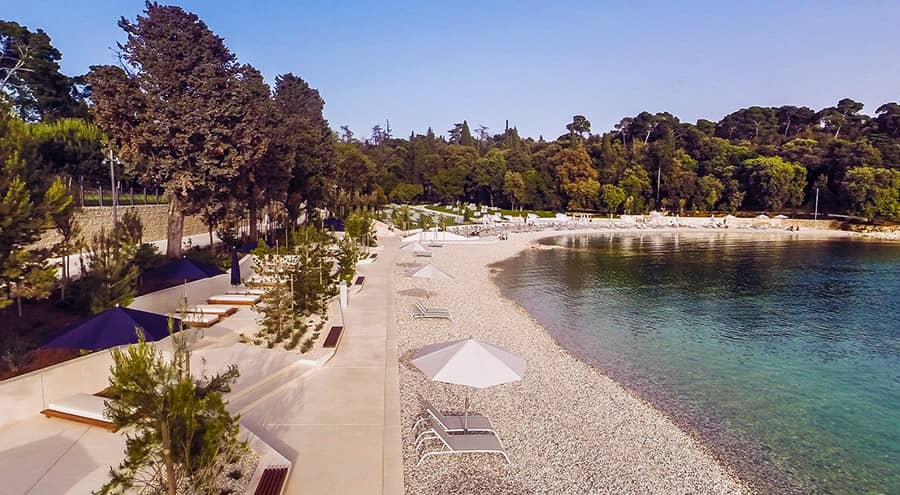 Monte Mulini beach in Rovinj seamlessly blends smooth concrete and natural rock to create a space that exudes both comfort and authenticity. This revitalised beach now features a welcoming beach bar where visitors can take a break and enjoy refreshments.
Situated to the south of Rovinj, near the ACI marina and a short walk from the town center, Monte Mulini beach offers a splendid seaside experience complemented by carefully landscaped surroundings. The use of specially crafted white concrete, combined with natural rocks, imparts an air of exclusivity to the entire area.
A beloved walking promenade traces along the beach, leading towards the Zlatni rt Nature Park, creating a pleasant divide between Monte Mulini beach and the luxurious 5-star hotel complex Monte Mulini Adults Exclusive Hotel by Maistra Collection.
Monte Mulini beach is an excellent spot for swimming and sunbathing, the spacious paved areas along with gravel-covered sections are ideal for children. Water sports facilities are conveniently located nearby, the beach also serves as a central hub for boating activities, including rental services and opportunities for daily boat excursions.
Features
Monte Mulini beach is conveniently located within a short walk from the town centre making it easily accessible. Ideal conditions for swimming, sunbathing, and engaging in various water sports activities. Families with children will also appreciate the numerous designated areas tailored for safe and enjoyable swimming experiences.
Rovinj private biking tour by electric powered bike
Rovinj and its surrounding villages offer captivating sights, but exploring them on foot can be exhausting. Opt for an electric bike tour to effortlessly discover vineyards, coastal paths, and woodland trails, covering more ground while maintaining an intimate experience.
Explore the charming stone town of Bale, the picturesque ornithological park Palud, and the stunning Adriatic coastline at your preferred pace, thanks to a flexible itinerary on this private tour. Hotel pickup ensures a hassle-free start, and with a professional guide, you'll gain insights into the area's highlights.
Included in this tour is a knowledgeable professional guide, hotel pickup for your convenience, use of electric bicycle, food and drinks to keep you energised during the adventure.
Golden Cape Beaches and Forest Park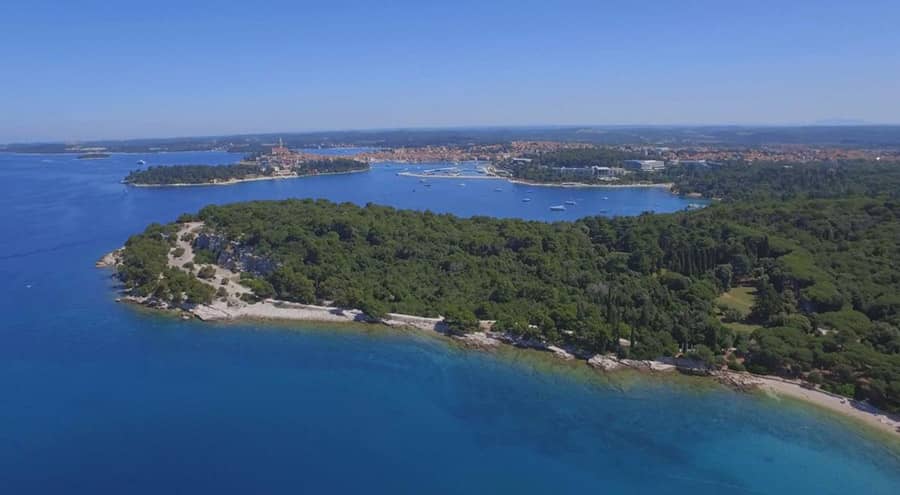 One of the most enchanting landscapes in western Istria is undoubtedly the Zlatni rt (Golden Cape) park and beaches. This natural reserve safeguards Rovinj and its harbour from the south, stretching along the idyllic bays of Lone and Škaraba, as well as the striking Montauro and Punta Corrente capes.
Golden Cape (Zlatni rt/Punta corrente) is situated approximately 1.5 kilometers away from Rovinj centre, to the south of ACI Marina and Lone Bay. The coastline is predominantly rocky, with some beaches adorned with small, round stones.
Zlatni Rt (Golden Cape) Beach, located in the picturesque Zlatni Rt Forest Park (also known as Punta Corrente), offers a mix of rock and pebble shorelines. This nature reserve, established by Austro-Hungarian Count Georg Hütterott in 1890, is renowned for its diverse native and exotic plant species. There is also plenty of space available for sports and recreational activities, making it suitable for children as well. Adrenaline junkies can explore the popular free climbing area within an old quarry.
Zlatni Rt beach is the largest and most popular in Rovinj, with calm waters perfect for swimming and snorkelling. It offers a stunning view of the Island of S. Andrew, with safe pebble inlets for children and rocky sections ideal for experienced swimmers and sunbathers. A scenic coastal path invites leisurely walks, leading to the neighbouring beach, Kuvi.
Baluota Beach (Monte) - Old town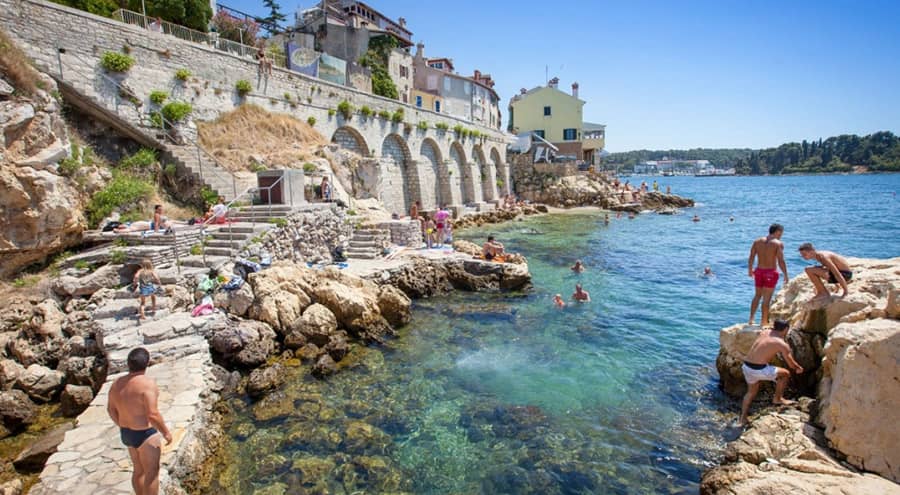 Baluota Beach, also known as Monte Beach, is a hidden gem located on the west side of the Old Town in Rovinj-Rovigno.
Monte, also known as Baluota Beach, is conveniently located just a short stroll from the renowned St. Euphemia church and the main town square. The beach stretches for 150 meters providing ideal sunbathing spots. However, its steep entrance into the sea makes it unsuitable for children and older individuals.
For families with small children, the Big and Small Gugulijera beaches provide a safe spot for swimming. On the other hand, Baluota (or Balota) and Lanterna beaches are favoured by adults, offering opportunities for cliff diving.
While the beach itself is rocky and lacks natural shade, its proximity to the Old Town means it can only be accessed on foot or by bicycle, as motor vehicles are prohibited.
Situated beneath the historic city walls, Baluota Beach boasts an incredibly romantic atmosphere. Over the serene blue waters of the Adriatic, a captivating sight unfolds: the nearby Sveta Katarina island. Balouta beach is also a popular spot for snorkelling enthusiasts, snorkelling gear can be bought in one of the many shops in Rovinj. Many visitors also flock to the beach in the evening to witness breathtaking sunsets.
Keep in mind that there is no natural shade, so it's recommended to bring your own sun protection.
Close to the beach, you'll find several coffee bars and restaurants serving refreshing beverages. It's worth noting that parking is not available nearby due to the restricted vehicle traffic in the city centre.
Monte (Baluota) Beach treats visitors to a spectacular view of St. Catherine island and a breathtaking sunset panorama, a unique and unforgettable experience in the heart of Rovinj's Old Town.
Frequently Asked Questions FAQ
Is Rovinj a suitable destination for families with young children?
Yes, Rovinj offers family-friendly beaches like Cuvi Beach, with calm waters and amenities for a comfortable day by the sea.
Are there water sports activities available in Rovinj?
Yes, several beaches in Rovinj offer water sports facilities, including Lone Bay, where you can enjoy snorkelling, swimming kayaking and more.
Can I easily access the beaches from Rovinj's town center?
Absolutely. Most of the featured beaches are within walking distance from Rovinj's vibrant centre, making them easily accessible.
Are there any beaches suitable for couples seeking a romantic getaway?
Punta Corrente Forest Park offers a romantic setting with its lush pine forest and picturesque rocky shores, making it an ideal spot for couples.
Are there restaurants or cafes near these beaches?
Yes, many of the beaches have beachfront cafes or nearby restaurants where you can enjoy a meal with a view of the Adriatic Sea.