Events and festivals in Rovinj
Rovinj hosts a wide range of events throughout the year appealing to both locals and tourists. From June to October, the town comes alive with art exhibitions, open-air concerts, culinary experiences, photo exhibitions, and small antiques fairs.
Here is our list of some of the notable events in Rovinj:
---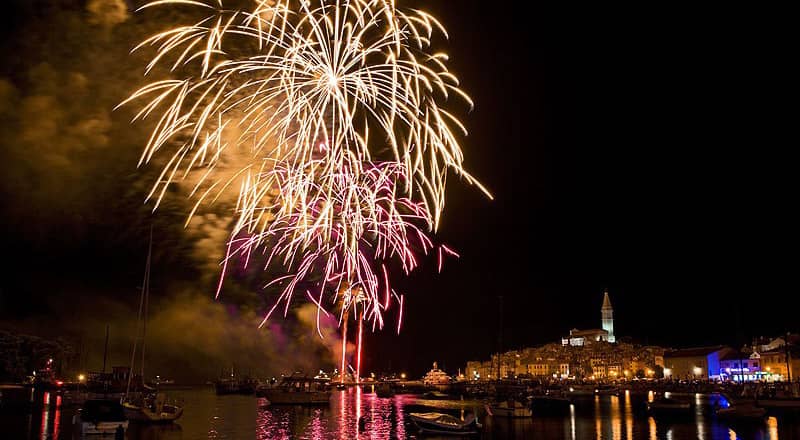 Patron Saint Festival (September 16th)
Rovinj celebrates its patron saint, St. Euphemia, with religious and secular festivities. You can enjoy activities that include parades, concerts, wine-making demonstrations, tournaments, and fireworks. Traditional mutton with sour kraut (ovca z kapuzom) is enjoyed on this day.
Salsa Summer Festival (Late June)
This week-long festival combines dance parties and workshops, taking place throughout the town, including the main square, alleys, hotels, and outdoor swimming pools.
Unknown Festival (Late Summer)
Held in the nearby resort of Amarin, this five-day festival features concerts, forest parties, pool parties, and boat parties. It's a paradise for music lovers. This five-day extravaganza combines concerts, forest gatherings, pool parties, and boat celebrations that stretch into the night.
Weekend Media Festival (September)
Taking place in the former tobacco factory, this media festival offers lectures, panels, workshops on advertising and media, as well as popular evening and night parties.
Dolce Vita Festival (June)
Celebrating vintage culture, this festival transports you back to the 1920s Mediterranean lifestyle through music, film, fashion, and food.
Avant-garde Jazz Festival (June - July)
This annual jazz event features concerts, mostly at the former Rovinj Tobacco Factory, followed by excellent after-parties.
Rovinj Photo Days (Year-round)
The largest photography festival in Croatia hosts exhibitions, seminars, and awards, attracting photography enthusiasts from the region.
St. Lawrence Night (August)
A romantic evening in Rovinj when streetlights are turned off, replaced by torches and candles. Light performances adorn the facades, and concerts fill the squares and streets.
Lighted Batana boat parade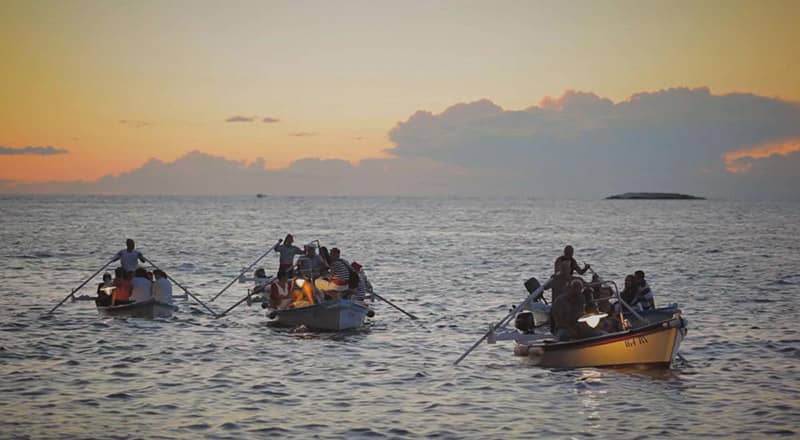 Several evenings each week, visitors can experience the batana parade in Rovinj. The batana is a traditional local flatboat often adorned with fishing lanterns. The parade commences near the main town square, winding through the charming old town and ending at the Matika space on Vladimir Švalba Street, accessible by boat.
Along the boat route, folk bands like "Batana" or "Bitinaduri," from the "Marco Garbin" cultural and artistic association, serenade the audience with lively melodies. At Matika, a delightful dinner featuring fish dishes is served. This historic spot, where locals once kept and enjoyed wine in stone-built houses, has been seamlessly incorporated into the Batana House Eco Museum since 2006, hosting various cultural events.
Matika offers local agricultural products and seafood, including wine from Malvasia and Teran grapes, homemade olive oil, and freshly caught fish and shellfish, adding an authentic touch to the batana cuisine.
In addition to these events, Rovinj hosts sailboat regattas in April and the Grisia Art Fair in August, turning Grisia Street into an open-air art show. The Rovinj Summer Festival in July features classical, pop, and folk music performances, while Rovinj Night offers three nights of open-air parties, concerts, and fireworks at the end of August. Don't miss the St. Euphemia Festival on September 16th, celebrating the town's patron saint.
Looking for more things to do while visiting Rovinj and Istria? Check out our selection of the
best day trips from Rovinj
.