The view on Dubrovnik Old port and walls makes Banje beach one of the most attractive beaches in Croatia.
Located between Lazareti complex and hotel Excelsior, Banje beach also includes an excellent Banje beach club.
The beach is easily accessible, located just outside Ploče Gate, the eastern entrance to the Old Town. This advantageous location makes it an ideal spot to unwind after exploring the city's historic sites and attractions, such as the Lovrijenac Fortress and the Rector's Palace.
Upon arrival at Banje Beach you are greeted by a stunning panorama of the Adriatic Sea, Lokrum Island and the iconic city walls - making it one of the most scenic spots in the city. The beach itself is a mix of pebbles and sand and can get busy during the peak summer months.
When the sun begins to set, Banje Beach offers one of the .
Remember, Dubrovnik also serves as an excellent base for discovering other incredible places and attractions. Check out the Best day trips from Dubrovnik.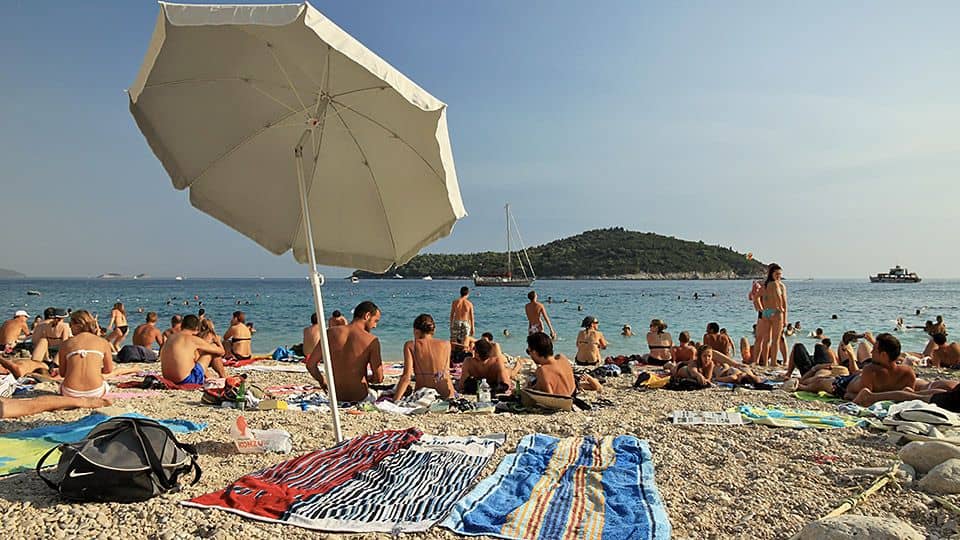 The only problem that you would find regarding the Banje beach are the available parking spots. Most of the parking spots are located at the street and this is a part of town with a lot of traffic. No worries, the bus stops no more than 20 meters away!
Getting to Banje Beach
Are you ready to soak up the sun and sea. Great choice! Here's how to get there hassle-free:
From Old Town Dubrovnik
Head out from Old Town through Ploče Gate.
Take a leisurely stroll towards the East for a few hundred meters.
On your right, wide stairs will catch your eye, leading you down to the beach.
Pro Tip: If you're starting from Stradun, it's just a delightful 5-minute walk to reach Banje beach.
From Lapad / Babin Kuk
Hop on bus No 6 to Pile gate, the last stop of most busses, just in front of the Old Town.
Enter Old Town Dubrovnik, cross the Stradun street and make your exit through Ploče Gate.
A few more minutes of walking, and voila, you've arrived at Banje Beach.
Pro Tip: Public Bus adventures are part of the fun...or not. Bus nr. 6 is the busiest bus line in Dubrovnik. Be prepared for crowded busses in summer. Buy the bus tickets on kiosks beforehand.
From Gruž
Take any bus heading to the Old Town, the most frequent busses are 1A and 1B.
Follow the steps above, after exiting the bus at Pile Gate make your way through Old Town Dubrovnik to Ploče Gate. (Old Town to Ploče Gate).
Pro Tip: For a quieter route, opt for bus No 8 from Gruž. Get off near Ploče Gate, Banje Beach a mere 2-minute walk down the street from there.
Check out the timetables and routes for Dubrovnik City Bus Lines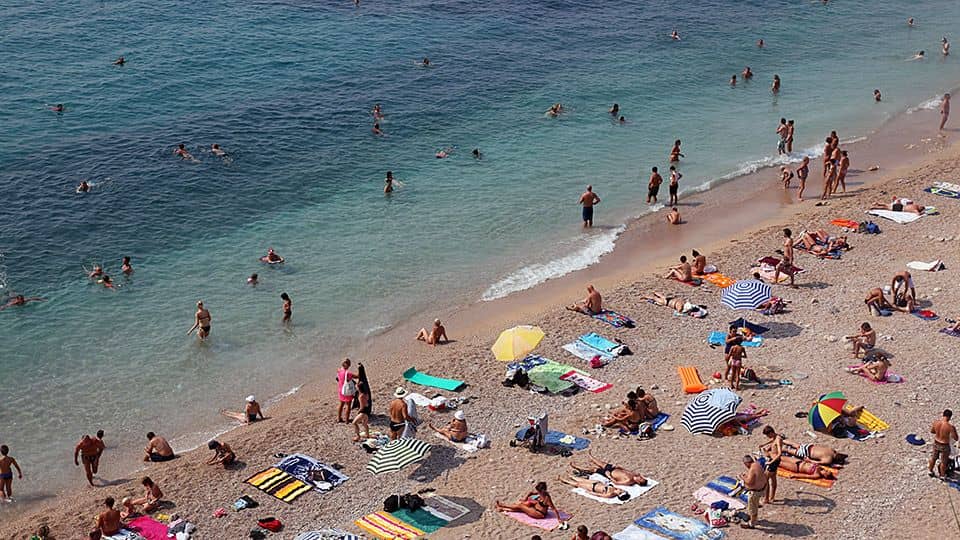 Working Hours
08:00 - 24:00
Features
Beach club, restaurant, water sports
Address & contact details
Street: Ul. Frana Supila
Postcode: 20000
City: Dubrovnik

---
Where to stay in Dubrovnik
Our top picks for where to stay in Dubrovnik.
Hotels and apartments in Dubrovnik