Pebble, gravel, stone or concrete beaches. You name it, Dubrovnik has it. Here's a list of the most popular ones - the sandy beaches in Dubrovnik area.
Some of the most attractive beaches in Dubrovnik are on nearby islands. Experience the Adriatic from a whole new perspective by renting a boat in Dubrovnik allowing you to explore hidden coves, pristine beaches, and secluded islands at your own pace. Here is our comprehensive guide on renting a boat in Dubrovnik.
Lapad Bay, Dubrovnik
Following the long promenade of Uvala Lapad (The Bay of Lapad) with bars, cafe's and restaurants, you'll reach several popular beaches with facilities such as bars and restaurants, rental of parasols and deck chairs as well as a volleyball and soccer field.
Uvala Lapad is a great choice if you are on vacation with children as the sea is quite shallow and in the surrounding area you will also find a children's playground, inflatable bouncers and similar. You can easily find a spot on one of the few beaches, of course, the further you walk the less crowded it will be.
There are several hotels and hostels around Lapad Bay in Dubrovnik.
Half-Day Best Beaches & Bays Private Speed Boat Tour
Experience some of the top beaches in the Dubrovnik region in just half a day with this exclusive private boat tour.
Your captain will navigate you from one beach to another, allowing you to enjoy snorkelling, swimming, or simply basking in the sun.
Notable stops include Koločep Island, an ideal spot for cave snorkelling and cliff diving, as well as Šunj Beach, which boasts a lengthy stretch of sand. You can choose between morning and afternoon departures, and your group of up to four travellers will enjoy beer, soft drinks, and bottled water during the tour. Snorkelling equipment and a loaner underwater camera will also be provided. The package includes the skipper/captain, fuel surcharge, and hotel pickup and drop-off within Dubrovnik.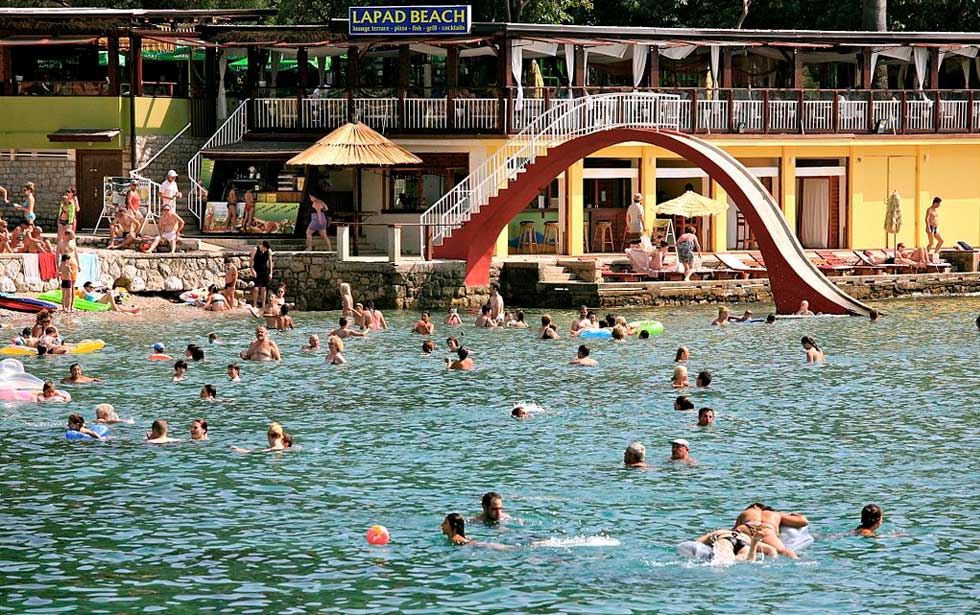 ---
Sunj Beach on Lopud Island
The picturesque island of Lopud is reachable by a daily ferry leaving from Gruž harbor and is a must visit if you have a gap in your itinerary. Although it features a few hotels (one of them being a true 5* island resort), it is still a charming small /fisherman's settlement/with beautiful natural scenery, sandy beaches and coastal walks. The town of Lopud istelf features a few sandy beaches as well, but a 20 minute walk away, on the southern side of the island lies Šunj beach, one of Dubrovnik's most popular beaches. It's a sandy and (very) shallow beach (you'll need to walk up to a 100 meters in order to get deep enough to swim) so it is also a good choice for families on holiday with their kids.
Here's some advice you'll appreciate: there's no traffic on the island but you can get to the other side with one of the golf carts used for the purpose. It doesn't cost much but you will save some time...and energy.
Half-Day Elafiti Islands Private Speed Boat Tour
This private tour of the Elaphiti Islands from Dubrovnik allows you to spend your time as you please.
With the help of your knowledgeable guide, discover the top spots for sunbathing, snorkelling, or sightseeing. Enjoy complimentary drinks, snorkel equipment, and underwater photographs for a hassle-free and unforgettable experience. Customise the tour to suit your preferences and take advantage of insider recommendations from your personal skipper. Transfers, drinks, snorkel equipment, and life jackets for both adults and children are all included in the package.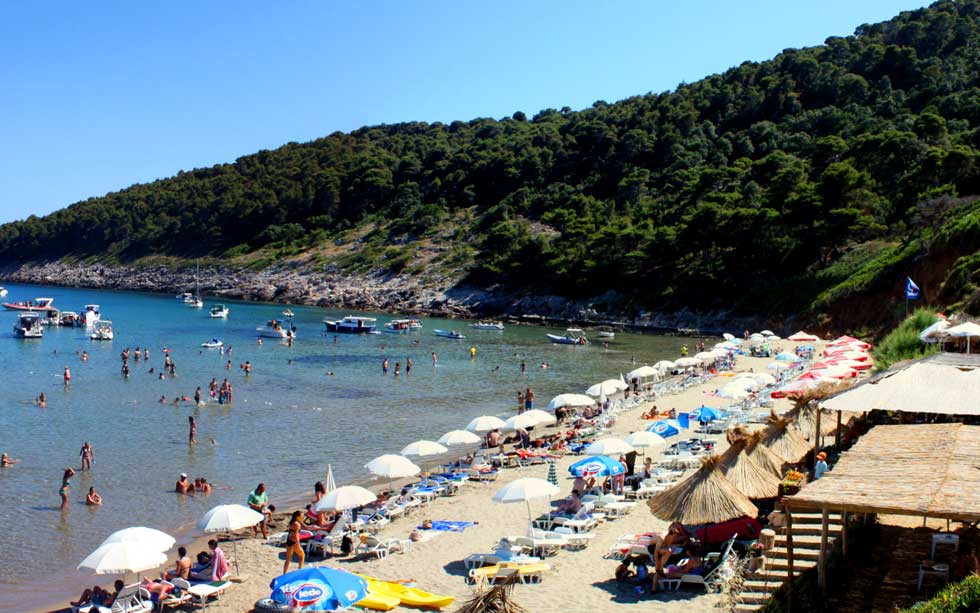 ---
Gornje Čelo beach on Koločep Island
Koločep is the first Elaphite island and also easy accessible by ferry or transfer boats. It is a untouched green oasis with ancient pine forests, carob, olive groves and gardens full of oranges and lemons.
If you find Lopud a bit to popular and believe it will be crowded, Koločep is a great alternative. The beach of Koločep is located in the town of Gornje Čelo in front of the Kalamota Beach House resort. With more than 250 sunny days, Koločep is a very desirable tourist destination, it only takes about 20 minutes to reach it by boat.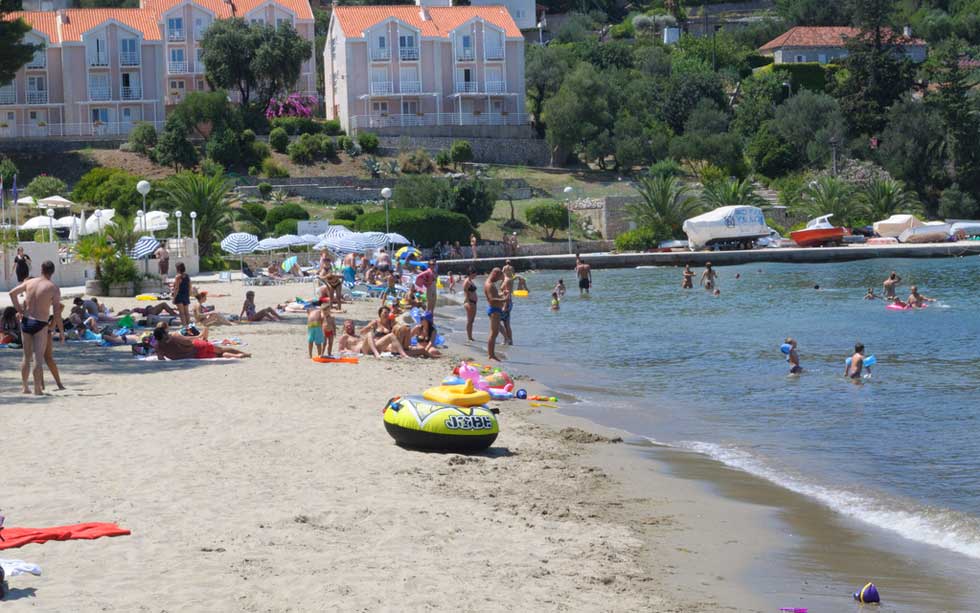 ---
Srebreno Beach, Župa Dubrovačka
About 10 kilometres to the south, in the so called Župa Dubrovačka (Parish of Dubrovnik - actually a village cluster so to say) there are several options when looking for nice beaches. Beside the beautiful Kupari area (beaches surrounded with in the war devastated and not yet rebuilt hotels) you can enjoy a day in Srebreno. Several beaches with a nice waterfront full of cafe's, bars and parks suitable for children. This is a great place for a peaceful and quite vacation away from the everyday hustle. You can reach both areas buy bus nr. 10 from Dubrovnik.
Kupari and Srebreno are connected with a path so you can take a nice relaxing walk and explore the area. Chances you find a secluded cove or "1-person beach" between the rocks are high!.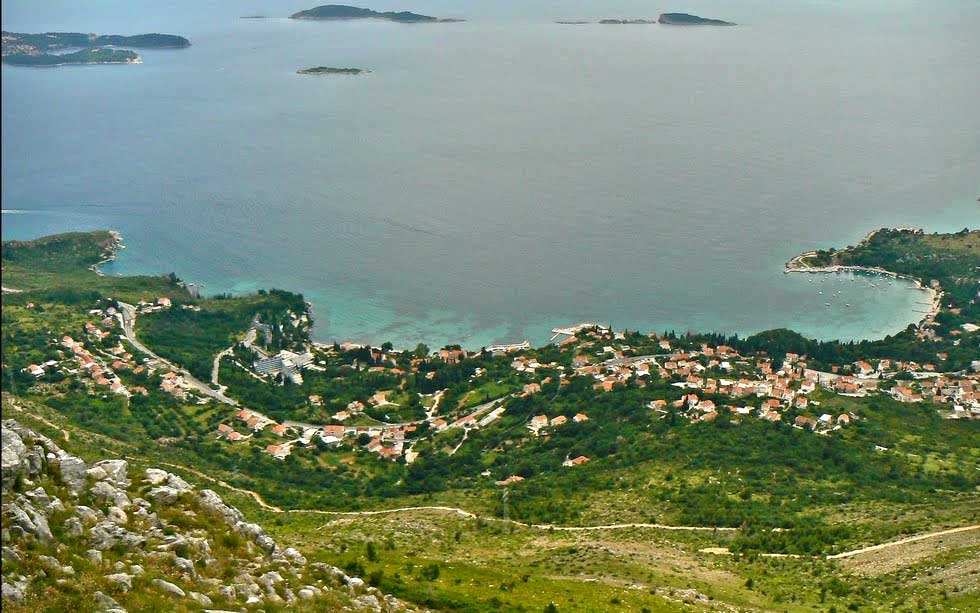 ---
Saplunara and Blace on Mljet island
Saplunara bay and the lagoon Blace are located on the south-eastern tip of Mljet island. Saplunara is located on the south-east side of the island of Mljet. Saplunara bay is about a kilometre long surrounded by a thick pine forest. Its name derives from the Greek word sabulum, meaning sand. The two beautiful beaches, called the Large and Small Saplunara can reach a sea temperature of 28°C in the summer!
Blace, also known as "Limuni" is a lagoon-like bay not far from Saplunara. It is a perfect example of intact nature and one of many hidden gems of Croatia. You can reach it either on foot, by car (the roads on Mljet are scenic but not well maintained so drive carefully, yet, no need to panic) or boat.
There are no beach bars on either so be sure to bring plenty of water with you.
There is no ferry line directly going to Saplunara, so visitors have to get a bus (that usually meets the ferry) or a taxi from Sobra if they don't have their own means of transportation. The two ferry options are Mljet car ferry and Dubrovnik to Mljet Catamaran.
Why not spend a night or more in one of hotels and apartments on Mljet Island.
8 hours Mljet Island Private Tour
Explore the stunning beaches and bays of Mljet Island, a gem of the Adriatic, with ease on a private full-day cruise aboard a Quicksilver 675 motorboat. This boat comes equipped with a cabin for changing, a shower, a sound system, snorkelling gear, and an underwater camera. You'll be provided with water, beer, and soft drinks.
The boat can accommodate up to six people, and you'll sail from Dubrovnik to Mljet. During the trip, you'll see highlights like Saplunara Beach, Mljet National Park, and Prožurska Luka, and have the opportunity to swim and snorkel while capturing memories with the underwater camera.
The package includes hotel pickup and drop-off, snorkel equipment and underwater camera use, life jackets for adults and children. National park entrance fee is 20 euro. A meal is also provided.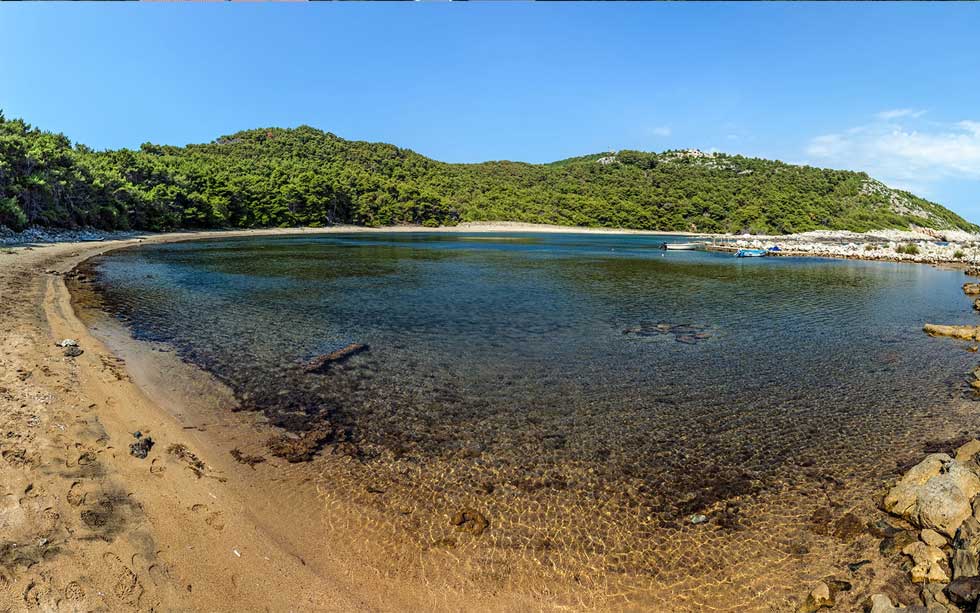 ---
Where to stay in Dubrovnik
Our top picks for where to stay in Dubrovnik.
Hotels and apartments in Dubrovnik